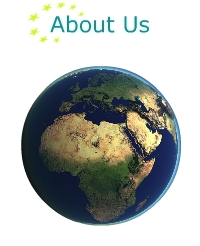 =


=


















=
=
=
=
=
=
A connective with a vision for the future
The Biopact is a Brussels-based connective of European and African citizens who strive towards the establishment of a mutually beneficial 'energy relationship' based on biofuels and bioenergy (see our goals). For the time being, Biopact is an entirely volunteer effort, but the young organisation is working towards formalisation under a non-profit structure because of growing interest in its activities and its vision.

The group's main activities currently consist of building a web presence, delivering basic consulting services to the media and to bioenergy projects in the South, and of networking with other organisations.

Biopact unites specialists in several disciplines related to bioenergy seen in the broader context of development and trade: an economic anthropologist, a bio-engineer, a professor in chemistry, a tropical agronomist, a sociologist with expertise on Central-Africa, and a development economist.

A full and growing list of members who subscribe to the Biopact's principles can be found here.


The daily activities of the Biopact are taken care of by the following people:



Jonas Van Den Berg


Jonas has considerable experience as a consultant in the extractive industries in the South. Besides staffing our temporary secretariat, he networks for Biopact and does journalistic work for the connective.
Contact Jonas for general inquiries into the Biopact's goals and activities. Email:

[email protected]





Laurens Rademakers


Laurens is an anthropologist with expertise on the politics and economics of natural resource extraction in Central-Africa. He does basic research and journalistic work for the pact, connects with interested and interesting parties and manages the weblog and website.
Contact Laurens for information on ongoing projects, consulting services or for journalistic work. Email:

[email protected]









2006, Biopact, all rights reserved
-
Becoming a 'member'
Interested in becoming a member of the pact? Do you have expertise in or a passion for development issues and renewable energy in the South? Do not hesitate to contact us.
To become a member, all you have to do is 'subscribe' to our vision, and be willing to contribute to our effort by researching, writing or taking up consulting projects on a voluntary or semi-voluntary basis.
In return, we offer you a platform of exchanges on bioenergy in the South, and a growing list of interesting contacts in the sector.