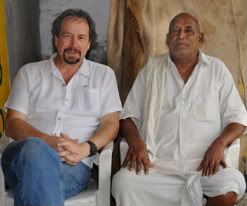 Natural and social sciences must work together to help solve some of the most pressing issues facing society. That's the message in a report delivered today to the global scientific community at the 29th General Assembly of the International Council for Science (ICSU) in Maputo, Mozambique. Global change, the environment and natural resources management, sustainable development, poverty reduction, human health, are some of the major scientific research challenges of our days. But these issues cannot be solved without understanding the impact of people on these issues and the impact of these issues on people — that is, social science, the report concludes.
According to Anne Whyte, a member of ICSU's Committee on Scientific Planning and Review (CSPR) and a former Director General for Environment and Natural Resources of the International Development Research Centre (IDRC) in Canada, scientists who study nature and health must cooperate more closely with sociologists, cultural anthropologists, psychologists and economists, in interdisciplinary ways.
The report,
'Enhancing Involvement of Social Sciences in ICSU'
[*.pdf], identifies social sciences as being essential for the implementation of the ICSU Strategic Plan 2006-2011. Recommendations in the report include: that ICSU continue to encourage the participation of social sciences on its committees, task forces and collaborative research initiatives; stimulate more social sciences unions to join ICSU; and to work with the International Social Sciences Council (ISSC) as a key partner in strengthening international social science of relevance for implementing ICSU's Strategic Plan.
High quality social scientific knowledge is becoming necessary knowledge for policymakers, business and community leaders, and natural scientists alike. In this environment the ISSC has taken on the challenge of becoming the major global social scientific player alongside, and in collaboration with, ICSU in addressing key global challenges.

- Heide Hackmann, Secretary-General of the International Social Sciences Council (ISSC)

But it's not all smooth sailing. There are barriers that must be overcome: natural and social scientists speak different languages; many institutions are not equipped to deal with interdisciplinary research; and there is resistance among some scientists from both sides of the table:
energy :: sustainability :: bioenergy :: ecology :: natural resources :: development :: social sciences :: natural sciences :: interdisciplinary ::
The key to success is that natural and social scientists must work together on research agenda setting. One field cannot merely provide services for the other—they both must be involved in setting research goals. And you need to choose the right people.

- Roberta Balstad of the Center for Research on Environmental Decisions, at Columbia University in New York
Over the years, ICSU has actively involved the social sciences, particularly through its global environmental change programmes. The Earth System Science Partnership (ESSP) successfully integrates natural and social sciences in order to investigate how changes in the Earth System affect global and regional sustainability.

And new ICSU programmes, such as 'Integrated Research on Disaster Risk' and 'Ecosystem Change and Human Well-being', have involved both the natural and social sciences from the earliest planning stages. 'Indeed, it could be argued that ICSU is at a point in its history where it is increasingly dependent on social science to fulfil its mission. Thus, better integration of the social sciences into ICSU is no longer an option, it is a necessity,' said Balstad.

Founded in 1931, ICSU is a non-governmental organization with a global membership of national scientific bodies (114 Members, representing 134 countries) and International Scientific Unions (29 Members). The Council is frequently called upon to speak on behalf of the global scientific community and to act as an advisor in matters ranging from the environment to conduct in science. ICSU's activities focus on three areas: planning and coordinating research; science for policy; and strengthening the Universality of Science.




Picture

: ecological anthropologist Glenn Davis Stone studies the ways in which Indian farmers deal with GM seeds and agro-industrial agriculture, and how this fits into their views on nature and the environment.

Credit

: Washington University in St Louis, Dept. of Anthropology.

References:
ICSU: 'Enhancing Involvement of Social Sciences in ICSU' - October 2008.

ICSU 29th General Assembly.


Article continues