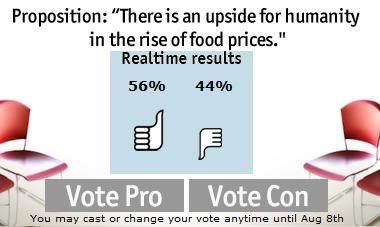 The sudden rise in food prices has caused many to worry about the effects of this trend on the world's urban poor. Analyses of how much biofuels have contributed to this increase differ widely, with some saying that the food-based fuels are responsible for as much as 70%, while other experts find a 'marginal' impact. Most analysts seem to agree that
a combination of factors
, such as the rapidly growing demand from fast-growing economies (China, India, Brazil, Russia), high oil prices, bad weather in key growing areas, and commodity speculation may play an equally big or even bigger role. One thing is certain, though: the decades of low food prices seem to be coming to an end.
But does this necessarily have to be a bad thing in the long run? To take the debate out of its current, somewhat simplistic panic-mode,
The Economist
has launched a much needed and very interesting discussion about the large, worldchanging effects of the new situation.
The debate is centered around the following, mildly provocative proposition:
"There is an upside to humanity in the rise in food prices"
. The reasoning goes as follows (our summary):
High food prices are good for farmers, and they are the ones who provide one of humanity's most basic needs. If farmers do better, it stands to reason that others will benefit too. Rising food prices will spur much needed investments in agriculture in developing countries, who have large rural populations and a great potential to become more productive. This is especially so in Sub-Saharan Africa, where 90% of farmers use no modern techniques and inputs whatsoever.

So the rising food prices could be a blessing for the world's poorest countries. Most of these have the capacity to become net food exporters. But today, after years of underinvestments and bad global agricultural policies, these countries have become net food importers - and easily fall prey to price shocks. The high food prices may be the trigger that turns this catastrophic situation around.

Finally, the proposition goes, biofuels may help this transition towards a productive era for farming in the South, because they may make transportation - a key factor in agricultural production - less costly. Biofuels add to the rise in food prices, but seen within the context of the proposition, this is not necessarily bad. At the farm, biofuels can reduce production costs.

An underlying theme within the proposition is the crude fact that 75% of the world's poorest people are farmers. And they should benefit from the rising food prices. It was the low commodity prices of the past which kept these millions of people in poverty for decades and which have contributed to civil conflict and even war (previous post).

Homi Kharas, Senior Fellow at the Wolfensohn Centre for Development (Brookings Institution) defends the proposition and elaborates on it. Joachim von Braun, Director General of the International Food Policy Research Institute, is contra and explains why. The debate is moderated by John Parker, Globalisation Editor of
The Economist
.
Guest contributions include those by Dr Papa Abdoulaye Seck, Director General of the Africa Rice Centre (WARDA) who has wide-ranging experience in agricultural R&D planning, implementation, evaluation and management and is particularly noted for his in-depth knowledge of the needs and aspirations of the national agricultural R&D systems in sub-Saharan Africa.
Neil Parish, Chairman of the European Parliament's Agriculture and Rural Development Committee, adds his views, as does Paul Roberts, author of "The End of Oil" (2004) and "The End of Food" (June 2008).
Take your time to go through the debate. It is an eye-opener in that it goes beyond the often simplistic views on the issue. Trends in food markets, development economics and the effects of changes in agricultural commodity prices on different segments of the world's population are often counter-intuitive. And it is these counter-intuitive perspectives that come to light best in the format presented by
The Economist
.
Will higher food prices ease subsidies in the West and end the market-distorting effects of food dumping? If
low food prices and subsidies cause wars in poor countries
, does this automatically mean that high prices and lower subsidies mean fewer conflicts? Is there a chance that the
obscenities of the food aid industry
- which contributes to destroying markets for local farmers in poor countries - will no longer wreak havoc? Will higher food prices slow the problematic rural-urban migration trends in the South? Is the new situation really prompting much needed investments in the farming sector in developing countries? Is there even a remote possibility that
poor countries can help their farmers fast enough to benefit from rising food prices
? All these questions and more are up for debate. [Entry ends here].
energy :: sustainability :: biomass :: bioenergy :: biofuels :: food :: rural development :: agricultural economics :: developing countries ::
Article continues