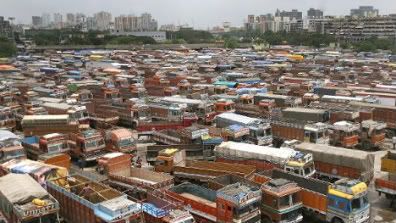 More than four million truckers in India have stopped working and are protesting over high fuel prices. Their strike is paralysing the country's economy and is threatening to fuel the food crisis further. The truckers want the government to lower taxes and undo the cuts in fuel subsidies it recently introduced. The truckers vow to shut down the country if no deal is reached.
Truckers are simply no longer able to work. Diesel has become so expensive that we can not survive. We are being forced to lay down our work. [...] We had talks with the government, but it was just an eyewash. We are hoping that a solution would be found soon.

- Gurinder Pal Singh, AIMTC

The road transport sector is India's most important mechanism to supply the subcontinent's 1.4 billion inhabitants and its economy. Trucks not only supply raw materials and finished goods to end users, they also transport food and agricultural products from the country-side to the growing mega-cities.

Food crisis
Rising fuel costs are already the largest factor in the increase in food prices, heavily affecting the poor. But if the transportation sector shuts down altogether, a fullblown food crisis would emerge.
The Confederation of All-India Traders said it expected prices of food and essential items to rise sharply if the strike continued for more than two days:
If the strike continues, prices of food grains, pulses, consumer durables, and raw materials for industry will go up by 10-15 percent.

- Praveen Khandelwal, Confederation of All-India Traders.

The Indian economy is booming, but the country imports 70 percent of its liquid fuels from abroad. This heavy oil-dependency has wreaked havoc amongst fuel intensive economic sectors such as agriculture, transport and the airline industry.
High oil prices recently forced the Indian government to cut back fuel subsidies, leading to higher prices for consumers. The move angered the masses who took to the streets by the millions. The fuel protests have now spilled over to other sectors.
According to the All India Motor Transport Congress (AIMTC), the recent subsidy cuts signal the second price jump in a short time. Earlier this year, diesel prices increased by more than 40 percent. In order to save the transportation sector, the AIMTC urges the government not only to re-subsidize and regulate the price of transportation fuels, but to lower road toll taxes as well.
Over the past few weeks the world has seen fuel riots, strikes and protests in more than 90 countries.
energy :: sustainability :: biomass :: bioenergy :: biofuels :: food crisis :: oil crisis :: transportation :: India ::
Article continues