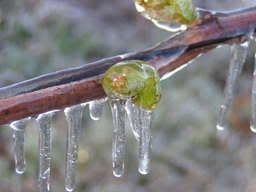 Widespread damage to plants from a sudden freeze that occurred across the Eastern United States from 5 April to 9 April 2007 was made worse because it had been preceded by two weeks of unusual warmth, according to an analysis published as an open access
article
in the March 2008 issue of
BioScience
.
The authors of the report, Lianhong Gu and his colleagues at the Oak Ridge National Laboratory (ONRL) and collaborators at NASA, the University of Missouri, and the National Oceanic and Atmospheric Administration (NOAA), found that the freeze killed new leaves, shoots, flowers, and fruit of natural vegetation, caused crown dieback of trees, and led to severe damage to crops in an area encompassing Nebraska, Maryland, South Carolina, and Texas. Subsequent drought limited regrowth.
The findings could have serious implications for agriculture and for future climate predictions as both local photosynthetic activity and biomass productivity can dramatically decline as a result of such events. Lower biomass productivity means a lower capacity to sequester carbon dioxide, thus disturbing the carbon cycle. The potential for such freeze events preceded by warm periods, may also complicate farmers' planting decisions.
The event
The 2007 spring freeze was caused by a winter configuration of the jet stream, which brought an Arctic airmass deep into the eastern two-thirds of the conterminous United States, breaking low temperature records in dozens of locations. The spatial extent of the event is delineated approximately by the daily minimum temperature anomaly as determined by the terrestrial observation and prediction system (TOPS) (figure 1,
click to enlarge
).
Spring freezing events are not unusual in this part of the United States; it is unusual, however, to have such an extreme freeze event after extended periods of above-normal temperatures.
At an AmeriFlux site in central Missouri, the daily minimum temperature exceeded 15 degrees Celsius (°C) for a week just before the sustained April freeze, which at its coldest reached –7°C. The daily minimum temperature also exceeded 15°C eight times during the two weeks leading up to the freeze event, which at its coldest reached –5°C, at the Walker Branch watershed station in Tennessee (figures 2a and b,
click to enlarge
).
This stretch of high late-winter temperatures preceding the freeze, coupled with above-normal warmth earlier in March, caused that month in 2007 to be the warmest March on record at the Walker Branch station and also at the nearby Oak Ridge, Tennessee, station (mean temperature of 13.7°C; period of record, 1948–2007).
The unusually warm periods before the 2007 spring freeze caused plants to break dormancy early throughout the southern part of the central and eastern United States. When the cold, Arctic air subsequently moved into the region, the stage was set for the freeze to decimate newly grown tissues of crops, horticultural plants, and native forest species:
energy :: sustainability ::biomass :: bioenergy :: agriculture :: frost :: vegetation :: carbon cycle :: global warming :: climate change ::

The 2007 spring freeze hit agriculture particularly hard. Severe and widespread damage to crops was reported from Nebraska to Maryland in the north, and from Texas to South Carolina in the south. Farmers in several states considered this freezing event "the worst ever seen," andmany sought federal farm disaster relief. For example, the agricultural loss in North Carolina alone was estimated at $111.7 million, and Governor Mike Easley requested federal disaster declaration for crop damage in 56 counties.



From a rushing "green wave" to a collapsing "green retreat"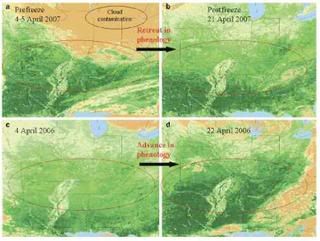 The MODIS (Moderate-resolution Imaging Spectroradiometer) rapid response system provided timely spatial and temporal information about the impacts of the 2007 spring freeze on vegetation development (i.e., leaf canopy) in the affected region.

Images of the Normalized Difference Vegetation Index (NDVI) from MODIS before the freeze indicated that vegetation in the southeastern United States and the southern part of the Midwest was developing rapidly, and showed the vernal front reaching as far north as northern Missouri.

After the freeze, the vernal front was pushed back tomid-state locations in Arkansas, Mississippi, Alabama, and Georgia (figure 3,

click to enlarge

; compare the dark green areas in panels a and b). The regionwide phenological development in 2007 (figure 3a, 3b) also presented a marked contrast to that in 2006 (figure 3c, 3d). Before the spring freeze in 2007, the southeastern NDVI was developing much faster than in 2006 (figure 3, compare panels a and c). After the freeze, the opposite pattern is clearly evident (figure 3, compare panels b and d). The freeze effectively and nearly instantaneously turned a rushing green wave of vegetation development into a green retreat.

Impact on the carbon cycle and climate change
All signs have so far indicated that the 2007 spring freeze had at least a short-term, profound effect on the terrestrial carbon cycle inmuch of the central and eastern United States during the crucial period of spring phenological development. In fact, for the period 7–14 April 2007, the fraction of absorbed photosynthetically active radiation, a sensitive indicator of terrestrial primary production (computed by TOPS), was markedly lower than the 2001–2006 average for the same period.

At the Missouri Ozark AmeriFlux site, reduced forest carbon uptake and altered surface energy balance were observed after the freeze. It also appears that regrowth did not yield the normal maximal leaf area indices of major deciduous forest biomes found in the freeze-affected region in previous years.

Given the severity and spatial extent of the damage in 2007 to managed and natural vegetation throughout the southeast, onemight question how strong the terrestrial carbon sink was that year in the United States, and speculate on long-lasting impacts beyond the 2007 growing season.

We hypothesize on the basis of several considerations that this event will evoke both short-term and long-term responses. The level of tissue damage represents a substantial loss of carbon and nutrients that would have been remobilized to internal plant stocks during autumnal senescence. Plants cannot resorb nutrients and carbohydrates from freeze damaged tissues. The loss of energy-intensive resources disturbs the internal nutrient cycling and carbohydrate budgets. These disturbances may have lasting effects.

- Gu et al.
The 2007 spring freeze coincided with the release of the fourth assessment report by the Intergovernmental Panel on Climate Change (IPCC). This report concluded that it is "virtually certain" that the 21st century will have "fewer cold days and nights overmost land areas". In view of this prediction, what implications does the 2007 spring freeze have for terrestrial ecosystems in a warming global climate?

To address this question, the researchers draw a line between frost frequency and risk of frost damage in the context of climate change. Reduced frost frequency does not necessarily mean reduced risk of frost damage. Farmers and other landmanagers may respond to warming and reduced frost frequency by planting earlier or by planting alternative species.

Natural plant populations and animal species might advance the development of crucial phenological phases, or with sufficient time, shift their ranges poleward or to higher elevations. With such adjustments and adaptations, the risk of frost damage could remain the same or even become greater.

In addition to the distinction between frost frequency and risk of frost damage, the scientists also considered the myriad interactive effects among changing environmental factors crucial for plant growth, including atmospheric CO2 concentration, temperature,water availability, snowcover, ozone concentration, and ultraviolet-B (UV-B). Without taking these factors into account, it is impossible to fully appreciate the seemingly paradoxical risk of frost damage to plants in a warming climate.

An obvious issue of concern is the effect that higher atmospheric CO2 concentrations would have on plant tolerance and resistance to low temperatures both early and late in the growing season. Experimental results suggest that responses are most likely species-specific, but there is amounting consensus that, formany plant species, growth under elevated CO2 can reduce their resistance and tolerance to freezing temperatures.

The reduction in tolerance appears to be caused by a slowdown in low-temperature acclimation, which is caused by higher daytime leaf temperatures due to reduced stomatal conductance under elevated CO2. Furthermore, elevated CO2, alone or interacting with UV-B, may increase the foliar ice nucleation temperatures of both evergreen and deciduous species, and thus make them vulnerable even to moderately cold conditions.

Although warming may be the general climate trend, there is little certainty regarding future temperature variability. If, as predicted, temperatures in winters rise prominently, one may expect more frequent freeze and thaw fluctuations during future winters, a situation that would present several problems for plant growth. These fluctuations may delay plant hardening and hasten dehardening. Many plants' tolerance to freeze increases only after a sustained period of exposure to low temperatures. If temperatures change too quickly, however, plants may not have enough time to acclimate.

- Gu et al.
Gu and his colleagues propose that the 2007 spring freeze should not be viewed as an isolated event, but as a realistic climate-change scenario. Further study of its long-term consequences could help refine scenarios for ecosystem changes as carbon dioxide levels increase and the climate warms.

References:
Lianhong Gu, et. al. "The 2007 Eastern US Spring Freeze: Increased Cold Damage in a Warming World?",

BioScience

, March 2008 / Vol. 58 No. 3
Article continues