The bioenergy community is excited about a new start-up that could play a key role in the mass introduction of carbon-
negative
bioenergy systems. Scientists from the University of Greenwhich who formed
Carbon8 Systems
have developed a technique that allows power producers to capture CO2 simply by turning it into limestone via a carbonation process. If the system is applied to biomass power plants instead of coal plants, the company says,
'negative emissions'
are obtained. Negative emissions from energy means that CO2 is pulled out of the atmosphere. What is more, for tropical and subtropical countries that lack large limestone deposits - a key soil amendment to make acidic soils more productive - the process could result in an extremely important synergy that allows farmers to boost (energy) crop yields.
Renewables like solar, wind, hydropower or even a source like nuclear energy are all 'carbon
neutral'
at best. That is: they do not add
new
emissions to the atmosphere and have a relatively small carbon footprint over their lifecycle. But this is a weak result compared to carbon-
negative
bioenergy. Socalled 'Bio-energy with carbon capture' (BECS) systems go much further: they actively take CO2 from the past
out of the atmosphere
. This is so because as biomass grows it stores atmospheric CO2 in its tissue. When the biomass is combusted for electricity generation or transformed into a decarbonized fuel like biohydrogen, and consequently the CO2 resulting from this transformation is captured and stored, the result is a
negative
emissions balance.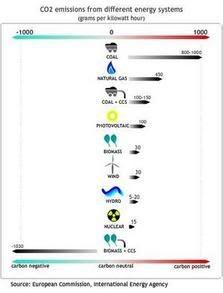 This makes such bioenergy systems by far the most important tool in the climate fight. Table 1 (
click to enlarge
) shows the difference in emissions between electricity from fossil fuels, from carbon-neutral renewables like wind or solar, and from carbon-negative biomass. Whereas a kWh of coal-based electricity generates up to 1000g/CO2, and one based on photovoltaics around 100g/COeq, a kWh of carbon-negative bio-electricity yields
minus
1030 g/CO2. In other words: the hyper-green energy
removes
the climate destructive gas from the atmosphere.
There are two main pathways to capture and store carbon from bioenergy systems. One is high tech and involves capturing CO2 from biomass power stations through a set of complex techniques, after which the greenhouse gas is transported via pipeline or ship and sequestered in geological formations such as depleted oil & gas fields, or saline acquifers. The other technique is based on storing
biochar in soils
, which could lead to a highly beneficial cycle of improved agriculture.

Carbonation
But now, a third option is emerging: capturing CO2 from power plants, gasification based biohydrogen reactors or waste incineration facilities and using it as a feedstock to produce limestone. Dr Paula Carey and Dr Colin Hills, both geologists from Greenwich, created Carbon8 Systems in 2006. They are commercialising the technology. (A competitor would be
Carbon Sciences, Inc
. but it currently only focuses on coal).
Dr Paula Carey says the process is in fact very simple and known as carbonation. Industrial waste, such as the ash obtained from municipal incinerators, or biomass ash from power plants, contains calcium silicates which react vigorously with CO2 to produce calcium carbonate, or limestone as it is more commonly known. This process occurs naturally but because of the relatively low concentrations of CO2 in the air the reaction can take years.
The researchers developed a process based around the mixture of calcium silicates, water and the right concentration of CO2 that speeds the reaction up so it takes only about 15 minutes. The result comes in the form of limestone pellets (picture), ready for use as a raw material in other industrial sectors (construction materials, cosmetics, etc). Carbon 8 Systems has a certain degree of patent coverage for the process and is now working to commercialise the technology. (Note: no word yet about the energy intensity of the process).
Asked whether the carbonation technique could also be applied to CO2 from biomass energy plants, Dr Carey replied:
Absolutely. What we are looking at is a genuinely

carbon negative

process. If you consider the advantage of biomass projects are that they are carbon neutral as emitted carbon had been absorbed as the biofuel grew then adding a technology that captures the CO2 when it is emitted and takes it permanently out of circulation is a

carbon negative

process.
Limestone and acid soils
Biopact would add that with the technique a new and highly interesting synergy could be emerging for developing countries in the tropics and the subtropics. As is well known, vast tracts of land in Asia, Africa and Latin America are dominated by highly problematic
acid soils
, often burdened by aluminum toxicity, which is known to result in poor agricultural yields. Around
half
the world's arable land suffers from acidity. However, there is a simple technique to increase the Ph of these soils: adding lime. However, many developing countries have a lack of this resource, which limits the scope for this most basic intervention.
Acidic soils worldwide: aluminum toxicity in acidic soils limits crop production in as much as half the world's arable land

Now if these countries were to produce carbon-
negative
bioenergy from locally grown energy crops in a decentralised manner and apply the carbonation process, they would obtain a large enough stock of limestone that can be applied to the acid soils, thus boosting crop yields. The lime pellets can easily be pulverized to obtain a product similar to agricultural lime. An amazing synergy based on this system would then emerge in which climate change is fought in the most radical way with negative emissions (for which carbon credits become available), access to rural electricity for poor communities is boosted, while agricultural output is increased, food insecurity tackled and pressures on land, water and forests reduced:
energy :: sustainability :: biomass :: bioenergy :: biofuels :: biohydrogen :: bio-electricity :: carbon capture and storage :: bio-energy with carbon storage :: carbon-neutral :: carbon-negative :: negative emissions :: carbonation :: acid soils :: aluminum toxicity :: global warming :: climate change ::

The importance of lime for tropical agriculture should not be underestimated. In the 1970s and 1980s, Brazil, for example, based most of its agricultural zoning and planning efforts on the presence of lime deposits. Lime availability was seen as the key limiting factor and determined where which type of crops could be grown. The same logic is true for most other tropical countries with vast acid soil resources.



Other applications


According to Dr Carey other applications are for incinerators that produce CO2 from the chimney while also producing the ash needed to capture much of that CO2. Applying the technology to an incinerator means you would not only cut carbon emissions, the process would also treat the waste ash and make it less hazardous and the net result is limestone which can be reused as aggregate for the construction industry.

When it comes to the reduction in carbon emissions that could be achieved with this technology, Carbon 8 Systems estimates that 70,000 tonnes of ash would absorb between 10,000 and 20,000 tonnes of CO2. Beyond that the only constraint on how widely you could apply the technology would be the availability of the ash and the demand for the aggregate.

Commercialisation of the carbonation process is being worked on. The biggest challenge is capturing the CO2 from the chimney, though carbon capture systems for doing that are absolutely feasible and the company's scientists are working on developing the technology. When it comes to using the process to just treat the hazardous ash they can simply use bottled CO2. The researchers conducted a field trial last week using this process, following up on trials they did several years ago. They are also working with a waste company to get a full pilot using bottled CO2 up and running in the next two to three months.

Realistically speaking Carbon 8 Systems is thinking in terms of saving millions of tonnes rather than tens of millions of tonnes for the UK, due to the limitations in terms of availability of ash and demand for the end product. But the potential application of the technology is still huge, they think. It would be expensive retrofitting any system to existing incinerators, but it is expected that more incinerators and biomass power plants will be built.

Dr Carey is the commercial director of Carbon8 Systems as well as an academic a the University of Greenwich. She has a research background in geology and natural materials for the construction industry.




Map

: Aluminum toxicity in acidic soils limits crop production in as much as half the world's arable land, mostly in developing countries in Africa, Asia and South America.

Credit

: Cornell University Chronicle Online.



References:


VNU Net: To capture CO2, just add calcium silicate - January 29, 2008.

FAO Problem Soils Database: Acid Soils.


Article continues