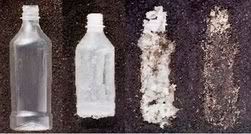 According to a new
market study
, the bioplastics market is achieving a fast growth of 8 to 10% per year. The bio-based materials currently cover approximately 10 to 15% of the plastics market, but that share could grow to 25 or even 30% by 2020. The study, by Helmut Kayser Consultancy, also sees the car industry turning green by incorporating ever more bio-based materials in the manufacture of vehicles.
Biopact readers know that researchers have found that bioplastics and renewable, bio-based bulk chemicals from energy crops in general constitute one of the most efficient and potentially most cost-effective uses of biomass and land resources - more so than liquid biofuels in a range of cases (
previous post
). It seems like this knowledge is increasingly being translated into concrete market activity.
According to the Helmut Kaiser report, the market for bioplastics itself is huge, reaching over US$1 billion in 2007 and will be worth over US$10 billion by 2020. More and more companies are entering and investing in the market with new applications and innovations in the automotive and electronics industry leading the market boom. Over 500 bioplastics processing companies are operating today, with more than 5000 expected by 2020.
For the renewable bioplastics industry, "nontoxic" is the key image, sustainable and environmentally friendly production the driving force. Less than 3 percent of all waste plastic worldwide currently gets recycled, compared with recycling rates of 30 percent for paper, 35 percent for metals and 18 percent for glass, according to an earlier study by Helmut Kaiser Consultancy.
The world's oil resources are depleting at an amazing speed, the report says. Sustained high prices provide a major incentive for the bioplastic sector to break through for good. Fossil fuels are exhaustible and due to a growing and wealthier global population, these resources will not be sustainable in the future. Conventional plastics are produced from byproducts of the fossil fuel processing industry. They do not degrade in nature and are a leading cause of the destruction of marine biodiversity. In contrast, bioplastics offer a sustainable and nature-friendly alternative the raw materials of which are limitless when new bioconversion technologies emerge. Most importantly bioplastics are most often easily biodegradable, compostable or recyclable.
Technically speaking, bioplastics have overcome most of their initial problems and are now just as durable, workable and flexible as normal plastics.
One of the future advantages of bioplastics can be found in the use of plant sources as renewable materials for a 'cascading' resource strategy: after their useful life, the bio-based products could be further recycled into 'new' biomass feedstocks for thermal, organic or chemical transformation processes that yield entirely new, unrelated products:
energy :: sustainability :: biomass :: bioenergy :: biofuels :: bioplastics :: biopolymers :: biodegradable :: bioeconomy :: peak oil ::

The production of bioplastics is not only more environmentally friendly, but also results in lower lifecycle emissions. Like biofuels, they cut greenhouse gas emissions, especially carbon dioxide. In the future, when efficient biomass production and supply chains become available, this GHG reduction advantage might grow further. [See this article for an overview of the lifecycle emissions of green bulk chemicals as compared with those of biofuels.]

According to Helmut Kaiser Consultancy, Europe will become one of the most important markets for bioplastics, due to its limited amount of crude oil reserves. In recent years, bioplastics have been used in the food and packaging industry, medical, toys and textile industries there.

With new innovations expected in the near future, more and more applications for bioplastics will emerge, especially in the automobile industry and electronics sector, in which plastics play a major role. Car companies know that plastic parts made from plants will appeal to 'green' customers and customers who care. Toyota is one of the leading companies in research and usage.

Bioplastics production companies own relatively small dedicated plants and are still in the early stages of development. In the future, they could become integrated in true 'biorefineries' that produce a wide range of products from biomass - from fuels and green platform chemicals, to fiber products and biopolymers.

The Helmut Kaiser study discusses the structure of the bioplastics market, its development worldwide by region, applications and technologies. The markets that are covered include bioplastic manufacturing, bioplastics processing, bioplastic distribution, recycling and the use of renewable raw materials.

References:
Helmut Kaiser Consultancy: Bioplastics Market Worldwide 2007-2025.

Biopact: Researchers find bio-based bulk chemicals could save up to 1 billion tonnes of CO2 - December 17, 2007.

Article continues