The University of São Paulo's (USP) Cenbio (National Center for Biomass Technologies) of the Electrotechnical Institute of Energy (IEE), has joined an EU-led international project aimed at researching and stimulating the use of ethanol in public transport. The €17.7 million
BEST project
(Bioethanol for Sustainable Transport) now has more than 160 buses running on the fuel in cities across Europe and in China. Sweden is the leader and has been operating ethanol buses for over 15 years, with more than 400 now on the road.
The participation of Brazil is logical, because the country is the largest user of the biofuel. Under BEST, the megacity of São Paulo will trial a set of buses running on a special E95 hydrous alcohol fuel for one year to demonstrate the nearly pure biofuel's viability and to study its emissions profile. The vehicles will serve the metropolitan Jabaquara corridor, with nine terminals and four municipalities: São Paulo, Diadema, São Bernardo do Campo and Sainto André. This 33-km line will transport 1900 travelers per day. (See
video
at O Globo).
The action is an initiative of Cenbio and eight other partners: BAFF/SEKAB, Copersucar, EMTU/SP, SPTrans, Marcopolo, state-owned oil company Petrobras - via its Conpet (National Program for the Rationalization of the Use of Oil & Gas Derivatives) -, Petrobras Distribuidora, Scania and Unica (Union of the Sugarcane Industry).
Funding comes from the European Union. The investment in São Paulo's participation in BEST is of the order of R$1,6 million (€618,000/US$914,000). The vehicles will be incorporated into the fleet of the Metra operator (Sistema Metropolitano de Transporte), the EMTU/SP (Empresa Metropolitana de Transportes Urbanos de São Paulo), and into that of an operator chosen by SPTrans (São Paulo Transporte), which manages bus transport in the city.
The buses
During the trials, the performance and CO2, NOx and SOx emissions of the buses will will be compared to those of similar diesel models. The ethanol buses are standard Scania Omni buses with a 9 litres Scania compression ignition engine, slightly modified to operate on E95 bioethanol bus fuel [
brochure
*.pdf].
Scania started to develop ethanol buses in the mid-1980s in close co-operation with Stockholm Transport (SL). After more than 15 years of regular full-scale operation in tough city conditions, Stockholm Transport considers it a fully proven bus technology.
There are no operational drawbacks as long as the scheduled maintenance requirements are followed. The buses themselves are completely standard, using regular Scania components. Around 600 ethanol buses have been delivered so far. Scania has meanwhilde developed its third generation Euro-5 compliant ethanol engine.
The dedicated fuel
The
bioethanol bus fuel
is a liquid homogeneous and stable fuel, which is developed for heavy-duty, ethanol compression-ignition engines. It has been commercialised in Sweden and fulfils the ethanol fuel standard given by Scania. The trade name of the fuel is Etamax D and the ethanol used originates from renewable sources only.
The fuel is produced by SEKAB and delivered directly to each ethanol bus depot. Etamax D has following composition (percentage by volume):
93,5 % bioethanol (hydrous 95 %)
3,6 % ignition improver
3,0 % denaturants (MTBE 2,5 % and iso-butanol 0,5 % according to Swedish law)
a corrosion inhibitor
Even if ethanol has a very low cetane number the fuel has very good qualities and works excellent in a compression-ignition engine. This property of the fuel is given by the special developed ignition improver additive. The ethanol fuel for buses has been carefully developed, tested and then used on a large scale in Swedish buses for over 15 years. The use of the ignition enhancer in the busfuel is patented.
All sites in Europe, China and Brazil will demonstrate effective systems for delivering the fuel through the introduction of dedicated fuel stations. Umeå University (Sweden) will study the consequences, sustainability and cost of the long-term production and supply of ethanol from cellulose (from forest residues and crops/wheat) in the participating cities and in some regional markets in Europe. This will also include the experiences from the ligno-cellulose pilot plant in Örnsköldsvik and the consequences and sustainability of a large-scale import of ethanol to the EU.
The (e)mission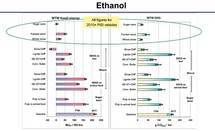 The mission of the BEST project is to analyse and demonstrate the fact that the use of ethanol in public transport has major air quality as well as environmental benefits. The E95 fuel as trialed in Sweden reduces carbon monoxide by 60% and particulate matter emissions by up to 90%. When made from highly efficient Brazilian bioethanol it reduces GHG emissions by around 90% (figure 1,
click to enlarge
). This numbers is based on the EU's
CONCAWE/EUCAR/Joint Research Center well-to-wheel study
, the most comprehensive analysis of current and future propulsion pathways ever undertaken:
energy :: sustainability :: biomass :: bioenergy :: biofuels :: ethanol :: sugarcane :: E95 :: urban air pollution :: emissions :: public transport :: EU :: São Paulo :: Brazil ::

Brazil is first country of Americas to participate in BEST. Eight cities in Europe and Asia already participate in the program. USP professor Jose Robert Moreira, chairman of the board of Cenbio and BEST project leader in Brazil affirms that the time is very favorable for these trials in São Paulo too:

It offers an alternative to diminish air pollution in metropolitan areas, where the technology will be demonstrated. [...] Today, diesel fuel almost costs twice as much as ethanol and there clearly exists a trend of continuous rises in the price of oil.

- Jose Robert Moreira
Brazil has trialed ethanol in buses before, particularly in São Paulo, which ran them for eight years, but the economic parameters were different then. Meanwhile, the Swedish experience, the optimisation of the fuel and the new generation bus engine has given new reliability to this form of mobility.

The tasks of each partner in the Brazilian participation can be summarised as follows:

Copersucar will import the first lot of ethanol with the additive from Sweden
BAFF/SEKAB will then supply the ethanol additive to be mixed with Brazilian ethanol
EMTU/SP and SPTrans perform the tests via their bus operators
Marcopolo is to supply and mount the dedicated body work of the demonstration vehicles
Petrobras will mix the additive into the ethanol and will distribute the bus fuel to the operators
Scania will import the chassis and the ethanol engine
Unica will supply the ethanol for the tests
The BEST project is co-financed within the EU's 6th framework - Sustainable Energy Systems/Alternative Motor Fuels: Biofuel Cities. It is aimed at putting more than 10 000 ethanol cars and 160 ethanol buses into operation.
13 E95 fuelstations for buses and 135 E85 fuelpumps will be opened. Low blends with petrol and diesel will be developed and tested as well.

Through this the participating cities and regions aim to prepare a market breakthrough for ethanol vehicles and for bioethanol and also to inspire and obtain followers.


Participating cities/regions are (map,

click to enlarge

):

Biofuel Region (Sweden): Stockholm has 15 years experience of Bioethanol buses. The Stockholm fleet has expanded to approximately 400 buses in 2006. In addition, smaller fleets of ethanol fuelled buses are run in other cities for example Umeå, Gävle, Örnsköldsvik, Falun and Sundsvall. The existing ethanol bus technology is a standard solution, which gives an effective reduction on both local and global emissions from your bus fleet.
Brandenburg (Germany)
Somerset(UK),
Rotterdam (Netherlands),
Basque Country and Madrid (Spain),
La Spezia (Italy)
Nanyang (China)
Sao Paolo (Brazil)
The co-ordinating city is Stockholm. Research partners are, amongst others, Imperial College (UK), Umeå university (Sweden), and Tsingua University (China). Besides Scania, Ford Motor Company and Saab are industrial partners. The project started in january 2006 and will continue til end of 2009.

The work and investments within BEST gaining European support is estimated to amount almost 17 700 000 €. In addition a lot of non funded work and investments is carried out in, or very close to, the project, meaning the 'real' BEST budget is higher.

BEST is one of two sister projects within the European Partnership Biofuel-Cities; the other project is BiogasMAX. One aim for the European partnerships like Biofuel–Cities is to establish European partnerships for innovative demonstration of alternative fuels and energy efficient vehicles, which will foster the progressive take up of alternatives to petrol and diesel.

Together with another European Partnership Hydrogen for Transport, the partnerships build up the Alternative Motor Fuel Work programme.




Translated from Portuguese, and adapted for Biopact, CC, 2008.




Picture: Scania ethanol bus running on E95 in Stockholm, Sweden.

Credit

: Scania.



References:


EU BEST project.

Scania: Bioethanol Bus specifications [*.pdf].

Joint EU Concawe/JCR/EUcar WTW study, update march 2007.

European Commission DG-TREN Viewls project: Shift Gear to Biofuels - Final report Viewls project [*.pdf].

O Radical (via Ethanol Brasil): Ônibus a etanol entra em circulação no Brasil - January 2, 2007.

O Globo: Ônibus movido a etanol - video.


Article continues