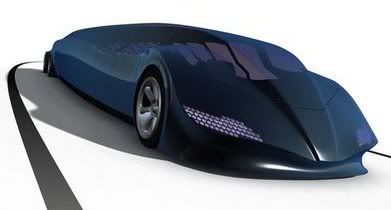 The Superbus: high-speed, all electric and powered by carbon-
negative
bio-electricity... the future of mass mobility?
With continuing high energy prices, bioenergy and biofuels are set to see another year of large investments. Most of these will go into first-generation projects. However, there are many energy, mobility, biotechnology and agricultural concepts that open a brighter, greener future than what we have seen so far. We hope some of these ideas come to fruition this year. Biopact hopes the following list of concepts receive more attention in 2008.
1. Reducing deforestation in the tropics
Tropical forests store carbon and the countries and communities that own these resources should be compensated for this stock, or at least for not burning it down. The concept of 'avoided deforestation' or 'compensated reduction' (schemes proposed under the generic title 'Reducing Emissions from Deforestation in Developing Countries' - REDD) could make economic sense.
However, many problems remain, the biggest being the fact that the compensation will not easily reach the communities that actually live in and near these forests. REDD is a 'top down' scheme that could drive the state, bureaucrats, and corrupt officials to push forest communities off their lands. More fundamentally, suppose the money does reach these communities, the question becomes: what are they going to do with it? It won't be enough to guarantee them a modern lifestyle, and they can't invest it in precisely the things that define modernity: mobility (smooth transport and road infrastructures), urban environments, advanced agriculture, energy infrastructures, and all the social and economic benefits that emerge from modernity. Because all these modernist signs of 'progress' would destroy the very forests that are to be protected under the scheme.
REDD will only make sense if it is accompanied by much larger funds that offer these communities a way to 'leapfrog' from pre-modernity straight into a still to be defined type of hyper-efficient, post-industrial post-modernity, skipping the centuries long phase of modernity. It's highly ambitious and not likely to work, but the idea must be tried out.
2. Agricultural investments in the South
There is a very large potential for efficiency increases in agricultural production in the tropics and the subtropics. Especially in Africa, small interventions and improved access to basic farming inputs, markets and technology, can drive up yields dramatically and make farming more sustainable. Scientists predict the continent will be undergoing its own Green Revolution over the coming years. Making existing farming more efficient and modern, means even more land becomes available for energy crops, besides the already large potential for bioenergy production on the continent.
The interventions needed can be extremely simple: Malawi's super harvests of the past two years were solely based on providing small farmers access to fertilizers. This turned the country from a begging bowl into a regional food exporter. Now it is time to replicate this example across the continent, and to add basics such as access to good seeds, herbicides, pesticides, knowledge, modern farming tools, more efficient marketing instruments. This effort further requires investments in rural infrastructures (improved roads, waterways, ports), and into education, extension, cooperation, science and technology. Market conditions - very high agricultural prices - are right, so we will see an influx of investments in farming in developing countries. In a later stage, biotechnological breakthroughs (robust seeds capable of withstanding drought, pests, etc...) and the knowledge to produce them should be transferred.
The FAO recently called on developing country governments to focus much more on agriculture and pointed to Malawi's example. Likewise, the World Bank announced last year it is shifting its attention back to rural development and agriculture, a sector neglected for way too long. The vast majority of the world's poor are farmers in developing countries. It is only logical for development efforts to focus on them first.
3. Carbon-

negative

bioenergy
This year should also see a growing interest in concepts that deal with the production of carbon-
negative
energy. Both main pathways remain equally interesting: (1) the production of 'negative emissions' electricity and/or biohydrogen from biomass, with the CO2 captured and stored in geological formations, and (2) the production of fuels and energy from biomass pyrolysis processes which allows carbon to be stored in soils (terra preta) - such biochar enhanced soils improve crop growth and bring a series of major advantags (better water retention, reduced fertilizer needs, and so on). All renewables, wind, solar, hydro and bioenergy, are merely 'carbon neutral'. But bioenergy from which the carbon is captured and stored is 'carbon negative': it takes CO2 out of the atmosphere.
This year should present more results from actual biochar trials that are being conducted across the world. At the same time large power producers who are trying to convince the public of the feasibility of and need for 'carbon capture and storage' (CCS) from coal fired power plants, could boost their case by proposing to switch to biomass instead of coal. CCS + biomass reduces the negative effects of CO2 leakage - the main objection against CCS - to zero, because the CO2 in question is biogenic. A country like China in particular could be the first to trial CCS on biomass power plants to yield 'negative emissions' energy. This would greatly improve its image and would demonstrate it takes the fight against climate change seriously.
California for its part could become the first in the world to trial running vehicles on carbon-
negative
biohydrogen. The fuel can be made in a relatively competitive way from biomass, with the CO2 captured and stored underground. Since California has an ambitious hydrogen program, relatively abundant biomass resources, and a car manufacturer like Honda willing to bet its future on the fuel and about to trial its hydrogen cars there first, the conditions for such a futuristic mobility concept are perfect. Californians who drive such a car, fueled by carbon-negative biohydrogen, wouldn't be reducing their CO2 emissions to zero. No, that would be a weak offer. Instead, they would be doing such an unimaginable thing as taking CO2 from the past and from America's gaz guzzlers out of the atmosphere.
4. Electric public transport
If it were up to Biopact, the future of mobility would be electric, public and collective. Electric because the most efficient use of biomass is for the production of electricity and heat. This utilization pathway is far more energy efficient than the conversion of biomass into liquid biofuels burned in internal combustion engines. Public and collective, because public transport is cleaner, smarter and more efficient too. Rapidly developing countries like China and India have a chance to invest in hyper-modern mass transit concepts and would stand to gain both economically and environmentally.
Let's point to a concept recently developed at the Technical University of Delft. The SuperBus. These high speed (150 - 250 km/h), fully electric powered, aerodynamic, "intelligent", road driven busses offer on-demand point-to-point services. Passengers can reserve a spot on the vehicle on the Internet or by text messaging from their personal phone. Superbus will go directly to the passengers' destinations thus eliminating unnecessary stops and mileage. The vehicles operate at normal speeds on existing roadways, and will operate at high speeds on newly constructed Supertracks, which will be geothermically heated roadways specifically designed for Superbus vehicles. Each vehicle will have roughly 30 seats and an individual door for each seat. All of the intelligence and high-technology is concentrated in the vehicle, leaving the infrastructure simple and at low cost. As the life cycle of the vehicle is short, newly developed technologies can be rapidly implemented, assuring an up-to-date Superbus sytem. Delft hopes to have a prototype built for demonstrations at the 2008 Olympic games in Beijing. Power the bus by carbon-
negative
bio-electricity and you have a dream come true:
energy :: sustainability :: biomass :: bioenergy :: biofuels :: biogas :: biohydrogen :: mobility :: energy security :: climate change :: developing countries ::



5. An international framework on sustainable biofuels and a study of the effects of high oil prices on poor countries


There is a very large theoretical potential for the production of explicitly sustainable bioenergy. Some scientists estimate it to be around 1300 Exajoules by 2050 - roughly six times the total amount of oil currently consumed by the entire world, and roughly two and a halft times all the energy used by all countries. But this potential is purely a scientific given; it doesn't deal with the way in which the resource is actually exploited and produced.

Markets don't do science, they do money. In this case, they aim at producing bioenergy in the least costly way, without taking into account 'externalities' such as the cost of environmental and social impacts. Examples of land grabs and of destructive farm practises (e.g. some palm oil plantations in Indonesia) abound. This could change with an international framework containing sustainability criteria for biofuels and bioenergy, and carrying moral weight. Binding national criteria and the instruments needed to monitor their application, should emerge in all countries.

At the same time, many poor countries are looking at biofuels as a way to cut their reliance on excessively expensive oil and fossil fuels. For the least developed oil importing countries, some of who spend more than 15% of their entire GDP on importing the resource, current prices are truly catastrophic. They have such effects as generalised inflation, decreased trading capacity, unemployment, crippling agriculture, increasing food insecurity, as well as draining the treasuries of states resulting in cutbacks in spending on basics such as health care and education. This year, energy think tanks should produce comprehensive reports on the effects of high oil prices on these countries, and compare them with the potential for biofuels to mitigate some of these effects.



6. Polygeneration and coupling renewables


Recently, Germany proved that it can power itself entirely by renewables. Scientists coupled geographically dispersed biomass power plants to intermittent renewables like wind and solar, and generated reliable base and peak loads of electricity around the clock. Their calculations show the country has enough biomass, wind and sun to phase out nuclear and to scrap coal.

In 2008, we hope more countries actually demonstrate the feasibility of such distributed energy systems. The power of actual demonstrations of theoretical concepts should not be underestimated. They put policy makers and politicians before a fact that can no longer be hidden; they can no longer argue that such concepts merely exist on paper. Moreover, such demonstrations debunk the 'base-load fallacy', often used by investors and politicians alike as an argument against wind and solar power. By coupling these intermittent resources to robust baseloads provided by bioenergy systems, energy production can become entirely green and reliable.

On a smaller scale, this year will see continued research efforts in efficient polygeneration concepts. The local coupling of renewables to provide heat, power, and cooling in such a way that losses are kept to a minimum is undoubtedly one of the most interesting developments of the past years. Such polygeneration systems can be woven in a smart way into the complex infrastructural fabric of small towns and cities.



7. Synthetic life and a frank discussion about its merits and risks


In 2007, scientists made great progress towards developing synthetic organisms. The disruptive field of 'synthetic biology', which combines methods for the chemical synthesis of DNA with computational techniques to design organisms for specific purposes, will be speeding up further this year. Craig Venter, one of the leading figures in the field, announced he is close to making the first-ever synthetic life-form. He already patented the steps needed to make it. Venter defends his research by pointing at the fact that such organisms could be used, amongst other things, for the production of highly efficient biofuels and bioproducts.

However, civil society organisations are wary of any developments in synthetic biology, which they describe as 'extreme genetic engineering'. They have concerns about ownership and IP (who owns new organisms made from existing genetic material?), about safety (bio-error and bio-terror), about general transparency and control of the technology field. This debate must be carried forward as new advances are made in the lab. Much like the discussions about GM crops, 'synthusiasts' claim the new technology offers the potential to produce 'endless bioenergy', new farmaceuticals and unprecedented chances to tackle climate change, whereas opponents point to the many risks.



8. Local bioenergy market instruments


From the ultra-high-tech to the simplicity of markets and trade. Many countries in the developing world have a large base of agricultural by-products that are currently not used in any efficient way. Biopact would like to see the development of simple market instruments that allow farmers to trade these resources. Local and regional online biomass trading floors already exist in the EU and the US. They should be developed in poorer regions. With simple means (a cellphone and a virtual trading floor), farmers could tap opportunities to sell excess biomass to energy producers, instead of burning it and releasing emissions.

Our call stems from the fact that we receive numerous emails from farmers in developing countries, asking whether they can sell a few tonnes of coffee husks, palm kernels or coconut shells. Instead of exporting them to the EU, which is being done more and more often, why not encourage these farmers to spot local opportunities first? Local bioenergy trading floors could help them.



9. South-South cooperation on bioenergy


Brazil - Africa: the time is now.



10. Small bioenergy systems for developing country households


Rural electrification and providing modern energy services to rural populations is a major challenge for developing countries. The vast bulk of the energy consumed by the billions of rural citizens in these countries is made up of primitive biomass: the use of fuel wood and dung on open fires. This allows them to cook and heat, but with a serious health burden: pulmonary and respiratory diseases caused by indoor smoke pollution, claiming more than a million lives per year, mainly women and children.

However, scientists across the world are putting time and effort in developing appropriate, small scale bioenergy systems for these communities. From microbial fuel cells that produce electricity from waste water, to small biogas powered stirling gensets and thermoacoustic polygensets that deliver both heat, electricity and cooling, and micro-CCHP plants, to small pelletising systems that allow farmers to turn their bulky biomass residues into high quality fuels that can relpace fuel wood, and to clean-burning ethanol gelfuels. Elegant household biogas systems could be greatly improved upon as could biofuel cooking stoves. The positive impacts of these small technologies on the livelihoods and environment of billions of people, are simply so great that these research efforts should always be on the agenda. 2008 should be no exception.

Article continues