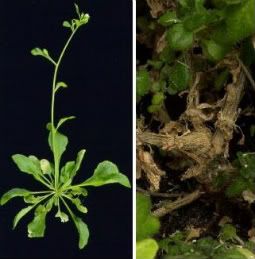 Scientists from the
Flanders Institute of Biotechnology
(VIB), a world leading crop science institute, have discovered that only 2 genes make the difference between herbaceous plants and trees. They tested their knowledge and discovered that annual crops can easily be converted into perennials. They succeeded in tweaking a typical annual plant - thale cress - in such a way that it generated wood formation, and became a shrub-like perennial. The
findings
, published in
Nature Genetics
, may help create a more sustainable future for world agriculture.
A key step in the evolution of farming consisted of domesticating and breeding wild seed crops, by trial and error. The greatest transformation happened thousands of years ago, when man successfully converted perennial seed crops (like
Zea diploperennis
, perennial maize) into annual crops that yield more grain (
Zea mays
, modern corn). Out of this transformation came grain-based food systems and diets, that still persist today and which form the basis of modern agro-industry. Agrobusiness has generated a system almost entirely based on monocultures of these annuals.
This agroindustrial model of production is now up for revision, as it requires a large amount of environmentally damaging inputs (pesticides, herbicides, fertilizers). Annual crops mine soils and contribute only weakly to the maintenance of ecosystem services. This is why ecologically responsible agronomists are taking a look back at perennials, which stabilize soils, sequester carbon, manage water more efficiently and are less prone to diseases, pests and climatic stresses.
Bioenergy researchers as well are fascinated by perennials. A small number of leading scientists even thinks it might be possible in the future to design ultimate crops that perform a multitude of desirable functions simultaneously. These futuristic crops would yield grains for human consumption, a large amount of above-ground biomass that can be harvested for energy, and a below-ground biomass that remains active and automatically regrows the plant after harvest. The crops would simultaneously provide food, fiber and fuel, while restoring ecosystems and without relying on expensive and polluting inputs.
Thus, the future of agriculture may be one that goes back to its earliest stages: a return to perennials. The Flemish scientists now made a breakthrough that could make this transition possible:
energy :: sustainability :: biomass :: bioenergy :: agriculture :: crops :: monocultures :: annuals :: perennials :: biotechnology ::

Annual crops grow, blossom and die within one year. Perennials overwinter and grow again the following year. The life strategy of many annuals consists of rapid growth following germination and rapid transition to flower and seed formation, thus preventing the loss of energy needed to create permanent structures. They germinate quickly after the winter so that they come out before other plants, thus eliminating the need to compete for food and light. The trick is basically to make as many seeds as possible in as short a time as possible.

Perennials have more evolved life strategies for surviving in poor conditions. They compose perennial structures such as overwintering buds, bulbs or tubers. These structures contain groups with cells that are not yet specialised, but which can later be converted when required into new organs such as stalks and leaves.

Annual crops consume all the non-specialised cells in developing their flowers. Thus the appearance of the flower signals means the end of the plant. But fortunately they have left seeds that sense – after winter – that the moment has come to start up. Plants are able to register the lengthening of the days. With the advent of longer days in the spring, a signal is sent from the leaves to the growth tops to activate a limited number of blooming-induction genes.

Deactivating two genes
The VIB scientists, in particular Siegbert Melzer, who works in Tom Beeckman's research group, have studied two such flower-inducing genes. They have deactivated them in thale cress (

Arabidopsis thaliana

), a typical annual. The VIB researchers found that mutant plants can no longer induce flowering, but they can continue to grow vegetatively or come into flower much later. Melzer had found that modified crops did not use up their store of non-specialised cells, enabling perennial growth. They can therefore continue to grow for a very long time.

As with real perennials these plants show secondary growth with wood formation creating shrub-like Arabidopsis plants.

Researchers have been fascinated for a long time by the evolution of herbaceous to woody structures. This research clearly shows only two genes are in fact necessary in this process. This has probably been going on throughout the evolution of plants. Furthermore it is not inconceivable this happened independently on multiple occasions, the researchers say.




Picture

: ordinary annual Arabidopsis thaliana plant to the left; to the right, wood formation in modified, 'perennial' Arabidopsis.

Credit

: VIB, Nature Genetics.



References:


Melzer S, Lens F, Gennen J, Vanneste S, Rohde A, Beeckman T. "Flowering time genes modulate meristem determinacy and lead to growth form and longevity in Arabidopsis",

Nature Genetics

, 09 November 2008; | doi:10.1038/ng.253