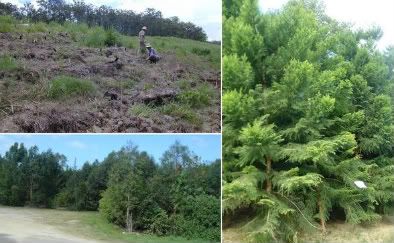 Landfill sites produce the greenhouse gases methane and carbon dioxide, as putrescible waste decays. Growing selected plants and trees on top of a landfill, a process known as 'phytocapping', could reduce the production and release of these gases, according to Australian scientists writing in a forthcoming issue of
International Journal of Environmental Technology and Management
. What is more, the technique allows urban communities to build new green spaces in and around their cities. When phytocapping is carried out well, the former garbage sites can even become biodiversity corridors for species that were previously chased out of the city-scape.
Despite legislative pressures to reduce landfill use, in certain parts of the world it remains the most economical and simplest method of waste disposal. Biodegradation of organic matter in a landfill site occurs most rapidly when water comes into contact with the buried waste, explains Kartik Venkatraman and Nanjappa Ashwath of the Department of Molecular and Life Sciences, at Central Queensland University (CQU), Rockhampton, Australia. They point out that conventional approaches to reducing this effect involve placing compacted clay over the top of a landfill to form a cap that minimizes percolation of water into the landfill.
Some sites do not attempt to prevent water percolation and biodegradation and instead install gas collection systems to trap the methane released. The use of clay capping has generally proved ineffective in trials in the USA, the researchers say. The problem being that in arid regions the clay cap dries out and cracks allowing water to easily percolate into the landfill. Equally problematic, methane gas collection can be an expensive option for many Australian landfills that do not reach the methane production threshold to enable efficiency. For commercial landfill gas collection, a certain scale is required.
Hence, the new technique, known as phytocapping, which involves placing a layer of top soil and growing dense vegetation on top of a landfill, was tested at Rockhampton's Lakes Creek Landfill not far from Central Queensland University. This research was conducted by Kartik Venkatraman and Nanjappa Ashwath (CQU) in conjunction with the Rockhampton Regional Council and Phytolink Pty LTD. The tests proved that the technique is a viable alternative to both clay capping and methane gas collection.
Professor Ashwath was so kind as to answer some of Biopact's questions on the innovative technique, as it may offer some interesting bioenergy applications.
How it works
Selected plant species are established on an unconsolidated soil placed over the waste. The soil acts both as "storage" and "sponge" and the plants as "bio-pumps" and "rainfall interceptors". For an effective site water balance, it is important that appropriate plant species are chosen and the soil depth optimized. As such, the team has investigated the effects of different ranges of species as well as soil depth.
The team's studies of the benefits of a landfill phytocap show that the approach can reduce surface methane emission four to five times more than the adjacent un-vegetated site. They found that a cap of 1400 mm thickness also reduces surface methane emissions 45% more than a cap half as thick.
The team also looked at the effects of nineteen tree species, including acacias, figs, eucalyptus, and other Australian native species, growing in the phytocap to determine which species are most effective at reducing water percolation and methane emissions. The root system acts as a good substrate to methanogens, which oxidizes methane thereby reducing methane emission into the atmosphere:
biomass :: bioenergy :: waste management :: landfill :: methane :: climate change :: phytoremediation :: phytocapping :: biodiversity :: urban planning ::

The benefits of phytocapping include, cutting in half the cost of landfill remediation and providing biodiversity corridors along which wild species can travel. The process also inverts the aesthetic qualities of landfills adjacent to urban communities. In some cases, phytocapping introduces additional economical benefits such as timber and fodder. The authors thus conclude that "the establishment of phytocaps would offer an additional and economical way of reducing methane emission from landfills".



Bioenergy potential?


Professor Ashwath told Biopact that it might be possible to harvest some of the biomass for use as a feedstock for bioenergy production. The team is testing biomass from phytocapped landfills for the production of biochar and green diesel obtained by refining bio-oil.

The bioenergy option might find applications in some of the "mega-cities" of the developing world, where landfill sites are often poorly planned and managed, and where methane gas collection would be too expensive. At the same time, energy is often a scarce good amongst the poor living in and around these cities.

We presented prof Ashwath with the example of Kinshasa, capital of the DRCongo, which was once known as 'Kin la belle' (Kinshasa the beautiful) but is now called 'Kin la poubelle' (Kinshasa the dirt bin) by its inhabitants. A perimeter of more than 30 kilometers in diameter around the city has been deforested to provide wood fuel for the poor in Kinshasa's vast slums. Phytocapping of landfills there could not only give the city some of its charm back, and make life for the slum-dwellers more bearable and healthy, it might actually yield a usable amount of biomass that could generate clean, renewable energy in low-cost bioenergy facilities (e.g. small to medium-scale gasification plants that generate power and heat).

Of the 19 species tested in the Australian phytocapping trials, Ashwath and his colleagues found 10 of the 19 having the potential to grow well and produce large quantities of biomass. One species in particular,

Hibiscus tiliaceus

, produced twice the amount of biomass than other species. Likewise some acacias, bamboo and eucalypts also grow well and produce usable biomass.

The team now has 8 field trials in various parts of Australia where it has tested over 100 different plant species. In each location up to 5 species are performing well on the landfills. This is a very good result, and in no site have the researchers lost planted native species.

At one site near Pomona (north of Brisbane), one of the hardwood and sought after timber species,

Araucaria cunninghamii

(hoop pine), is growing extremely well (picture,

click to enlarge

). Likewise there are other timber species that are very suitable as phytocaps. In a few decades, Australia's hardwood timber could be exhausted, and these sites could help provide that resource in the future.

The scientists are working to get the most out of the elegant synergy presented by phytocapping: they are collaborating with a local city council to convert one of its landfills into parkland with bike tracks and picnic spots. They are also making a case for growing koala fodder so that the site could attract wild life back to the cities.

When all these elements are combined in phytocapping projects, the technique offers a low-cost solution with multiple additional benefits, to a problem that contributes significantly to global warming.


The team is working in the context of the Australian Alternative Covers Assessment Project (A-ACAP), a $3 million program which began in April 2006, completed its construction phase in December 2007 when Lismore City Council's Wyrallah Rd Landfill came on stream as the 5th and final test pad built during that year. Other sites in order of construction were: SITA's Taylors Rd Landfill, Melbourne, January; Lucas Waste Management's Southern Waste Depot, McLaren Vale, April; Townsville City Council's Vantassel St Landfill, July and Cockburn City Council's Henderson Landfill, September.

Professor Nanjappa Ashwath has been working as an Associate Professor at CQUniversity. He has a PhD from the Australian National University, Canberra, and has spent more than 25 years in studying Australian native plants. The focus of his research has been on selecting suitable species for degraded sites including landfills, mine sites, disturbed mangrove habits and other sites associated with drought, salinity, waterlogging and heavy metals. He is also involved in testing native species for biodiesel, bush medicine and bush tucker potential, and using the green waste in bioenergy and biodiesel production. Associate Professor Ashwath teaches under graduate courses, supervises post graduate students, and is an active researcher. He currently collaborates with a national research team (A-ACAP) to test suitability of phytocap as an alternative landfill cover. Associate Professor Ashwath is a keen promoter of Australian native plants to landscape architects (see http://cpws.cqu.edu.au) and he also contributes to conservation of rare and threatened plant species. He is a recipient of University Vice Chancellor's award for research (CQU) and the University Teaching Fellowship from the Rotary Foundation.



Picture

:

Araucaria cunninghamii

, a much sought after hardwood species, growing remarkably well on a landfill near Pomona. The phytocap prevents the release of CH4 and CO2 from the garbage site. The picture shows the preparation of the site in 2004 and the trees in 2008.

Credit

: Prof. Ashwath.


References:
Kartik Venkatraman and Nanjappa Ashwath, "Can phytocapping technique reduce methane emission from municipal landfills?",

International Journal of Environmental Technology and Management

, 2009, 10, 4-15,

forthcoming

.

Australian Alternative Covers Assessment Project (A-ACAP), a project of the Waste Management Association of Australia.

Professor Nanjappa Ashwath, personal page at the CQ University.

PhD Candidate Kartik Venkatraman, personal page at the CQ University.

Center for Plant & Water Science, CQ University: see the summaries on phytocapping in the Conservation & Rehabilitation research section.