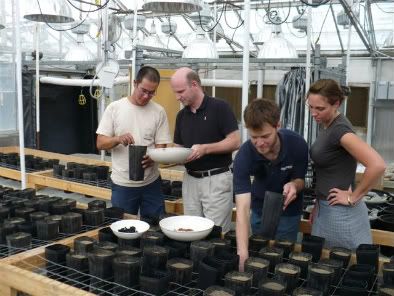 An interesting article in the
Journal of Natural Resources and Life Sciences Education
discusses the decline in the number of soil science students at universities across the United States. This trend is worrying, but it may soon reverse, as soil science is becoming a very important topic in a wide range of crucial fields that deal with renewable energy, climate change, biodiversity and economic development. Soil science is no longer the sole realm of those active in agriculture. Soils are the key to a whole range of extremely important ecosystem services that may soon receive a real market value. In short, soils are sexy. And so are the scientists studying them.
Soils have become the nexus at which a set of pressing world problems converge: from the destruction of forests in the tropics - fueled by declining soil fertility - to the capacity of soils to sequester vast amounts of carbon and to mitigate climate change; or from the role soils play in cleaning up water and air, to the wealth in biodiversity they represent as the home to a great variety of (unknown) microorganisms that may play a role in the production of next-generation biofuels or new pharmaceuticals.
But notwithstanding these fascinating topics studied by modern pedologists, it is worth asking the question as to why the number of young people studying soil science as a major, has been declining across the United States. Mary Collins, University of Florida, Gainesville, analysed the trend and looks for explanations.
Collins notes that the faculties who work closely with undergraduate students have seen this steady decline for several years. And there are many reasons one can give for why this is happening. This decline affects not only the students but also the courses offered, the quality of graduate students, and the possible merger of departments, says Collins.
The National Academy of Sciences through the National Committee for Soil Science established a subcommittee to study the declining trend of low enrollments in the major. The outcome of the subcommittee work and international commentaries on this subject are reported in Collins' article. The international soil science education community is also facing a similar tendency.
Today many of America's graduate students come to soil science with various undergraduate backgrounds including non-science disciplines. Collins explains, "These graduates may be outstanding, but they do not have the fundamental educational background in soils common at the undergraduate level."
How can U.S. universities increase the enrollment in their courses and major, Collins asks:
energy :: sustainability :: bioenergy :: agriculture :: ecosystem services :: innovation :: conservation :: climate change :: pedology :: soil science ::

Possible solutions include recruiting the "undecided" students already on-campus; having the best lecturer in the department teach the normally high enrolled introductory soils course; discussing with your colleagues if the courses offered have been static; changing the names of the courses; offering courses through distance education; establishing a combined B.S/M.S. degree program; and advertising how a student can major in soil science and still prepare for a professional school.

So what are the conclusions about the declining enrollment of undergraduate students majoring in soil science? Collins gives several of her concerns as she sees it from her experience at the University of Florida. She ends her article with one final question: Will the soils exhibit at the Smithsonian Institution, which opened this past July, have any influence on the millions of children visiting the exhibit to choose soils as a major?


Biopact would want to add an example of how soil science can be very innovative and lead to fascinating careers. The discovery of ancient 'terra preta' soils in the Amazon initially brought together archaeologists, anthropologists and soil scientists. The latter are now trying to uncover the secrets of these highly fertile soils. At the same time they're experimenting with modern-day replications of the ancient soil enhancement technique.

These experiments and the contemporary version of 'terra preta' - known as biochar or agrichar - have opened up an entirely new area of very exciting research, which now brings together experts from fields as diverse as climate change, bioenergy, agronomy, conservation and development economics. Because if the terra preta soil enhancement technique can be made to work today, it could become a strategy to address some of the most important issues of our times: biochar could help tackle climate change, generate carbon-negative renewable energy, reduce fertilizer use, counter tropical deforestration and enhance farming amongst the world's poorest communities.

In short, soil scientists show that their field is not limited per se to the study of the chemical, physical and biological processes at work in soils. In fact, their work is at the center of a series of highly intertwined and broad environmental issues. The soil scientists are often the ones who succeed in weaving these topics together and so present surprising new areas of research that may help solve grand problems.




Picture

: soil science students at work in professor Johannes Lehmann's lab, Cornell University. Lehmann pioneers research into biochar.

Credit

: Cornell University, Dept. of Crop & Soil Science.

References:
Mary E. Collins, "Where have all the soil students gone?", Journal of Natural Resources & Life Science Education, Vol. 37 2008, pp. 117-124.

SSSA is the founding sponsor of an approximately 5,000-square foot exhibition, Dig It! The Secrets of Soil, which opened on July 19, 2008 at the Smithsonian's Natural History Museum in Washington, DC.