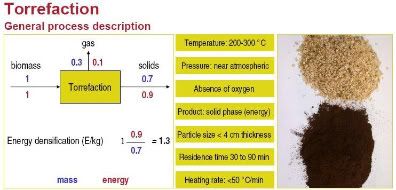 In a fascinating development,
Integro Earthfuels
is planning to build its first of ten commercial torrefaction plants in the US. Torrefaction of biomass is one of the most promising bioenergy technologies, because it transforms bulky biomass into a high-quality product that can be readily co-fired with coal, without the need to change anything to a coal plant. Torrefied biomass allows us to 'take over' dirty coal plants, and convert them to entirely green power facilities, without the need to build new infrastructures or dedicated power plants.
More than half of all the electricity produced in the US comes from coal fired utilities. Coal is therefor the number one target for CO2 reduction and the primary industrial cause of global warming. Closing down coal plants is a radical step, but 'sneaking' green energy into them might be a smarter, more transitional process.
Co-firing biomass with coal is being practised widely in Europe, but the technique presents logistical, processing and combustion challenges that limit the fraction of biomass that can be co-fired to around 10-15%. Costs are also relatively high, even though at current coal prices, co-firing raw biomass has become competitive. Building entirely new, dedicated biomass co-generation facilities is an option, but it is more expensive still.
Raw biomass for co-firing has several disadvantages: the fuel is bulky and can therefor only be transported economically over medium distances; it cannot be stored together with coal, but needs new, dedicated infrastructures; the biomass also needs to be crushed or processed in separate facilities to make it ready for co-firing; and finally, given its different combustion properties, it may make the co-firing step itself difficult and require modifications to boilers.
By first torrefying biomass, all these challenges can be overcome in a single stroke (
previous post
). Torrefied biomass:
has a much higher energy density than raw biomass
it allows for a dramatic increase in the distance over which the biomass can be transported to the plant (some studies show distances can be squared)
because torrefied biomass is hydrophobic, it can be stored in the open, for long times, in the same infrastructures as those used for coal
it requires less energy to crush, grind or pulverise torrefied biomass than it takes to crush coal, and the same tools can be used
given its excellent combustion properties, the fuel can be readily co-fired with coal
In short, torrefaction is a process that turns raw, bulky, moist biomass into a kind of 'green coal'. Torrefaction is a technology first developed in the coffee processing industry. It boils down to 'roasting' the biomass at temperatures ranging from 200 to 300 °C, in a low oxygen or no-oxygen atmosphere (figure 1,
click to enlarge
).

The conversion process
Woody biomass - the main feedstock - consists of hemicellulose, cellulose, lignins and extractants (chemicals absorbed during the growing cycle through air and dirt, generally less than 3%) (figure 2,
click to enlarge
). During torrefaction the molecular structure of the wood is altered, enhancing some of the wood's physical properties. Torrefaction liberates water and releases volatile organic compounds (VOC) through the devolitization of primarily the hemicelluloses and extractants. The lignins are loosened and have limited devolitization while the cellulose is nearly unimpacted at these temperatures. As the hemicellulose, which binds the cellulose, is burned away, the wood is unbound making it more brittle. This increases the grindability of torrefied wood and makes its handling properties more like coal. This unbinding also releases the last of the water not stored at the cell level, leaving the wood hydrophobic. During the torrefaction process most of the energy value of the wood is preserved with the product losing 20-30% of its mass while retaining 90% of its energy. The calorific value of the wood increases to 9,500-11,500 Btu per pound.
Commercialisation
So far, there is only one commercial torrefaction plant operating in the world, located in the Netherlands. It supplies torrefied biomass pellets to large coal-fired power plants, who get a green credit for each ton of biomass they burn. Integro Earthfuels is now planning to open a similar plant in Roxboro County, North Carolina. The $12 million plant will have an initial capacity to produce up to 84,000 tons of torrefied biomass annually:
biomass :: bioenergy :: wood :: co-firing :: energy density :: biomass logistics :: torrefaction :: climate change ::

Currently, Integro is finalizing off-take agreements with local utilities and Universities with their own heat and power plants to provide them with a majority of the supply beginning in 2009. Integro will build 10 additional facilities over the next 6 years to meet the demand from coal-fired electricity producers.

Integro lists the following benefits of torrefied biomass for the coal-fired electrical utility:

Each ton of torrefied wood burned in the facility reduces their carbon output by up to 2.4 tons, earning them an estimated $72 in carbon credits.
Torrefied wood can be handled just like coal. It can be placed on the coal pile and processed alongside the coal. It has been tested to 10% and will likely go to 30% mix with coal.
It does not take on water so it can be left uncovered like coal.
It has lower levels of NOx and SOx than coal—primary pollutant emissions by EPA—lowering emissions and associated costs
During the torrefying process, most volatiles are burned off, eliminating the concerns over slagging in the boiler.
Because torrefied wood is handled identically to coal, little or no CapEx is required of the utility.
Integro's torrefied biomass solution overcomes the limitations previously attributed to biomass co-firing through its unique treatment process. It produces a high-grade, smokeless fuel suitable for co-firing in coal powered electric plants.



CCS no match


Integro's ambition to build 10 plants is not unrealistic. Torrefaction holds a tremendous potential precisely because the fuel it generates can be used directly by existing coal plants and requires little, if any, capital investment on the part of utilities.

Coal plants need to clean up their act, and their only option is to make massive investments into untested carbon capture and sequestration (CCS) technologies.

Switching to torrefied biomass offers a much more competitive option, requiring none of these investments. According to Integro, the fuel can already be delivered below the cost of coal when carbon credits are factored in. This will allow coal-fired utilities to meet their clean energy obligations without a significant increase in the cost of electricity to consumers.

References:
Roxboro Courrier: Commission must authorize special use permit before 'green coal' plant can be built - November 8, 2008.

Integro Earthfuels: co-firing torrefied biomass with coal.

Biopact: Dutch partners agree to build commercial scale biomass torrefaction plant - November 12, 2007

Biopact: Torrefaction gives biomass a 20% energy boost, makes logistics far more efficient - July 25, 2008

Biopact: Study: solid biofuels 570% more efficient than corn ethanol in reducing GHG emissions - September 10, 2008