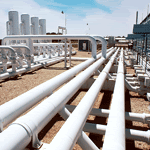 The EU's BiogasMax project
reports
that, in France, authorisation for injecting biomethane fuel into the natural gas distribution network has been the subject of an environmental and health risk assessment. The French Agency for Health and Safety in the Environment and Workplace (AFSSET) came to a favourable conclusion on the 29th October and has given the go-ahead for feeding the renewable gas into the French natural gas network. This means NGV cars will soon be driving on renewable gas. The injection of biomethane into gas pipelines, as well as a fiscal approach which favours green gas production, will allow the biomethane sector - considered the best pathway to valorize biogas - to make progress under much better conditions.
Although natural gas as a fuel is already considered to be safe, efficient and less polluting than petrol or diesel, French support for the field of biomethane fuel is fairly recent. However, initiatives have demonstrated many benefits of the upgraded biogas. In Lille (Metropolitan Urban Community, LMCU), the methanisation of urban organic waste has meant that the biomethane obtained has been used as a fuel in the city's buses and domestic waste disposal vehicles. Furthermore, this approach has been legitimised environmentally by a study of the
life cycle of biogas production pathways
[*.pdf], commissioned in September 2007 by ADEME and GDF.
At the 'Grenelle Environnement' held in October 2007 - France's large national summit on the future of the environment - the biogas club had submitted several ways of proceeding with the work for developing this field, which it says has "enormous ecological benefits". The club's voice was heard: at a recent conference on this subject, Charles Thiébaut (from the Department of Risk Prevention at the Ministry of the Environment, Energy, Sustainable Development and Town and Country Planning) said that "the commitment had been made to favour methanisation by supporting it and modifying regulations" (National Technical Day conference, 07.10.08 – Succeeding with a methanisation project including household, agricultural and industrial waste, ADEME).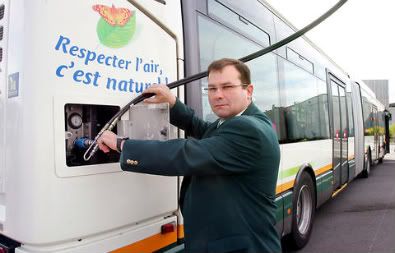 The city of Lille, France, runs 100 buses on biomethane, as part of the EU's BiogasMax project.
However, the development of the biogas fuel sector had to await the authorisation to inject its biomethane into the natural gas network, as even if the production of biogas is continuous, vehicle consumption can fluctuate. In order to be used as a fuel, biogas has to undergo processes known as 'purification' (drying, desulphurisation, decarbonisation) which makes biomethane very similar to NGV, natural gas for vehicles:
energy :: sustainability :: biomass :: bioenergy :: biogas :: biomethane :: natural gas :: renewables :: France ::

In the first instance, therefore, authorisation for injection had to be subject to technical specifications. These having been established and published by GDF in December 2007 (see the GDF technical specifications[*.pdf]), there only remained the assessment of risks to public health and the environment. This risk assessment analysis was requested from the French Agency for Health and Safety in the Environment and Workplace (AFSSET) in September 2006. Its conclusions are now available and are "unequivocally favourable when biogas is produced from methanisation of waste or from storage of non-dangerous waste."

Very soon, therefore, the Centre for Organic Development (CVO) in Lille-Sequedin will receive authorisation from the Ministry in charge of energy and be able to put into operation the connection of its canalisation system of purified biogas with the French gas network. Having opened the way, it will be the local authorities who will subsequently issue further authorisations.

According to BiogasMax, administrative support is certainly necessary, but fiscal support would also be very beneficial, in the sense that economic profitability is absolutely necessary in order to develop the sector. At the 'Grenelle Environnement' this topic was tackled, because it represents a question of "bringing support for the use of biogas as a fuel up to the same level as the production of electricity", (speech by Mr Thiébaut at the conference on 07.10.08).

It is noteworthy that in the Finance Law of 2008, NGV was exempted from the TIPP (tax on consumption of petrol products). If one accepts that biomethane fuel is identical to NGV but is also renewable, it should also be able to benefit from this fiscal rule. Putting forward the principle of 'green gas', following the example of 'green electricity' would prove to be a very strong factor for development of the sector. Moreover in Sweden, which is very advanced in the development of this field, the Swedish fiscal authority will begin examining support for biomethane from 2009 onwards.

France is the latest in a series of European countries to allow biomethane to be fed into the natural gas grid. Earlier, Austria, Switzerland and Germany undertook similar measures. According to some assessments, biogas can replace all the EU's natural gas imports from Russia, by 2030 (previous post). The U.S. too has recently begun investigating the option of opening the gas grid for biomethane (more here).



References:


BiogasMax: Biomethane coming to the French natural gas network - November 2008.

The EU's BiogasMax project.

AFSSET: Biogaz : L'Afsset rend un avis favorable pour l'injection de certains types de biogaz dans le réseau de gaz naturel - October 29, 2008.

ADEME, GDF: Analyse du Cycle de Vie des modes de valorisation du biogaz de méthanisation en France Synthèse [*.pdf] - September 2007

GDF: Prescriptions techniques du distributeur Gaz de France prises en application du décret n° 2004-555 du 15 juin 2004 relatif aux prescriptions techniques applicables aux canalisations et raccordements des installations de transport, de distribution et de stockage de gaz [*.pdf] - December 2007.

Biopact: Report: biogas can replace all EU natural gas imports - January 04, 2008

Biopact: Germany considers opening natural gas network to biogas - major boost to sector - August 11, 2007

Biopact: E.ON creates company to feed biogas into the natural gas grid - February 10, 2007

Biopact: A first for the U.S.: company feeds biomethane into natural gas pipeline - January 22, 2008

Biopact: EU research project looks at feeding biogas into the main natural gas grid - April 08, 2007