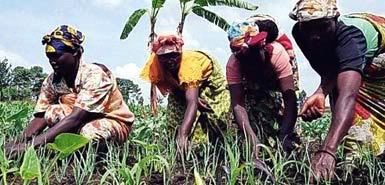 Western do-gooders are impoverishing Africa by promoting traditional farming at the expense of modern scientific agriculture,
according to
Sir David King, Britain's former chief scientist. Anti-science attitudes among aid agencies, poverty campaigners and green activists are denying the continent access to technology that could improve millions of lives, the professor said. Sir David made his critique during his keynote lecture to the British Association for the Advancement of Science.
Biopact can agree with several elements of the chief scientist's sharp and scathing analysis. We too think Africa is too often used as a fantasy screen on which irrational desires instead of rational solutions are projected - Africa should somehow, in the name of 'tradition' remain a place of idyllic poverty and autarky, a laboratory for experiments with ideas that don't make it in the West, a locus where the anti-modern tendencies of dissatisfied, often reactionary and conservative forces, can be played out.
We would not hesitate to conclude that, contrary to what they say, many of the aid workers who are active in Africa, are not progressive, free-thinking forces who rely on science, technology and reason to help African communities determine their own future and reach key development goals, in full solidarity with the international community. On the contrary, their views often resemble those of reactionary, science-averse, and anti-modern conservatives who look at Africans as a 'species to be preserved' in its blissful state of traditionalism, out of touch with the modern world. What is more, many of the 'green' actions they think will contribute to environmental and social
sustainability
, are, objectively speaking, extremely inefficient, lead to poverty and spur environmental destruction (
previous post
).
Sir David zooms in on the way in which these Western activists on the continent deal with agriculture - the single most important field of development. Non-governmental organisations from Europe and America are turning African countries against sophisticated farming methods, in favour of 'indigenous' and 'organic' approaches that cannot deliver the continent's much needed 'green revolution', he believes.
The professor said that the slow pace of African development was linked
directly
to this irrational Western influence.
I'm going to suggest, and I believe this very strongly, that a big part has been played in the impoverishment of that continent by the focus on nontechnological agricultural techniques, on techniques of farming that pertain to the history of that continent rather than techniques that pertain to modern technological capability. Why has that continent not joined Asia in the big green revolutions that have taken place over the past few decades?

The suffering within that continent, I believe, is largely driven by attitudes developed in the West which are somewhat anti-science, anti-technology - attitudes that lead towards organic farming, for example, attitudes that lead against the use of genetic technology for crops that could deal with increased salinity in the water, that can deal with flooding for rice crops, that can deal with drought resistance. -

Sir David King



Sir David, who stepped down in December as the Government's Chief Scientific Adviser, used his presidential address to the BA Festival of Science in Liverpool to accuse governments and NGOs of
confused thinking
about African development.
Solutions will only emerge if full use is made of modern agricultural technology methods, under progressive, scientifically informed regulation. The most advanced form of plant breeding, using modern genetic techniques, is now available to us. Plant breeding needs to meet a range of demands, including defences against evolving plant diseases, drought resistance, saline resistance, and flood tolerance. The problem is that the Western-world move toward organic farming - a lifestyle choice for a community with a lavish

surplus of food

- and against agricultural technology in general and GM in particular, has been adopted across Africa, with the exception of South Africa, with devastating consequences. - Sir David King

energy :: sustainability :: biomass :: bioenergy :: agriculture :: organic :: science :: technology :: reason :: conservatism :: modernity :: tradition :: Africa ::

His remarks place him in direct opposition to some of his former Whitehall colleagues. The British government recently endorsed the International Assessement of Agricultural Science and Technology, a report from 400 scientists and development experts published in April, which championed small-scale farming and traditional knowledge. The exercise was led by Professor Bob Watson, the chief scientist at the Department for Environment, Food and Rural Affairs. Sir David said that its findings were short-sighted. "I hesitate to criticise Bob Watson, who I admire enormously, but I think that we have been overwhelmed by attitudes to Africa that for some reason are qualitatively different to attitudes elsewhere.

The professor also feels that, if one really scrutinizes the 'green' ideas and actions of many of these organisations, one finds that they result in the contrary: a range of concepts actually that lead to unsustainable, environmentally destructive lifestyles:

We have the technology to feed the population of the planet. The question is do we have the ability to understand that we have it, and to deliver? I think there is a tremendous groundswell of feeling that we need to support 'tradition' in Africa. What that actually means in practice is if you go to a marketplace in a lovely town like Livingstone in Zambia, near Victoria Falls, you will see hundreds of people with little piles of their crops for sale.

This is an extremely inefficient process. The sort of thing we're seeing [and is promoted nowadays as 'organic farming'] existed in this country hundreds of years ago. I don't believe that will lead to the economic development of Africa. -

Sir David King



Sir David cited the example of rice that can resist flooding, which has been developed by the International Rice Research Institute (IRRI) in the Philippines. Its development has been held up for several years because scientists felt they could not use GM techniques, such is the scale of Western-influenced opposition to the technology.

He also accused green groups such as the UN Environment Programme of agitating against new technologies on the basis of speculative risks, while ignoring potential benefits.

For example, Friends of the Earth in 1999 worried that drought-tolerant crops may have the potential to grow in habitats unavailable' to conventional crops. The priority of providing food to an area of the world in greatest need appears to not have been noted.For decades, approaches to international development have been dominated by this well-meaning but fatally flawed doctrine. -

Sir David King



The strange thing about Sir David's position is that he will be branded a

reactionary

because he goes against the Western consensus on they way to approach Africa, and wants to stick to the recipes of modernity - the use of reason, science and an objective analysis of material conditions - to help achieve certain goals.

I'm from Africa. I feel very strongly about this issue. Africa needs economic development in just the same way as our country had economic development. What we see there existed here hundreds of years ago. African development will depend, as ours did, on modern skills right across the board. -

Sir David King
Sir David A. King is the Director of the Smith School of Enterprise and the Environment at the University of Oxford. He was the UK Government's Chief Scientific Adviser and Head of the Government Office of Science from October 2000 to 31 December 2007. In that time, he raised the profile of the need for governments to act on climate change and was instrumental in creating the new £1 billion Energy Technologies Institute. In 2008 he co-authored

The Hot Topic

on this subject.

As Director of the Government's Foresight Programme, Sir David created an in-depth horizon scanning process which advised government on a wide range of long term issues, from flooding to obesity. He also chaired the government's Global Science and Innovation Forum from its inception. He advised government on issues including: The foot-and-mouth disease epidemic 2001; post 9/11 risks to the UK; GM foods; energy provision; and innovation and wealth creation; and he was heavily involved in the Government's Science and Innovation Strategy 2004-2014.

Professor King suggested that scientists should honour a Hippocratic Oath for Scientists.



Picture

: women in the Democratic Republic of Congo, planting crops by hand. Should they use modern farming tools instead?

References:
British Association for the Advancement of Science: BA President accuses West of retarding African development - September 8, 2008.

The Times Online: Green activists 'are keeping Africa poor' - September 8, 2008.

Biopact: Researchers: lack of farming opportunities, Western subsidies key causes of conflict in third world - January 20, 2008