In the Earth's history, periods of relatively stable climate have often been interrupted by sharp transitions to a contrasting state. For instance, glaciation periods typically ended suddenly. About 34 million years ago the Earth's long lasting tropical state in which most recent life forms evolved, shifted abruptly and irreversibly to a cooler state with ice caps. This shift is known as the "Greenhouse-Icehouse-Transition". Scientists long suspected that such sharp transitions - called "Abrupt Climate Change" (ACC) events - might be related to tipping points where positive feedback mechanisms lead to self-propelling change. They have now found typical warning signals that preceded the onset of such ACC events in the past. The findings are highly relevant to the current debate about how to mitigate climate change, and to the question of whether we should prepare for ACC.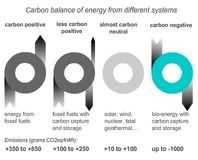 The threat of ACC events is very important to the bioenergy community, because it is widely recognized that only biomass-based energy systems are capable of mitigating such potential cataclysms. Scientists from the Abrupt Climate Change Strategy group (ACCS) were tasked to develop several scenarios and technological pathways that show how we can deliver carbon-
negative
energy which rapidly takes CO2 out of the atmosphere and brings us back to pre-industrial atmospheric CO2 levels - possibly our only shot at reversing approaching ACC events without radically powering down our societies (
previous post
). Carbon-negative bioenergy yields
negative emissions
, whereas all other energy technologies result in more carbon dioxide ending up in the atmosphere (illustration,
click to enlarge
). Even a rapid shift to carbon-
neutral
energy technologies would not suffice to reverse the threat of ACC.
To describe the tipping points which cause ACC events, researchers often use the example of the ice-albedo feedback. If ice caps melt, more sunlight is absorbed by the darker surface that is exposed. This causes further warming. Eventually, a rapid warming process that is irreversible and self-sustaining occurs. Although such mechanisms are well known, it was difficult so far to determine whether these feedbacks were strong enough to cause "tipping points".
A team of Dutch and German scientists around Marten Scheffer from Wageningen University and Hermann Held from the Potsdam Institute for Climate Impact Research has now analyzed the geological records of eight ancient events of abrupt climate change. These are the end of the greenhouse Earth, the end of the Younger Dryas, the Bølling-Alleröd-Transition, the desertification of North Africa and the ends of four glaciation periods.
In an article in the current online edition of the
Proceedings of the National Academy of Sciences
the researchers now
report
that sharp climatic shifts in the past were systematically preceded by subtle alterations in fluctuation patterns. These alterations are proven to be characteristic of systems approaching tipping points. This finding supports the theory that the sharp climatic shifts in the past have happened as the Earth system went over critical thresholds where self-catalyzing change pushed it further towards a contrasting state.
The demonstration of tipping points has implications for the thinking about current climate change, the authors state. The well known projections by the Intergovernmental Panel on Climate Change (IPCC) are based on the assumption of rather
linear
change:
energy :: sustainability :: biomass :: bioenergy :: biofuels :: carbon-negative energy :: bio-energy with carbon storage :: negative emissions :: abrupt climate change ::

But although some feedbacks in the Earth system may dampen change, the new results imply that we should also consider the possibility that the climate will cross a tipping point after which changes will be amplified and end up in abrupt alterations.

Whether climate as a whole is now approaching a tipping point is difficult to judge with the new techniques. This is because human influence is simply too fast to generate data records long enough for the detection method. However, for certain parts of the climate system the method may be readily applicable to predict future abrupt change.



References:


Vasilis Dakos, Marten Scheffer, Egbert H. van Nes, Victor Brovkin, Vladimir Petoukhov, and Hermann Held, "Slowing down as an early warning signal for abrupt climate change",

PNAS

early online publication, September 2008 [not yet online].

P. Read and J. R. Lermit, "Bio-energy with carbon storage(BECS): a sequential decision approach to the threat of abrupt climate change" [*.pdf],

Energy

, November 2005, vol. 30, no14, pp. 2654-2671

Biopact: Research warns 'dangerous climate change' may be imminent - carbon negative bioenergy now - May 31, 2007

Biopact: Carbon-negative bioenergy making headway, at last - June 06, 2008