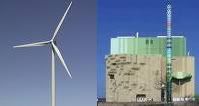 The BBC News science section has an interesting
sketch
of the different ways in which Europe's wind power potential and costs are tied to different regional circumstances. Simon Cox asks what happens when the wind doesn't blow, and compares the reality of intermittent power production in Denmark and the UK. In Britain, it is concluded, scaling up wind power will either mean an increased dependence on ever costlier fossil fuels - a troubling outcome - or heavy extra costs for energy storage or for exports.
Experts counter this conclusion by stating that the baseload for wind in the UK does not have to be dirty or costly, but can come from biomass instead of fossil fuels (
previous post
on the UK's Renewables Advisory Board, which is increasingly seeing biomass power plants as key elements of an overarching strategy on reliable renewable energy).
In Denmark, Europe's most successful wind energy nation, excess power is exported to neighboring countries via an integrated infrastructure. And when the wind doesn't blow, the country buys electricity from the same neighbors to make up the balance. In the UK, however, this option is out of the question: there is a link to France and one being planned to Holland but these won't be able to shift the amount of power needed to balance the system when based on large scale wind power. Building the necessary infrastructure would make wind a very costly renewable energy source.
Another idea for Britain would be to store its wind power in giant batteries, but this is difficult, untried and again, very expensive.
This leaves backing up wind with fossil fueled baseloads. Most feasible will be a reliance on gas-fired power stations as these are the easiest to turn off and on. But this will mean a "dash for gas" - a resource that Russia, hardly Britain's most cooperative ally, has in spades.
Dieter Helm, professor of energy policy at Oxford University, says Britain could find itself badly exposed when it bets on wind power that needs to be backed up by ever more expensive and unreliable gas supplies. It would be "about the worst possible thing that one could conceive of given what's going on in Russia and given our dependence on Russian gas supplies":
energy :: sustainability :: biomass :: bioenergy :: renewables :: wind :: intermittency :: baseload :: fossil fuels ::

It could also prove costly. The energy company E.On recently estimated back-up power could cost up to £10bn per year across all the energy suppliers. That would add £400 to the average annual household energy bill for all Britons. Wind energy would not be the low-cost energy resource many predicted it to be.

The British government accepts it is a challenge to manage energy security and price rises but it is fully committed to reaching the EU's 2020 target. And to do this, it has taken wind power into the energy mix. But the questions surrounding the ambitious plans are mounting. If wind power mean an increased reliance on ever costlier fossil fuels, the 'renewable' and 'clean' resource may not be so green as expected. And the argument that wind power would boost energy security, would no longer hold, the experts say.

The EU is expecting its renewables target to become legally binding within the next year so the UK could be hauled before the European courts of justice and face huge fines, if it doesn't comply. This pressure has opened the door for alternatives to intermittent wind power. More and more policy makers, as well as renewable energy companies are looking at biomass, which is being increasingly seen as the more attractive renewable energy source - and precisely the one that can make wind really green by providing a clean baseload.



References:


BBC: When the wind doesn't blow - September 5, 2008.

Biopact: RAB: biomass now the key renewable energy source, as backlash against wind and solar grows - July 29, 2008.

Biopact: Energy major Total will not invest in wind power - the base-load fallacy -
October 15, 2007