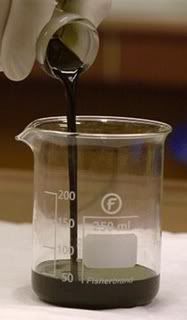 Ecovolve
is a renewable energy start-up recently created by graduates from Princeton University. The company develops innovative small-scale biomass pyrolysis systems, which allow for the optimal use of a great variety of feedstocks. An important byproduct of the system is biochar, a carbon-rich material that can be sequestered in soils to make them more productive. Storing biochar into soils makes the energy obtained from Ecovolve's power plants carbon-
negative
.
By focusing on small-scale facilities, the company indicates it strongly believes in the power of distributed renewable energy generation.
Biopact's Laurens Rademakers spoke to Jason Aramburu, Ecovolve's chief technology developer and one of the company's founders.
Biopact
:
There are many different pyrolysis systems. Can you briefly describe the technology you developed?
Jason Aramburu:
There are many different gasification and pyrolysis systems on the market and in-development, using a variety of processes (fast pyrolysis, slow pyrolysis, gasification etc). However, the vast majority of systems are only capable of processing one or two feedstocks, usually hardwoods or nutshells. Because of their low ash and moisture content, these feedstocks are typically the easiest to process, but represent a modicum of available biomass feedstocks. Ecovolve's technology is designed to process a variety of bioenergy crops and agricultural residues cleanly and efficiently into desired end products.
Furthermore, most gasification systems require expensive gas cleaning equipment, which is only economical at a size of several megawatts or more. By contrast, we are developing a small-scale system that can be located near available biomass, eliminating the high cost of transporting raw feedstock. We circumvent many of the gas-cleaning issues by first converting from raw biomass into bio-oil.
Biopact:
What exactly is bio-oil?

Aramburu:
Bio-oil is a flammable hydrocarbon emulsion produced during fast pyrolysis of biomass. It's not a true oil, but it has been successfully demonstrated as a viable substitute for No. 2 fuel oil. We are working on a combination of post-pyrolysis and in-situ upgrading processes to increase the quality and stability of our bio-oil for stationary power-gen applications. This will enable our fuel product to integrate into the existing stationary diesel generator infrastructure.
Biopact:
There's some controversy over the amount of biomass that can be sourced in a sustainable manner. How large is the potential in the US?

Aramburu:
Potential for growth of bioenergy crops on marginal land in the US is huge, and would not dramatically impact food production. However, an even greater amount of biomass is available in the form of waste wood and agricultural residue. Waste feedstocks have been traditionally the 'holy-grail' of pyrolysis and gasification, as they are cheap and readily available.
Biopact:
You say Ecovolve's plants are small-scale, which makes distributed energy generation possible. What's your view on the feasibility of distributed renewables?

Aramburu:
Distributed production is crucial for the proliferation of bioenergy technology. Raw biomass has a much lower energy density than bio-oil or fossil fuel. Transporting this raw feedstock over long distances to a large, centralized power plant can become a logistical nightmare. By bringing the plant to the biomass, we reduce transportation costs and carbon impact dramatically.
Biopact:
I think the technology holds great potential for many developing countries. But when we talk about poorer countries, costs obviously become very important. Is Ecovolve's technology competitive with, say, wind or solar power?

Aramburu:
Absolutely. From its inception Ecovolve has been focused on building technologies that are viable in both the developed and developing world without dependence on subsidies. We have designed our systems to be as simple as possible without sacrificing quality and efficiency. Systems can be easily constructed with used or refurbished equipment. In addition, bioenergy technologies can produce power on-demand, unlike intermittent renewables such as wind and solar.
Biopact:
Ecovolve says its bioenergy concept yields 'carbon-negative' energy. Can you explain how this is possible?

Aramburu:
Many people are confused by the concept of carbon-negative bioenergy. Our technology does not simply suck carbon dioxide out of the atmosphere to make energy. Plants accrete carbon over their lifetime by taking in CO2. This carbon is stored as biomass, and is typically released back into the atmosphere either through decomposition or combustion:
energy :: sustainability :: biomass :: bioenergy :: gasification :: pyrolysis :: bio-oil :: biochar :: carbon-negative ::

Our systems take in raw biomass and convert around 20% wt into biochar, a charcoal product that is typically 85-95% pure carbon. This biochar is considered an inert form of carbon, which will not leach into the atmosphere. If we process one tonne of biomass into energy, we actually release less carbon into the atmosphere than if that biomass were allowed to decompose or combust naturally.

What's more, because our small-scale systems use feedstocks close to the source, the carbon emissions released during the transportation of the biomass to the plant are negligible. This keeps the carbon balance of the energy produced 'negative'.



Biopact:

Does Ecovolve offer consulting services on how to integrate biochar into the energy generation concept?


Aramburu: Absolutely. We believe that biochar is a much more cost-effective means of carbon sequestration than large-scale technologies such as carbon capture and storage. We are currently working with several farms and vineyards to integrate biochar into their existing value chain, and evaluate its effects on crop yield and soil water retention.



Biopact:

Currently, biochar is not taken up into the Kyoto Protocol as a carbon sequestration method. Do you think this is a prerequisite for it to become commercially viable? Or will there be enough interest from the "voluntary" carbon market to back the concept?


Aramburu: Because of its relatively low production cost, biochar is one of the few carbon sequestration technologies that is viable even under a voluntary carbon market. However, its acceptance under Kyoto or a future agreement will only accelerate its adoption.



Biopact:

I'm sure biochar and 'carbon-negative' energy will receive a lot of attention over the coming years. Ecovolve is one of the first companies to position itself explicitly within this new concept and with a technology that makes 'beyond zero emissions' more than a mere slogan. This is, however a new market, so you are both a market-maker and a risk-taker. How do you approach this new market? Which sectors do you focus on first?


Aramburu: You're right, there are significant risks in any new technology market. That is why we believe the small-scale concept works so well. Because our plants are relatively low-cost, we can quickly develop and test new iterations in the field. We've focused on sectors we know well: small farming and wine production, and will eventually grow our customer base from there.



Biopact:

What do you want Ecovolve to achieve in the longer term?


Aramburu: Our goal is to become a leader in the distributed generation market. We believe we take a unique approach to renewable energy production, and will eventually look to commercialize other small-scale renewable technologies.




Image

: sample of bio-oil, one of the key products of Ecovolve's highly integrated pyrolysis and gasification concept.



References:


Ecovolve: Technology Overview - Biomass Pyrolysis + Gasification.

Biopact: Carbon-negative bioenergy making headway, at last - June 06, 2008