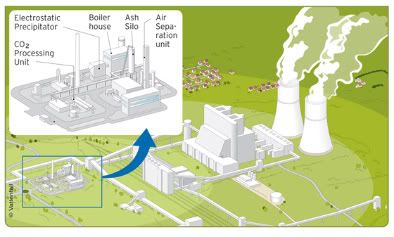 Energy company Vattenfall has
commenced
operations at the world's first pilot plant capable of capturing and sequestering CO2 from coal. This landmark event brings the era of carbon-
negative
energy ever closer.
The pilot unit has a thermal capacity of 30 megawatts, and was constructed over the last 15 months at the "Schwarze Pumpe" plant premises in the Lausitz region in the State of Brandenburg, Germany. Vattenfall has invested approximately €70 million in the construction of the unit. The carbon dioxide produced in this pilot plant will not be released into the atmosphere, instead it will be almost completely separated, liquefied and further treated for long-term secure underground storage.
The process used in the plant is called 'oxyfuel combustion', which consists of burning the fuel in a stream of oxygen, which makes separation and capture of carbon much easier. Lignite and hard coal will be combusted in a mixture of oxygen and re-circulated CO2, which also contains water vapour. The flue gas will then be treated and sulphuroxides, particles and other contaminants removed. Finally, the water will be condensed and the concentrated CO2 compressed into liquid (schematic,
click to enlarge
).

Negative emissions
With the advent of a new generation of solid biomass fuels - torrefied biomass - it will be possible to switch from coal to biomass in this type of CCS power plants. If this is done, then the production of carbon-
negative
energy is a reality.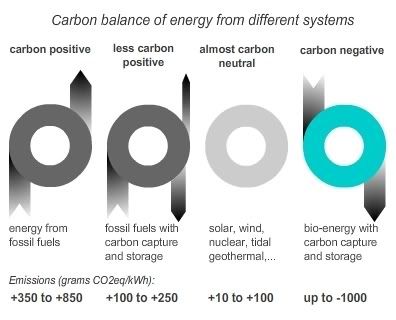 'Ordinary' renewables like biomass, wind or solar energy are all 'carbon-neutral' in theory (slightly carbon-positive in practise). That is, energy generated this way does not add CO2 to the atmosphere, or only small amounts over the lifecycle of the technology. Carbon-
negative
energy, however, goes much further, and
actively removes
CO2 from the atmosphere.
The difference is radical, making 'negative emissions' energy the most potent weapon in the climate fight. Depending on the technology, it can take up to 1000 tons of CO2 out of the atmosphere per GWh of electricity generated (that is: its carbon balance is
-1000 tons CO2
). Mildly carbon-positive renewables like wind add +30 tons CO2eq/GWh; solar PV adds around +100 tons CO2eq/GWh. In short, carbon-negative energy is capable of tackling climate change far more drastically than any other type of (renewable) energy.
By relying on carbon-negative energy, it becomes possible to reach the goal of reducing atmospheric CO2 levels to 350ppm, down from today's 384ppm, as
called for by leading climate scientists
. In fact, new projections on how to aggressively tackle climate change have finally included negative emissions energy. The recent Bellona Foundation's scenario even shows it is the biggest wedge of all - bigger than the contribution of all other renewables combined (
earlier post
):
energy :: sustainability :: biomass :: bioenergy :: carbon capture and storage :: carbon-negative :: negative emissions :: bioenergy with carbon storage :: climate change ::

The development of CCS facilities makes this futuristic energyscape ever more realistic. Vattenfall's pilot plant is a key milestone. Following test operations extending over several years at this pilot unit, the company intends by 2015 at the latest to construct two demonstration power plants with an electrical capacity of up to 500 megawatts. From 2020 onwards the technology should then be economically viable and available for large-scale industrial applications - including the use of biomass for the production of negative emissions energy.

There are many advantages of using biomass in CCS operations. First of all, the major critique against this type of technology - namely that leaks of CO2 would be disastrous - are no longer valid, because the CO2 to be sequestered is biogenic in nature. Most scientists agree that leaks are highly unlikely and so even the sequestration of CO2 from coal is seen as safe. But if the CO2 comes from biomass, the problem is entirely negated.

Other advantages are the fact that biomass fuels are low in sulfur, thus lowering the costs of cleaning and processing the CO2-rich gas to make it ready for separation and sequestration. Importantly, second-generation biomass can be fed into CCS power plants in a gradual manner - the fuel can be co-fired. Torrefied biomass is of such a quality that it can make use of all existing infrastructures. There is thus no need for the construction of new fuel handling or processing facilities.



References:


Vattenfall: Vattenfall inaugurates World's First Pilot for a Coal-fired Power Plant with CO2 Capture - September 9, 2008.

Vattenfall: overview of Pilot Plant.

Vattenfall: CCS project overview.



Further reading:


James Hansen, Makiko Sato, Pushker Kharecha, David Beerling, Valerie Masson-Delmotte, Mark Pagani, Maureen Raymo, Dana L. Royer, James C. Zachos, "Target Atmospheric CO2: Where Should Humanity Aim?", March 2008, in press [but widely distributed on the net].

Bellona Foundation: It is fully possible to reduce emissions by 85 percent - June 5, 2008.

H. Audus and P. Freund, "Climate Change Mitigation by Biomass Gasificiation Combined with CO2 Capture and Storage", IEA Greenhouse Gas R&D Programme.

James S. Rhodesa and David W. Keithb, "Engineering economic analysis of biomass IGCC with carbon capture and storage",

Biomass and Bioenergy

, Volume 29, Issue 6, December 2005, Pages 440-450.

Noim Uddin and Leonardo Barreto, "Biomass-fired cogeneration systems with CO2 capture and storage",

Renewable Energy

, Volume 32, Issue 6, May 2007, Pages 1006-1019, doi:10.1016/j.renene.2006.04.009

Christian Azar, Kristian Lindgren, Eric Larson and Kenneth Möllersten, "Carbon Capture and Storage From Fossil Fuels and Biomass – Costs and Potential Role in Stabilizing the Atmosphere",

Climatic Change

, Volume 74, Numbers 1-3 / January, 2006, DOI 10.1007/s10584-005-3484-7

Peter Read and Jonathan Lermit, "Bio-Energy with Carbon Storage (BECS): a Sequential Decision Approach to the threat of Abrupt Climate Change",

Energy

, Volume 30, Issue 14, November 2005, Pages 2654-2671.

Stefan Grönkvist, Kenneth Möllersten, Kim Pingoud, "Equal Opportunity for Biomass in Greenhouse Gas Accounting of CO2 Capture and Storage: A Step Towards More Cost-Effective Climate Change Mitigation Regimes",

Mitigation and Adaptation Strategies for Global Change

, Volume 11, Numbers 5-6 / September, 2006, DOI 10.1007/s11027-006-9034-9

Biopact: The strange world of carbon-negative bioenergy: the more you drive your car, the more you tackle climate change - October 29, 2007

Biopact: Researchers find geosequestration of CO2 much safer than thought - February 18, 2008

Biopact: Carbon-negative bioenergy making headway, at last - June 06, 2008