A blanket ban on bushmeat hunting in Central Africa, as called for by some conservationists and animal welfare activists from the wealthy West, would endanger both humans and animals, says a new report by the leading Centre for International Forestry Research (CIFOR). If current hunting levels persist, many species will be extinct in less than 50 years. But bushmeat provides up to 80% of protein and fat needed in rural diets. Giving local people the rights and incentives to hunt sustainably would protect their livelihoods and save forest mammals from extinction, claims CIFOR. Criminalising their current way of life is counter-productive, the researchers say.
The report titled
Conservation and Use of Wildlife-based Resources: The Bushmeat Crisis
[*.pdf] was produced for the Secretariat of the
Convention on Biological Diversity
. It will be discussed at the forthcoming IUCN World Conservation Congress, in Barcelona, on 5 October. A summary can be found here:
New Report Says Blanket Ban on Bushmeat Trade in Central Africa Could Have Dire Consequences for the Region's Poor.
The CIFOR study on the busmeat trade in Central Africa offers a very interesting case-study of how short-sighted calls for moratoria on certain land use and hunting practises may result in far greater damages over the longer run.
The bushmeat crisis is not only a crisis of extinction, it is is also a crisis of livelihoods and food security. Criminalising the whole issue of bushmeat simply drives it underground. We need to decriminalise parts of this hunting and trade and give local communities the rights and incentives to manage these resources sustainably for their own benefit.

- Frances Seymour, director general of CIFOR

CIFOR estimates that the annual harvest of bushmeat in Central Africa amounts to more than one million tonnes — the equivalent of four million heads of cattle. According to the report, large mammal species are particularly vulnerable.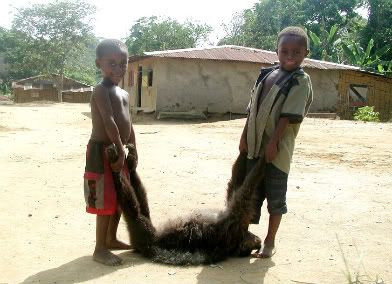 Many of these - elephants, gorillas and other primate species - have already become locally extinct. But CIFOR warns that existing policies designed to 'crackdown' on hunting are often counter-productive, as they 'effectively outlaw' the hunting of rodents and other fast-breeding species that are not under threat of extinction.
Overall, international trade in wild animal products has an estimated value of US$3.9 billion. For West and Central Africa alone, the estimates range from $42m to $205m a year. Yet, these statistics are still largely ignored in official trade and national policies regulating forest policy, claims the CIFOR report:
energy :: sustainability :: biomass :: bioenergy :: agriculture :: tropics :: biodiversity :: conservation :: animal welfare :: hunting :: bushmeat :: Central Africa ::

The authors of the study call on policymakers in the region to develop policies protecting endangered species, while allowing sustainable hunting of 'common' game, since there is no clear substitute available if common wild meat sources were to be depleted. They cite successful models in Peru and also in Sarawak, Malaysia, where a ban on trading in bushmeat was complemented with recognition of the hunting rights of indigenous peoples.

If local people are guaranteed the benefits of sustainable land-use and hunting practices, they will be willing to invest in sound management and negotiate selective hunting regimes. Sustainable management of bushmeat resources requires bringing the sector out into the open, removing the stigma of illegality, and including wild meat consumption in national statistics and planning. Reframing the bushmeat problem from one of international animal welfare to one of sustainable livelihoods might be a good place to start.

- Frances Seymour
The study highlights the role of the timber industry in sustainable wildlife management, as around half of the remaining forest in Africa now falls within timber concessions. The authors also note that European consumers are 'partly responsible' for the bushmeat crisis. Apart from the direct demand for bushmeat products from expat communities, European demand for African timber exports helps to drive this local timber extraction - both legal and illegal.

The report recommends that the local and international timber industry work with NGOs, local communities, and governments to develop forest policies and management plans that incorporate wildlife concerns.

Unless bushmeat hunting is legalised - obviously within an adequately enforced regulatory framework - it will remain largely unregulated and increasingly unsustainable. But as well as empowering local people and creating mechanisms for community management of bushmeat, which includes working out what level of hunting is sustainable, we need to direct funds, such as those from payments for ecosystem services or carbon, to communities so that they have incentives to do this.

- Dr Noelle Kumpel, programme manager, Central, East and Southern Africa Programme, Zoological Society of London
The logic held by the authors of the CIFOR report resembles a line of thought often maintained by Biopact, when it comes to tackling complex issues like tropical deforestation or biodiversity loss resulting from agriculture. For example, a full ban on palm oil, rightly blamed for spurring deforestation, would destroy one of the few low-cost, high-profit economic opportunities for smallholders in the tropics (even when most of the acreage is controlled by large estates). If this opportunity is lost, they would fall back into poverty, and revert back to even more unsustainable agricultural techniques in order to survive. Fertility rates would spike, increasing pressures on ecosystems. The net result would be more, not less deforestation and biodiversity loss. Attempts to use the wealth generated by palm oil farming to make the industry more sustainable, are far more productive than the moratoria some conservation groups are calling for.

Alternative ways to fund a gradual phase-out of unsustainable agricultural production methods - such as funds for carbon or ecosystem services - would have to be competitive with the local, tangible benefits of land use practises we may think to be 'unsustainable' at first sight. What is more, discussions about alternatives have to go beyond mere local and immediate circumstances, and instead take into account the broad historical, social and economic context of the situation. All the key drivers of the problem must be taken into account, that is, local, regional, national and international factors.




Image 1

: Skinned antelopes for sale, Guinea.

Credit

: Terry Sunderland.



Image 2

: Local kids carry a monkey, Loa Loa village, Gabon.

Credit

: Meilinda Wan.



References:


CIFOR:

Conservation and Use of Wildlife-based Resources: The Bushmeat Crisis

[*.pdf]- September 16, 2008.