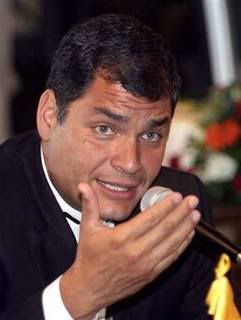 Ecuador's left-wing President Rafael Correa has
announced
he plans to promote biofuels in Ecuador in order to limit the country's heavy dependence on imported petroleum products, which are draining the Andean nation's treasury and are pushing up inflation.
During his weekly address to the nation, Correa said that his administration was reviewing a plan to begin developing biofuels, because Ecuador has a large untapped agricultural potential:
Ecuador has the capacity to feed 80 million people and we only have 13 million people. In other words, there is land available to develop the agricultural industry.

- Rafael Correa, President of Ecuador

Correa, a US-educated economist, cited several reasons for his turn towards biofuels, the most important one being the skyrocketing costs of imported fuel products.
[Biofuels] would allow us to diversify our energy mix, currently based on petroleum derivatives, and save enormous amounts of hard currency lost in importing gasoline and other fuels.



Despite being the fifth-largest oil producer in Latin America, Ecuador imports gasoline at an annual cost of some $3.6 billion - a heavy burden on the nation's economy.
Biofuels could also boost the local farming sector and restore large tracts of degraded land. Correa said some 50,000 hectares (123,450 acres) of sugar cane could be planted immediately - a minimal amount compared with the 5 million hectares (12.3 million acres) of farmland classified as degraded. This exhausted land could be restored by introducing biofuel crops. Correa said that sugar-cane ethanol, a biofuel already sold in some parts of the Andean nation, would be highly efficient.
The feasibility of producing biofuels from non-edible feedstocks like jatropha and castor, which grow abundantly in the wild in Ecuador, is being researched:
energy :: sustainability :: ethanol :: biodiesel :: biomass :: bioenergy :: biofuels :: petroluem products :: energy crisis :: Ecuador ::

Biofuels used to divide Latin America, with several coalitions battling it out. Former Cuban president Fidel Castro and Venezuela's Hugo Chavez were firmly against corn ethanol produced in the U.S. But both leaders did sign several agreements on the production of biofuels in their own countries.

Brazil, the world's second largest producer of ethanol, has always supported biofuels, pointing to the great difference between highly efficient ethanol made from sugar cane and the biofuels made in Europe or the U.S.

For a while, other Latin American leaders chose sides, but soon agreed to expand biofuel production on the continent in a sustainable manner. Cuba's new president, Raul Castro, has indicated the island state might begin to invest in sugar cane ethanol in order to revive the ailing sugar sector.

President Correa, a staunch ally of Hugo Chavez, and one of the more left-wing leaders of the continent, has been critical of biofuels in the past, but now seems to see more benefits than drawbacks.

However, he stressed that the biofuel policies under study will guarantee the food security of Ecuador's population.



References:


El Mercurio: Gobierno apunta hacia el desarrollo de biocombustibles - August 8, 2008.

El Nuevo Diario: Ecuador proveerá biocombustibles sin riesgo a alimentos - August 8, 2008.

El Comercio: Biocombustibles, en la agenda - August 8, 2008.