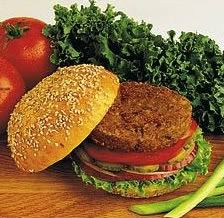 Many heavy meat eaters believe they eat a lot of meat because of the taste. But according to groundbreaking new
research
in the
Journal of Consumer Research
, the reason that a beef burger tastes better than a veggie burger to some people has more to do with values than actual taste.
This is an important finding because it confirms the anthropologists' view that culture, myth and values play at least as important a role in determining food habits as pure biological or utilitarian factors. And this is good news for those who try to make people eat less meat - because culture and values
can be changed
.
Lowering meat consumption is a worldchanging choice, because meat production requires a lot of land and embedded energy. The industry drives deforesation and contributes heavily to climate change (via methane emissions resulting from raising livestock). Cutting back on meat consumption has direct positive effects on the global environment and the climate.
So what's up with the meat-like veggie burger and its taste? Authors Michael W. Allen (University of Sydney), Richa Gupta (University of Nashville), and Arnaud Monnier (National Engineering School for Food Industries and Management, France) conducted a series of studies that examined the symbolic meaning of foods and beverages. They found that when it came to tasting meat or soft drinks, what influenced participants was what they thought they had eaten rather than what they actually ate.
The authors note that meat has an association with social power, and people who scored high in the authors' Social Power Value Endorsement measure believed that a meat-containing item tasted better than a vegetarian alternative, even when both products were actually identical (one was mis-represented). Similarly, participants who supported the values symbolized by Pepsi (Exciting Life, Social Power, and Recognition) gave a more favorable rating to the product they thought was Pepsi—even though they were drinking the low-price Woolworth cola.
Participants were told that they would taste either a beef sausage roll or a vegetarian alternative roll, and that they would drink either a Pepsi or a Woolworth Homebrand cola. Some received the item they were told they would receive and some were given the similar-tasting item. Then they filled out a questionnaire about values and taste, along with their current food and soft drink consumption:
energy :: sustainability :: biomass :: bioenergy :: biofuels :: land-use :: food :: meat :: beef :: vegetarianism :: taste :: food culture :: cultural anthropology ::
Our present findings may have implications for efforts to promote better eating habits. Heavy meat eaters claim that they eat meat because it tastes better than other foods, such as meat substitutes.





Our results challenge that claim.





Participants who ate the vegetarian alternative did not rate the taste and aroma less favorably than those who ate the beef product. Instead, what influenced taste evaluation was what they thought they had eaten and whether that food symbolized values that they personally supported … strategies that might persuade heavy meat eaters to change their diet include changing the cultural associations of fruits and vegetables to encompass values that meat eaters endorse (e.g., power and strength), or challenging heavy meat eaters' assumptions about what tastes good by using in-store (blind) taste tests or showing them results of studies such as this one.
Ethnographers, anthropologists and historians have long stressed the importance of cultural factors at play in food habits, and how these cultures change over time. They have always resisted determinist views which state that 'taste' - and in particular a taste and preference for meat - reflects a fundamental psycho-biological rationality that is stronger than culture and that is universal. Likewise, they reject utilitarian perspectives which hold that meat is consumed because it yields long term economic benefits to societies.

Perhaps the most famous example of the ethnographic study of the symbolic power of beef and the cultural hierarchy of different types of meat in American culture comes from structuralist anthropologist Marshall Sahlins. In his landmark book

Culture and Practical Reason

, Sahlins argues that human food habits reflect "cultural reason" rather than adaptive rationality. He discusses human food preferences as an illustration of his general critique of the notion that human cultures are formulated out of utilitarian interests. Rather, Sahlins claims that human valuations of the edibility and inedibility of animal meats are qualitative, and are "in no way justifiable by biological, ecological, or economic advantage."

He cites the centrality of beef in the American diet as an example of this irrationality and argues that the American taboo on horses and dogs renders consumption of these two animals unthinkable, even though consumption of dogs and horses is technologically feasible and even logical from a nutritional standpoint. Such observations cause Sahlins to conclude that "it is culture that constitutes utility", and not the other way around.

Also remember the time when Mary Douglas, a key structural anthropologist, provoked protests in the British House of Commons when she came out with her theory that food is basically "a system of social communication" rather than mere nutrition. She justified herself vigorously, claiming that the study of the social costs of changes in eating habits on grounds of advice, availability of food, and changes in price or incomes was useful for the future and for policy makers.

Today, of course, we know Dame Douglas was very much right: food consumption patterns have become a cause of civilizational diseases like obesity, which are an economic and social burden to reckon with. And meat production and consumption, increasing as incomes increase, is a global problem wreaking havoc on the environment.

The new study published in the

Journal of Consumer Research

now provides an interesting

empirical

foundation that seems to prove culturalists and structuralists like Sahlins and Douglas right. The distaste for veggie burgers in beef-worshipping cultures is in no way rational. Instead it is determined by arbitrary social and cultural factors. And these factors can be influenced, consciously, with an eye on introducing diets that are more environmentally and socially sustainable.



References:


Michael W. Allen, Richa Gupta, and Arnaud Monnier. "The Interactive Effect of Cultural Symbols and Human Values on Taste Evaluation",

Journal of Consumer Research

, Vol. 35, August 2008, DOI: 10.1086/590319.

Marshall Sahlins.

Culture and Practical Reason

. University Of Chicago Press (February 15, 1978). (See Chapter IV: "La Pensée Bourgeoise: Western Society and Culture").

Mary Douglas.

Food in the Social Order: Mary Douglas: Collected Works, Volume 9

. Routledge (November 2002).