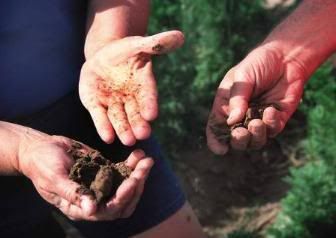 The Soil Science Society of America (SSSA) applauds what it calls the 'visionary action' taken by U.S. Senator Sherrod Brown and his colleagues who helped usher in legislation to recognize soils as an 'essential' natural resource, placing soil on par with water and air.
On June 23, Senator Brown was joined by co-sponsoring Senators Kent Conrad (D-ND), Charles Grassley (R-IA), Russ Feingold (D-WI), Tom Harkin (D-IA), Ken Salazar (D-CO) and George Voinovich (R-OH) to successfully pass
Senate Resolution 440
[*.pdf], which also highlights the 'critical role' soils professionals play in managing soil resources.
This resolution comes at a time when soil is widely undervalued. Soil, and specifically sound soil management, is essential in our continued quest to increase the production of food, feed, fiber, and fuel while maintaining and improving the environment, and mitigating the effects of climate change. Being the essence of all terrestrial life and ecosystem services, we cannot take the soils for granted. Soil is the basis of survival for present and future generations.

- Rattan Lal, Ohio State University, SSSA Past President

The Senate resolution passed six months after the European Union's Soil Protection Framework was tabled due to irreconcilable differences among Parliament membership:
energy :: sustainability :: biomass :: bioenergy :: biofuels :: agriculture :: soils :: soil management :: ecosystem services ::
My years growing up working on our family farm taught me the value of hard work and the importance of soil. Often overlooked, healthy soil is vital to maintaining our natural resources and feeding our nation. This resolution is an important first step in cultivating awareness of our nation's soil policies.

- U.S. Senator Sherrod Brown
One of the co-sponsors, Senator Ken Salazar, earlier introduced legislation aimed at promoting biochar research (previous post). Biochar, also known as 'agrichar' or 'new terra preta', is seen increasingly as a viable concept to improve and conserve the crucial functions of soils, while generating carbon-negative energy. Salazar's biochar amendment was very ambitious and eventually made it into the new farm bill, but in a strongly watered-down version.



Image

: soil scientists analysing soil texture.

Credit

: SSSA.

References:
Eurekalert: Senate resolution shines spotlight on the importance of soils - July 8, 2008.

U.S. Senate Resolution 440: Recognizing soil as an essential natural resource, and soils professionals as playing a critical role in managing our Nation's soil resources [*.pdf] - June 23, 2008

Soil Science Society of America.

Biopact: Towards carbon-negative bioenergy: U.S. Senator introduces biochar legislation - October 07, 2007