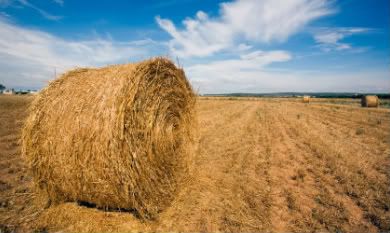 Biomass energy is increasingly touted as the key renewable in the push to green Europe's electricity supplies, says David Williams, chairman of the UK government's Renewables Advisory Board's (
RAB
) biomass sub-group. This is so because biomass shows the best economic and CO2-abatement performance of all the renewables, because it can be transported and traded globally, and because it is far more reliable than intermittent sources.
In recent months, the UK has changed its position on renewables, says Williams, with a backlash against many more established alternative energy sources like wind and solar power and liquid biofuels. In the transport sector, first-generation biofuels have been attacked for their potential effect on food prices and actual carbon reductions. Wind and solar are being heavily criticised for their inability to produce a consistent stream of electricity and for their cost. Wind power can be two to three times more expensive than biomass; solar PV up to twenty times, and solar CSP up to five times. There are no efficient energy storage options for these renewables, making them incapable of providing baseloads.
That is why many industry experts are now suggesting that biomass has to play the primary role in helping the EU to meet its challenging target of generating 20% of its energy from renewable sources by 2020, says the RAB's biomass chairman.

Getting serious about renewables
As we are gaining experience with renewables, it becomes apparent that only biomass is a really effective method of producing both heat and power, says Williams.
A single power station can produce around
three times more energy
as a windfarm for the same amount of generation capacity. It is also much more reliable and can be scaled up or down to meet consumer demand.
Whereas heat for domestic-scale commercial installations could come from intermittent solar technologies or even heat pumps, it is widely acknowledged that the primary market can only be supplied by biomass. After all, most heat comes from combustion of a fuel, and biomass is the only renewable and combustible fuel. Heat from wind or solar electricity is no serious option.
Of course, every technology has its drawbacks and for biomass the main one is sourcing a supply of fuel. The requirements to power a single station can be extensive, particularly if it is using wood as its primary fuel source.
Some plants within the UK propose to import timber from as far away as Canada and Indonesia; this has an impact on the carbon footprint of the feedstock and the energy that it produces, even though analyses show these impacts are rather small (biomass transported in large ships does not lose much of its strong energy or carbon balance).
Besides importing biomass, some developers are now looking to generate energy by burning straw, which the UK has an abundant supply of and which, as a by-product of agricultural crops, does not have an impact on the food verses fuel debate. Supermarket giant Tesco has recently been given a green light to build Britain's first ever straw-powered Combined Heat and Power (CHP) plant to meet the electricity and heating needs of one of its distribution centres.
Utilising straw for biomass represents one of the most efficient methods for its disposal and pre-empts the need for it to be ploughed back into the land.
Surging investments
As a final, but vital, benefit, the UK can meet all of its requirements from domestic sources, cutting out the need to import supplies and allaying growing concerns over energy security. Many other EU member states - particularly in Scandinavia and Eastern Europe - have very large biomass supplies as well. Trading the fuel internationally shows enormous potential as well.
So what next for the industry? More than £3.5billion (€4.4/US$7bn) was invested last year and this figure looks set to grow substantially, as green investment funds try to hedge against the credit crunch by diversifying their portfolio of renewables schemes. As costs for both wind and solar projects surge, biomass is set to retain its position as the largest renewable energy source in the EU. Over the coming years, it is expected to become the fastest growing sector:
energy :: sustainability :: biomass :: bioenergy :: energy crops :: renewables :: solar :: wind :: combined heat and power :: baseload :: emissions :: electricity :: EU ::

In the UK, a stream of projects are either coming online or expecting to do so shortly, including the world's largest plant near Port Talbot, South Wales.

Signs from the British government are also encouraging. Changes to its proposed Renewables Obligation Certificate (which offers incentives to suppliers to generate energy from renewable sources) will increase the value of energy generated by biomass in comparison with other sustainable technologies and make it more rewarding for investors to back.

In June, the Department for Business, Enterprise and Regulatory Reform (BERR) published its Renewable Energy Strategy that also made clear the important role that the industry could play, noting that there is a need to "develop a sustainable biomass market".

While this in itself is encouraging, there remains some concern over the detail.

The proposals mooted in the strategy have been primarily designed to make individual action more palatable, specifically a feed-in tariff to encourage microgeneration technologies in homes and a financial incentive mechanism to facilitate a general increase in use of renewable heat.

What they have not done, however, is to provide significant encouragement for commercial developers. There is a definite feeling by many in the industry that the current system is over-complicated and that applications are too frequently caught up in red tape.

By laying down a clear pathway that developers can follow, the government will be able to stimulate growth and at the same time provide the financial community with the confidence necessary for it to make the long-term substantial investments.

The result will be a step-change in the UK renewable sector as a whole, and the first step towards meeting the EU's 2020 targets.



Going carbon-negative


One major advantage of biomass is its potential to generate 'negative emissions' energy, that is, energy capable of withdrawing CO2 from the atmosphere.

When biomass is used in advanced power plants, its CO2 can be captured during or after combustion, and then sequestered in empty oil and gas fields.

The result is 'carbon-negative' power and heat. The more you were to use of it, the more CO2 you would be scrubbing out of the atmosphere.

The difference with other renewables is quite staggering. Whereas wind and solar both

add

CO2 emissions to the atmosphere over their lifecycle (wind around 30 tons CO2eq/GWh, solar PV around 100 tons of CO2eq/GW), carbon-negative bioenergy can take up to 1000 tons of CO2 per GWh

out of the atmosphere

.

In the UK, there are large sites in which CO2 can be stored. As the country's oil and gas sector has reached its peak, and many fields are already empty, it becomes possible to use these geological features to sequester biogenic CO2.

Biomass is the only kind of renewable energy capable of generating 'negative emissions'.



References:


UK Government: Renewables Advisory Board.

BBC: Burning ambitions - Why it is time to get serious about large-scale biomass - July 29, 2008.