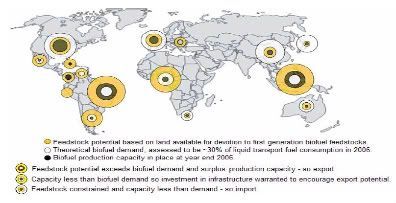 In March of this year, a group of scientists, technology leaders and energy policy experts convened in the
Rockefeller Foundation Bellagio Center
to discuss the potential for a global trade in sustainable biofuels that benefits the rural poor. The group consisted of environmental, energy, agriculture and development experts from 12 different countries and was inspired by the original proposal of Prof. John Mathews, of Macquarie University, Australia, to focus on "Prospects for Global Biopact between North and South on Biofuels", a pact to sustainable free global trade in biofuels. After 4 days of discussions, the experts reached agreement on a number of ideas contained in the final document, the
"Sustainable Biofuels Consensus"
[*.pdf].
The opening declaration reads as follows:
Our vision is of a landscape that provides food, fodder, fiber, and energy, that offers opportunities for rural development; that diversifies energy supply, restores ecosystems, protects biodiversity, and sequesters carbon; and that contributes to global peace.

When produced responsibly, increased global biofuels trade, transport use and production can be costeffective, equitable and sustainable. Many nations have the ability to produce their own biofuels derived both from agricultural and forest biomass and from urban wastes, subject to adequate capacity building, technology transfer and access to finance.

Trade in biofuels surplus to local requirements can thus open up new markets and stimulate the investment needed to promote the full potential of many impoverished countries.

This vision also responds to the growing threat of passing a tipping point in climate system dynamics. The urgency and the scale of the problem are such that the capital investment requirements are massive, and more typical of the energy sector than the land use sectors. The time line for action is decades, not centuries, to partially shift from fossil carbon to sustainable live biomass.

The Sustainable Biofuels Consensus calls upon governments, the private sector, and other relevant stakeholders to take concerted, collaborative and coordinated action to ensure sustainable trade, use and production of biofuels, so that biofuels may play their key role in the transformation of the energy sector, climate stabilization and resulting worldwide renaissance of rural areas, all of which are urgently needed.

The idea of a global 'biopact' is based on the observation that developing countries have a strong competitive advantage in producing biofuels (agroecological factors as well as the ample availability of inputs allow for far higher biomass productivity in the South). These countries also have a very large potential to produce fuels after they have met their own domestic demand for food, fiber, fodder and biofuels. So they could in principle export renewable fuels. Meanwhile, many other countries are unable to meet their biofuel needs from domestic sources. Therefore, the experts think increased biofuel trade holds a lot of promise for the creation of a win-win situation (see map,
click to enlarge
):
energy :: sustainability :: ethanol :: biodiesel :: biomass :: bioenergy :: biofuels :: rural development :: trade :: developing countries ::

In order to develop such a win-win, the authors of the Sustainable Biofuels Consensus offer the following recommendations to policy makers, trade negotiators, businesses, NGOs and other relevant stakeholders:

Integrate and better coordinate policy frameworks
This requires:

coordinating national and international action among key sectors involved in biofuel development and use, including agriculture, energy, environment, and transport;
negotiating a schedule to gradually eliminate the tariff and non-tariff barriers to biofuels trade;
agreeing on internationally compatible fuel quality technical standards whilst recognizing that several countries are already engaged in efforts to harmonize these standards;
transparency in blending and other regulatory requirements at national and sub-national levels;
reviewing policies in agriculture, energy and other sectors that contribute to inefficient production and market distortions in biofuels and their feedstocks; and
adopting local, bilateral, regional and/or other frameworks for biofuels trade agreements with the objective of collaborating with existing frameworks (for example the UN Framework Convention on Climate Change; and the G8 established Global BioEnergy Partnership - GBEP) to achieve convergence towards a comprehensive international land use improvement agreement.
Assess benefits and impacts of biofuels trade, use and production, and monitor them

This requires:

agreeing on sustainability principles and criteria that include effective, mutually agreed and attainable systems, via means such as certification, consistent with World Trade Organization (WTO) rules;
recognizing that several key international efforts are already underway both in governmental and non-governmental contexts and that an iterative review of such criteria should be undertaken in order to continually raise the standards through advances in knowledge from research and through experience gained in the field;
harmonizing life-cycle analysis - LCA - methodologies for biofuels, including GHG life-cycle accounting methodologies, recognizing that efforts both at the international and national levels are already under way;
continued mapping of degraded and marginal land; and
continued mapping of carbon stocks, areas rich in biodiversity, and other high conservation value areas. Transparency, accessibility and application of these maps need international agreement and must have sufficient resolution such that small scale farmers are not excluded. It is recognized that efforts to map carbon stocks are being stimulated by the IPCC and undertaken by several other global land use mapping organizations but they must be better coordinated.

Address negative indirect effects of biofuels trade, use and production
As with other sources of energy, agricultural and forest products, and urban wastes, biofuels have positive and negative impacts. In an ideal world, sustainability criteria would be applied to all food, fodder, fiber and all energy production and thus put biofuels on a level playing field with fossil fuels.

Until such a system exists, there will be an excess of indirect positive and negative impacts on conservation areas, GHG balances, and food security from land use change, as well as price variations specifically associated with biofuels.

Addressing indirect impacts explicitly requires:

continued global research to identify and quantify links between biofuels and land use change;
mechanisms to promote biofuels that do not have negative land use change impacts;
mechanisms that mitigate these negative impacts but do not unduly increase transaction costs for producers; and
social safeguards at the national level, that ensure that vulnerable people are not further disadvantaged through food and energy price increases and other potential negative economic side effects.



Reward positive impacts and investments, including through carbon management


Enhanced market opportunities will open up capital in order to follow the most profitable business models. Some benefits from biofuels use do not have an associated income stream. Therefore even sustainable trade as outlined in this document will not necessarily flow to the best performers.

Underfunded benefits fall into the categories of:

rural and social development;
ecosystem services, including biological carbon fixation (through biochar) and water resource management; and
better practices that might reduce crop yields but restore ecosystem health, such as conservation agriculture.
Rewarding better practice will require:

using existing and innovative tools to ensure that markets reward environmental and social performance, including carbon sequestration, without additionality requirements;
recognizing that the post-Kyoto regime will possibly reward biological carbon fixation, and this should be encouraged;
ensuring that biofuels development is accomplished by shared benefits, rights and rules of law;
recognizing that biofuel projects that create significant rural and social development benefits will likely be under-invested in due to difficulties in integrating smallholders into markets, tendencies to concentrate buying power within supply chains, and a lack of financial markets for small producers;
understanding that many business models exist that equitably share benefits throughout the supply chain, especially at the farmer level. National policies, bilateral agreements, foreign assistance, and international financial institutions should give preferential treatment to these types of production systems to the extent feasible and to projects that encourage development of small scale production and regional biofuels markets; and
acknowledging the link between bioenergy and rural development for improving rural incomes and abating poverty and thus providing a basis for increased investment and more efficient and sustainable agriculture.

Use informed dialogues to build consensus for new projects
Promoting an informed and continuous dialogue engaging all relevant stakeholders is key to ensuring equitable distribution of benefits of biofuel projects, and to addressing other elements of sustainability. It is particularly important to encourage biomass producers, both farmers and foresters, into the dialogue. To be effective, these dialogues must be translated into the allocation of public and private budgets to meet the consensus achieved on priorities for specific projects and R, D&D portfolios.

Increase investment in research, development and demonstration
While countries could consider other climate related initiatives besides biofuels, the goals of public and private R, D&D investments related to biofuel trade, use and production should include (but are not limited to):

to produce cost effective second generation biofuels ;
to enable sustainability lessons learned from first generation biofuels to be used for second generation;
to increase conversion technology performance;
to maximize climate change mitigation;
to evaluate the costs and benefits of increasing soil carbon content through such means as biochar production and application; and
to increase crop productivity and improve ecosystem health through management techniques, improved mechanization, water management, precision farming to avoid wasting fertilizers and agro-chemicals, and plant breeding and selection.

Build capacity to enable producers to manage carbon and water
Capacity building programs are needed for farmers, foresters and small and medium-sized enterprises active in bioenergy and biosphere carbon management systems, such as biochar soil improvement techniques and water management technologies.

Capacity building is also needed for the development of effective technology innovation systems involving research and education, extension, industrial capacity to participate in joint ventures with supportive government agencies and an engaged
civil society.

Make sure that trade policies and climate change policies work together
This will include Official Development Assistance (ODA), national subsidies and payments, etc. There is a need for a clear commitment for national climate change policies, including those that promote biofuels, to be additional to ODA. This is best achieved by climate change policies that drive direct foreign investment by energy sector players, in harmony with trade policies and sustainability requirements. Guided by national stakeholders' consensus of the recipient countries, ODA should focus on helping to initiate and develop the institutions needed for sustainable rural development and respective business models, and support countries in defining and meeting sustainability requirements.

In connection with biofuels development, ODA should also partner with development and UN agencies such as UNFAO, UNCTAD, UNDP, UNEP and UNIDO and the private sector to help in reducing transaction costs of sustainable development schemes.




Land availability and biofuels potential


As to the questions of land availability, the experts say the following: Of the 13.2 billion hectares (bn ha) of the world's total land area, 1.5 bn ha are used to produce arable crops and 3.5 bn ha are in pasture for meat, milk and wool production. Crops currently used specifically for biofuels, as a result of farmers' choice, utilize only 0.025 bn ha.

In Brazil, for example, over 40% of total gasoline demand is provided by ethanol produced from sugarcane grown on 1% of the 320 Mha of arable and pasture land, and none in the Amazon rain forest. In addition to biofuel production, crops used for energy often also provide co-products such as animal fodder, fertilizers and electricity.

How much biomass could become available for producing biofuels? The future potential for biomass could reach 150-400 EJ/yr (up to 25% of world primary energy) by 2050 using available farm, forest and urban residues and by growing perennial energy crops.

Some of the 1 bn ha of marginal and degraded lands unsuitable for food production (such as from rising salinity levels) could be reclaimed for productive use by growing selected energy crops.

There are competing uses for non-food biomass resources (including for heat, co-firing and biofuels, as well as for bio-materials and bio-chemicals). Global trade in biofuels could help compensate for regional differences in the availability and accessibility of biomass resources.



Food and fuel


Recent agricultural commodity price increases for the most part can be attributed to factors unrelated to biofuel production. These are increasing food and fodder demand as such, speculation on international food markets and incidental poor harvests due to extreme weather events. Also, high oil prices and related high costs of fertilizers have an impact on the price of agricultural commodities.

Low productivity in agriculture in many regions has resulted in unsustainable land- use, erosion and loss of soils, deforestation and poverty. Increased productivity over time as a result of better farm management, new technologies, improved varieties, energy related capital investment and capacity building would gradually increase the intensity of land use so that sufficient land becomes available the meet the growing demand for food, fodder, fiber and biofuel production.

According to the experts, commercial biofuels markets could become a major factor in raising the economic viability of rural enterprises, especially in developing countries. Increased investment in infrastructure for biofuel processing, distribution and transport would also result. At least some of this infrastructure will also contribute to the overall development of the agricultural sector.

"Second generation" biofuel technologies produced from non-food ligno-cellulosic feedstocks are expected to become commercially viable on large scale, and hold considerable promise, compared to "first generation" biofuels, particularly for expanding the energy base and providing significant GHG emission reductions.

Over time, first generation biofuels are likely to become more GHG efficient and co-exist with second generation biofuels as they are further developed. Tropical and sub-tropical regions will continue to enjoy comparative advantages in producing cost effective feedstocks for both.



Bellagio


In striving to address the root causes of serious global problems, the Rockefeller Foundation Bellagio Center is central to the Rockefeller Foundation's commitment to 'promote the well-being' of humanity. The Center provides a platform for: framing debates on globally relevant issues, reflection on significant scholarship and public policy, and conceiving and considering ways and means to translate theory into action.

Work at the Center is accomplished in an atmosphere in which ideas and solutions evolve through the cross-pollination of the differences and diversity of those in residence at any given time. Bellgio Conferences leverage "convening power": the ability to bring notable and diverse participants from around the world together to share ideas, to debate and to collaborate.

The participants of the conference on biofuels were:

Gustavo Best (Mexico, Senior Energy Coordinator, UN FAO), Jane C. Earley (USA, WWF), Prof. Dr. André P.C. Faaij (The Netherlands, Department of Science, Technology and Society, Utrecht University), Uwe R. Fritsche (Germany, Energy & Climate Protection Research, Öko-Institut - Institute for Applied Ecology), Annette Hester (Canada, Senior associate with the William E. Simon Chair in Political Economy at the Center for Strategic & International Studies), Suzanne Hunt (USA, Worldwatch Institute), Tetsunari Iida (Japan, Executive Director, Institute for Sustainable Energy Policies), Francis X. Johnson (Sweden, Stockholm Environment Institute), Geraldine Kutas (Brazil, UNICA), Plinio M. Nastari (Brazil, DATAGRO), Charlotte A. Opal (Switzerland, Roundtable on Sustainable Biofuels at the Energy Center at Ecole Polytechnique Federale de Lausanne), Martina Otto (France, Head of Policy Unit, Energy Branch. United Nations Environment Programme), Dr Peter Read (New Zealand, Department of Applied and International Economics, Massey University), Ralph E.H. Sims (France, Professor of Sustainable Energy, Massey University), Dr Sergio C. Trindade (USA), Jeffrey Bernard Tschirley (Italy, FAO Environment and Natural Resources Service), Simonetta Zarrilli (Switzerland, International Centre for Trade and Sustainable Development).

Biopact's Laurens Rademakers was invited to participate, but was unable to attend the conference.



References:


Rockefeller Foundation Bellagio Center: A Sustainable Biofuels Consensus. [*.pdf] Understanding the many drivers for sustainable trade, consumption and production of biofuels, and the comparative advantage of supplying regions combined with demand and technology from consuming regions. Bellagio, Italy, 24-28 March 2008.