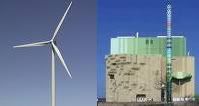 French retail giant Carrefour SA, the world's second largest retailer,
announced
today it will begin to sell electricity produced from renewable sources to households in Belgium with a view to rolling out the plans elsewhere in Europe. Two thirds of the green power will come from wind, a third from biomass (the country's largest renewable by share). This is the first time a global retailer jumps into the energy sector and intends to sell 100% renewable electricity directly to its huge base of customers.
European Union Energy Commissioner Andris Piebalgs
welcomed
the move and urged other retail giants to follow the same path. The EU has been pushing for a liberalisation of the Union's energy market, but progress has been slow, with several quasi-monopolies keeping their grip on the market (e.g. France's Suez which dominates Belgium's electricity sector via Electrabel). According to the Commission, Carrefour's entrance into the market nicely combines Europe's renewables and liberalisation strategies.
However, Carrefour may remain the sole retailer to take this step, because several large competitors in Europe have already said they don't have immediate plans to follow suit. German retailer Arcandor AG, U.K.-based Tesco PLC and Wal-Mart Stores Inc.'s U.K. subsidiary Asda have all said today they don't have current plans to provide electricity - let alone 100% renewable energy - to retail customers.
Carrefour spokesman Lars Vervoort said that there is as yet no date or timing for the launch of energy sales in other countries, but the idea would be to go forward in France, Italy and Spain.
Increased demand for sustainable products helped generate the idea, which came from a Carrefour executive in Belgium.
"The goal is to have it be profitable, the challenge will be to take up in a market dominated by two companies," Vervoort said, referring to Suez's Electrabel and SPE, Belgium's two largest electricity providers, which together control the majority of the Belgian electricity market.
Customers buying an electricity contract from Carrefour under the
'Energie EcoPlanet'
program have the choice of one-, two- or three-year contracts, and will likely pay less than what they pay with incumbent operators, although prices will vary in different regions:
energy :: sustainability :: biomass :: bioenergy :: biogas :: wind :: renewables :: liberalisation :: Belgium :: European Union ::

But not all analysts are convinced the company will be able to sell electricity at cheaper rates. According to Brussels-based energy expert Koen Dierckx, "It will not be that easy to convince clients to buy" electricity from Carrefour because prices could be higher given the generally steeper cost of electricity generated from renewables.

Add that a competitor like Electrabel gets the bulk of its electricity from nuclear power parks over which it received full private ownership after the plants had been depreciated - with no compensation for the state or the tax payer who subsidized these facilities. This allows the company to produce electricity on the cheap.

However, the big players also produce a substantial amount of electricity from classic fossil fuel powered thermal plants and have been forced to increase prices sharply over the past few months. Moreover, Electrabel has been accused of charging industrial consumers €1.2 billion too much over the past two years, by carrying CO2 emission reduction costs over to them, even though it was granted a large amount of emission allowances that should have prevented this. Finally, because of its quasi-monopoly, Electrabel has had a very problematic relationship with both the public and politics. For some, the fact that a French company controls Belgium's energy market is problematic in itself.

These factors have prompted a very lively debate about the further need for liberalisation of the energy market and have convinced the public at large that smaller players could begin to offer a more reliable deal. Opinion is also tilting in favor of renewables, with consumers thinking these sources might become a safe medium to long term bet as far as prices are concerned.


Carrefour will buy electricity from suppliers using renewable sources of energy such as wind and biomass and sell it to consumers, who would be able to subscribe via contracts sold at its large number of retail shops.

Carrefour's first supplier will be private Belgian company Lampiris, whose portfolio contains wind (62%), biomass and biogas (36%), cogeneration (1.3%) and hydropower (0.07%).

Belgium's current electricity mix looks as follows: 54.4% nuclear, 43.2% fossil fuel powered thermal plants and 2.4 renewables.


The Carrefour Group is one of the Partners of the Sustainable Energy Europe Campaign, a European Commission initiative in the framework of the Intelligent Energy - Europe programme, which aims to raise public awareness and promote sustainable energy production and use among individuals and organisations, private companies and public authorities, professional and energy agencies, industry associations and NGOs across Europe.



References:


Carrefour Belgium: Carrefour Energie EcoPlanet - May 29, 2008.

Carrefour Energie, dedicated website [Dutch, French].

European Commission, DG Energy: Commissioner Piebalgs welcomes the entry of a supermarket chain as a new electricity supplier in the Belgian market - May 29, 2008.