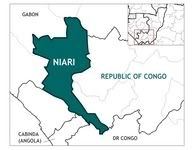 Italy's largest industrial conglomerate, Eni, announced it will invest $3 billion in the Republic of Congo's hydrocarbon and palm oil biodiesel sector, generating an expected equity production of 150 million boe. A project focusing on the coproduction of food and biofuels will yield an estimated 10,000 formal jobs. Investments are to be made in the four-year period from 2008-2011.
The initiative is one in a series of recent bilateral and private investments in Central Africa's very large bioenergy potential. Most recently, a Chinese state-owned company announced it is to invest $1 billion in the Democratic Republic of Congo's (Congo-Kinshasa) plantation sector (
earlier post
), whereas Spain-based Aurantia announced a large palm oil investment in the Republic of Congo (Congo-Brazzaville) last year (more
here
). Canada's MagIndustries' forestry division is establishing a 500,000 ton wood (energy) chip plant in Congo-Brazzaville, the feedstock of which will be eucalyptus (
previous post
). Finally, during Brazilian president Lula's latest African tour in October 2007, Congo-Brazzaville joined his call for a 'pan-African biofuel alliance' by signing biofuel and energy cooperation agreements (
further reading
). The vision is one in which investments in the bioenergy sector help spur the region's much needed rural development.
The Eni model combines the traditional activities of hydrocarbon exploration and production with sustainability and important initiatives with unconventional and renewable sources. Eni has developed its operations in the country thanks to close collaboration with the Congolese authorities, resulting in the new agreements. Throughout the shared program with Eni, the Republic of Congo will maximise its own potential as a major energy producing country and become a benchmark in Africa in the tar sands and biofuels field, as a further benefit of food farming development.

Hydrocarbons
Eni has reached agreement for the exploration and exploitation of non-conventional oil in tar sands in Tchikatanga and Tchikatanga-Makola, two areas covering a total of 1790 square km which show 'enormous potential'. According to preliminary studies undertaken on a 100 square km area, recoverable reserves are estimated at between 2,5 billion barrels unrisked and 500 million barrels risked.
The agreement will allow Eni to consolidate its unique skills in tar sands t aking advantage of proprietary Eni Slurry Technology (EST) for improvement of the quality of heavy oils.
The project will also benefit from synergies resulting from the close proximity of the M'Boundi oilfield. Gas associated with oil production in this area can also be used to supply the EST plant and enrich the heavy oil, while achieving the goal of reducing atmospheric emissions under the Kyoto protocol.

'Food Plus Biodiesel'
The Memorandum of Understanding on the Food Plus Biodiesel project outlines a framework for collaboration in the use of vegetable oils from palm tree cultivation on approximately 70,000 unfarmed hectares in the Niari region, in the North West of the country (see map). This land is expected to produce approximately 340 thousand tons/year of crude palm oil, enough to cover domestic demand for food uses and produce 250,000 tons/year of biodiesel.
The project will employ approximately 10,000 people and will establish a consortium which will cooperate with the best international organisations to optimise agricultural production and development in local communities operating on the basis of the principles of protection of environment and of biodiversity:
energy :: sustainability :: biomass :: bioenergy :: biofuels :: biodiesel :: palm oil :: rural development :: Republic of Congo :: Central Africa ::

Crude vegetable oil that will not be used for food will be destined to biodiesel production using Eni'proprietary Ultra-Bio-Diesel technology. After a first pilot phase, the feasibility of building a bio-refinery in the Congo will be considered.

Power station
Construction of the new 450 electric Power Station nearby the Djeno oil terminal, which, by 2009, will contribute to the generation of electricity from gas for over 80% of the country's requirements, while reducing gas flaring. The station, which will be owned by a new joint-stock company 20% owned by Eni Congo and 80% by the Republic of Congo, will be fuelled by the natural gas associated with the M'Boundi oilfields and, later, by the offshore discoveries of Marine Permit XII.

This initiative will monetize 56 million boe of natural gas reserves and associated liquids, producing the equivalent of some 22 thousand barrels of oil every day in Eni's share. The initiative will benefit from the Clean Development Mechanism credits under the Kyoto protocol.

Social initiatives
The industrial plan is in line with important social initiatives aimed at enhancing infant healthcare in Congo's rural areas , promoted and developed by Eni Foundation, following the 2007 agreement with Congolese Health, Population and Family Ministry and local NGO foundation Congo Assistance.

The overall investment for the project amounts to approximately 8.5 million euros.

The project will implement several vaccination programs aimed at reducing the incidence of the most widespread infant diseases, involving more than 200,000 children (corresponding to about 30% of children in Congo).

The initiative also aims to raise the population's awareness of disease prevention staff in the remote districts of the Country and improve the skills of local healthcare staff. The project involves the rural district of Niari, Cuvette and Koilou, where it is envisaged that the foundation will completely redevelop and equip 30 Peripheral Healthcare Centres. In the case of particularly remote communities mobile road units are expected to operate. In the Cuvette region, river-sailing equipped boats will also be used for the transportation of healthcare team.

The integrated model shared between Eni and the Republic of Congo creates the basis for a new cooperative process with producing countries allowing the promotion of industrial and energy development while respecting the environment and business sustainability.

References:
Eni: Eni and the Republic of Congo launch a new integrated model of cooperation - May 19, 2008.

Biopact: Congo joins Brazil's call for a pan-African biofuels alliance, signs agreement as it faces 'Peak Oil' - October 17, 2007

Biopact: DR Congo: Chinese company to invest $1 billion in 3 million hectare oil palm plantation - July 28, 2007

Biopact: Spanish company Aurantia to invest in Congo's palm oil sector for biodiesel - March 02, 2007

Biopact: 500,000 tonne mill for energy wood chips in the Republic of Congo - November 17, 2006