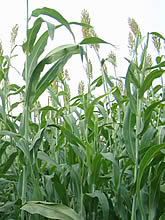 Renergie, Inc. is one of the eight recipients, selected from 139 grant applicants, to share $12.5 million from the Florida Department of Environmental Protection's Renewable Energy Technologies Grants Program (previous post). It received $1,5 million (partial funding) in grant money to design and build Florida's first sweet sorghum juice mechanical harvesting system and ethanol plant capable of producing fuel-grade ethanol solely from sweet sorghum juice. The fuel is competitively priced at 15 percent less per gallon than regular gasoline, in part because of the crop's high yield. Renergie focuses on a decentralised production approach, firmly rooted in local farming communities.
Renergie was formed in March 2006 by Meaghan M. Donovan for the purpose of raising capital to develop, construct, own and operate ethanol plants in the parishes of the State of Louisiana which were devastated by hurricanes Katrina and Rita. Each ethanol plant in Louisiana has a production capacity of 5 million gallons per year of fuel-grade ethanol. Upon completion of the initial network of ten ethanol plants, Renergie will have an annual production capacity of fifty 50 million gallons (189 million liters). Renergie intends to replicate its Louisiana decentralized network of ethanol plants in Florida.
Sweet sorghum advantages
Renergie produces ethanol solely from sweet sorghum juice. This crop has received growing interest from the bioenergy community because it outperforms most alternative, firts generation energy crops. According to Renergie, the main advantages of producing ethanol from sweet soghum juice are:
High Yield

– Sweet sorghum yields between 500 to 800 gallons of ethanol per acre (4700 to 7500 liters per hectare);



Water Efficient Crop

– Sweet sorghum requires one-half of the water required to grow corn and one third of the water required to grow sugarcane;



Ability to Grow in Marginal Soil

– Sweet sorghum can grow in marginal soils, ranging from heavy clay to light sand. Sweet sorghum has been called a "camel among crops," owing to its wide adaptability, its marked resistance to drought and saline-alkaline soils, and tolerance to high temperature and waterlogging;



Not Harmful to the Environment

– Sweet sorghum requires the use of only 40 to 60 pounds of nitrogen per acre whereas corn growers use more than 150 pounds per acre, according to the U.S. Environmental Protection Agency. Less fertilizer reduces the risk of water contamination. Producing ethanol from sweet sorghum, rather than increasing corn-to-ethanol production, reduces the risk of the continued formation of dead zones in the Gulf of Mexico;



Rapid Growth

– Sweet sorghum takes only 4 months to reach maturity, which is short enough to allow harvesting twice a year. Sugarcane requires 14 months to reach maturity; and



Energy Efficient

– The energy requirement for converting sweet sorghum juice into ethanol is less than half of that required to convert corn into ethanol. This is due to the fact that the sugars in sweet sorghum juice are fermented directly. There is no need to excessively heat the juice to breakdown starch into sugars as required for corn.

In 2007, China and India produced 1.3 billion gallons of ethanol from sweet sorghum juice. The Renergie project will be the first time that ethanol will be produced solely from sweet sorghum juice in the U.S.
Decentralisation
The company focuses on creating a decentralized network of smaller ethanol plants with a commitment to local rural economic development. The distributed nature of a smaller ethanol production plant network reduces Renergie's feedstock supply risk, does not burden local water supplies and provides broad-based economic development:
energy :: sustainability :: biomass :: bioenergy :: biofuels :: ethanol :: sweet sorghum :: efficiency :: Florida ::

In Louisiana, Renergie is headquartered in the small city of Kaplan (population of less than 5,000). Renergie has agreed to donate two cents of every gallon of ethanol it sells to the City of Kaplan. Renergie firmly believes that the success of the ethanol industry requires a long-term commitment to rural economic development.



Market focus


The Renergie philosophy is to produce ethanol locally and market ethanol locally. There is not an oversupply of ethanol. The major obstacle to widespread ethanol usage continues to be the lack of fueling infrastructure. Only 1,347, of the nearly 180,000 retail gasoline stations in the United States, offer E85. Moreover, ethanol is slowly moving from being just a blending component in gasoline to a truer fuel alternative in the form of E85. If it were up to the company, the day of building 100 million gallon per year corn-to-ethanol plants in the Midwest corn belt, for the sale of E-10 to consumers on the U.S. East Coast and West Coast, is over.

Renergie is focusing its efforts on growing ethanol demand beyond the 10% blend market. Initially, Renergie will directly market E85, a blend of 85 percent ethanol and 15 percent gasoline for use in FFVs, to fuel retailers under the brand Renergie E85. Renergie's unique strategy is to blend fuel-grade ethanol with gasoline at the gas station pump. Currently, ethanol providers blend E10 and E85 at their blending terminal and transport the already blended product to retail gas stations.

Once state approval is received, Renergie's variable blending pumps will be able to offer the consumer a choice of E10, E20, E30 and E85. Via use of the Blender's Tax Credit, Renergie will be able to ensure that gas station owners are adequately compensated for each gallon of fuel-grade ethanol that is sold via Renergie's variable blending pumps at their gas stations.



Cost of Feedstock


Renergie will not fall victim to rising feedstock costs. Farmers in Louisiana and Florida will share in the profits realized from the sale of the ethanol made from their crops. Renergie enters into long-term feedstock supply contracts with area farmers. Currently, the profits from corn-to-ethanol projects go primarily to the wealthiest farmers, major corporations, e.g., Archer Daniels Midland, and out-of-state investors.

Renergie ensures that there is a link between the compensation paid to its feedstock producers and ethanol market conditions. Farmers will receive a lease payment for their acreage and a royalty payment based on a percentage of Renergie's gross sales of ethanol. The Renergie ethanol project will mark the first time that Louisiana and Florida farmers will share in the profits realized from the sale of value-added products made from their crops.



Research


Sorghums are receiving a great deal of interest from the bioenergy community. Recently, scientists from the U.S. Agricultural Research Service released new low-lignin sorghums that are ideal for biofuel and feed (previous post). Several projects are underway to develop drought-tolerant varieties, high sugar varieties and high biomass varieties (earlier post). Some sorghums promise great opportunities for use in developing countries, where they can be grown with low inputs to yield both fuel, food, fiber and fodder (more here and here).

Late last year, a major breakthrough was achieved when researchers succeeded in engineering a sorghum that can grown in soils plagued by aluminum toxicity. Such acidic soils limit crop production in as much as half the world's arable land (previous post).



Thanks to Renergie's Brian J. Donovan.



References:
Biopact: Florida awards $12.5 million grants for renewable energy: includes sweet sorghum ethanol, biodiesel distribution, multi-feedstock biofuels - March 07, 2008

Biopact: Researchers use IV to monitor flow of sugar in sweet sorghum, analysis aimed at maximizing biofuel potential - September 13, 2007