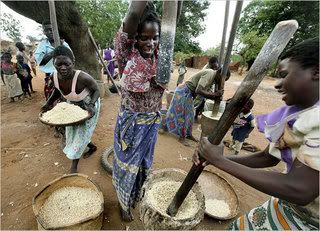 One of the world's poorest countries has vowed never again to kneel down for food aid, which it considers to be perverse because it ruins markets for local farmers. Malawi, where more than 80 percent of all people makes a living from agriculture, showed the world African countries can turn themselves from food aid dependent begging bowls, to regional food exporters instead, with a simple set of policies.
By ignoring international experts, Malawi decided to support its own local farmers instead of importing food from Europe and America, and instead of being dependent on the World Food Program's handouts. It did so by improving access to fertilizers to its own large rural population. With great success. In one season's time, Malawi turned from a begging bowl into a major net food exporter, sending hundreds of thousands of tonnes to its food insecure neighbors Zimbabwe and Zambia. It repeated the leap forward last year (
previous post
).
Critics may call Malawi's super harvests a matter of luck. But guess what? This year too, it again expects a third bumper maize harvest. Three times in a row - that isn't luck, that is policy.
Acting on the good news, Malawian President Bingu wa Mutharika, who is credited with the smart policy and who is also Minister of Agriculture,
vowed
he would never again "kneel down" for food aid.
I will not, as your president, ever again kneel down in front of the donor communities to ask for maize. Please don't allow me to do that.

We can ask for other assistance, but maize, for goodness sake, we can grow all the maize we want.

It's amazing the vast valleys which we can reclaim and grow all the food we want. Why do we suffer? We have valleys everywhere. Why do we Malawians have to suffer and ask for food somewhere else? - Bingu wa Mutharika

Because of the smart, simple fertiliser program, Malawi met its food needs in 2006 for the first time in seven years with a harvest of 2.2 million tons. About 45 percent of Malawians live below the poverty line and on less than a dollar a day. The vast majority of the poor are farmers.
The Malawian example offers hope for Africa and can be replicated across the continent, but many barriers remain: the food aid industry (which is a form of subsidy to producers in Europe and the US), trade barriers, high oil prices, subsidies in the EU and the US, corrupt officials and local elites who prefer to ignore their own rural populations and deal with wealthy Euro-American food producers instead... all these destructive forces must be tackled. Then Africa is ready to make its Green Revolution. Then, at last, it can begin to produce the vast amounts of food and biofuels analysts know can be produced there.
The intention to "never again kneel down" in front of the food aid industry, is a good start [entry ends here].
biomass :: bioenergy :: biofuels :: energy :: sustainability :: agriculture :: food :: food aid :: hunger :: Green Revolution :: Africa ::