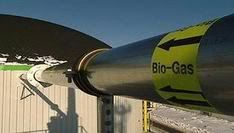 Pacific Gas and Electric Company and BioEnergy Solutions
announced
that their biogas-to-pipeline injection project in Fresno County has begun production of renewable natural gas derived from animal waste. It is the first project in California that will deliver pipeline-quality, renewable natural gas to a utility. California thus follows in the footsteps of Europe, where the gaseous biofuel is being fed into the grid on an increasingly large scale.
With nearly two million dairy cows in California, there is great potential for the state's agriculture and power sectors to work together to address the challenges of climate change. This project is yet another example of our company's commitment to add innovative forms of clean renewable energy to help meet our customers' future power needs.

- Roy Kuga, vice president of energy supply at PG&E
Under a long-term contract approved by the California Public Utilities Commission (CPUC), BioEnergy Solutions will deliver up to three billion cubic feet (85 million cubic meters) of renewable natural gas a year to PG&E (
earlier post
).
The BioEnergy Solutions system reduces emissions of methane, a greenhouse gas 21 times more potent than carbon dioxide, by 70 percent on a 5,000-cow dairy, while carbon dioxide emissions are offset by switching from fossil natural gas to renewable bio-based gas.
We have developed an innovative way to bring dairies and power companies together to generate a new source of green energy for California. Using proven technologies, we design, build and operate highly-efficient biogas systems that enable dairymen to meet new air quality requirements and help utilities meet their goals for the production of energy from renewable sources.

- David Albers, president of BioEnergy Solutions
Vintage Dairy, the site of BioEnergy Solution's first project, is located near the town of Riverdale in western Fresno County, California. Manure from the dairy's 5,000 milk-producing cows and calves is flushed into a covered lagoon - equal in size to the area of nearly five football fields and over three stories deep - that traps the methane gas produced as the manure decomposes. The methane is upgraded, or 'scrubbed' to remove corrosive materials to meet PG&E's industry-leading environmental standards for power plants and then delivered to PG&E through the utility's pipeline. PG&E uses the natural gas to deliver renewable electricity to its customers in central and northern California:
energy :: sustainability :: biomass :: bioenergy :: biofuels :: biogas :: biomethane :: dairy :: manure :: natural gas :: California ::

BioEnergy Solutions is based in Bakersfield and was founded by David Albers, a third-generation dairyman who also owns Vintage Dairy. The company installs at its own expense the infrastructure needed to collect and process the manure and then pump the gas into PG&E's pipeline. BioEnergy also shares the proceeds from the sale of gas and resulting emissions credits with dairy owners.

PG&E is a leader in utilizing biogas in the United States. In addition to the utility's contract with BioEnergy Solutions, PG&E is working to cultivate the next generation of biogas technologies through its biomethanation research project. This recently launched project explores emerging biomethanation technologies and processes that may increase conversion efficiency, expand the range of usable feedstocks and improve the quality of biomethane products.

PG&E expects to have 14 percent of its energy from renewable sources that qualify under California's Renewable Portfolio Standard (RPS) Program in 2008. On average, more than 50 percent of the energy PG&E delivers comes from carbon-free sources, and the utility now has contracts to provide 20 percent of its future energy supply from renewable sources. Qualifying renewable sources in PG&E's portfolio include solar, wind, biomass, geothermal, and small hydroelectric.

California's Renewable Portfolio Standard (RPS) Program requires each utility to increase its procurement of eligible renewable generating resources by one percent of load per year to achieve a 20 percent renewables goal by 2010. The RPS Program was passed by the Legislature and is managed by the CPUC and California Energy Commission.

PG&E earlier also announced that it had issued a Request for Information (RFI) to identify partners for a potential project to demonstrate technologies that could cost-effectively produce significant quantities of biomethane - pipeline-quality, renewable natural gas (more here).



References:


PG&E: PG&E and Bioenergy Solutions Turn the Valve on California's First "Cow Power" Project - March 4, 2008.

Biopact: Pacific Gas & Electric Company to research large-scale biomethane resources for its customers - January 25, 2008