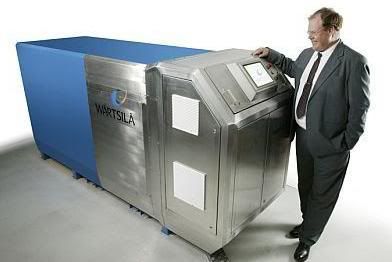 Finnish energy solutions provider Wärtsilä will
demonstrate
a planar solid oxide fuel cell (SOFC) power unit fuelled by renewable biogas in the city of Vaasa, in West-Finland, as part of the 2008 Green Housing Fair. The unit will provide ultra-low emissions clean heat and power for 50 of the eco-homes, in an extremely efficient manner.
The unit to be demonstrated, dubbed WFC50 by the Wärtsilä engineers, will use biogas or biomethane from a nearby landfill site to provide heat and power to Vaasa's electricity and district heating grid. This will be the first time a solid oxide fuel cell will have been used in such an application, and as such it heralds an interesting time for fuel cell development.
At the first stage, the SOFC system will produce an electric output of approximately 20 kW and a thermal output of 14 to 17 kW, later to be scaled up to a combined capacity of 50kW. Current experimental SOFC units are typically designed with power in the range of of 1 – 5 kW to supply combined heat and power for individual homes. The size of the WFC50 would place it in the commercial, district and industrial customer range. Wärtsilä is now focusing on the 20 – 50 kW demonstration units. After this it will develop the technology towards 200-250 kW unit size. A unit of 250 kW could then be "repeated" for applications of around 1MW.
The overall efficiency of the CHP system is close to 90 per cent - more than double that of the electricity generated in classic power systems such as coal or gas plants. The characteristics of SOFC technology include a high operating temperature, the ability to use several different fuels - particularly biobased gases -, and ultra-low emissions.
Biogas powered SOFCs are arguably the world's least carbon-intensive and most efficient energy systems currently available. Compared with renewables like wind or solar power, which over their lifecycle release between 30 and 100 kg of CO2 per MWh of electricity generated, biogas fuelled SOFCs can generate
negative
emissions when the CO2 released during the decarbonisation of the fuel is sequestered. As such, the technology is a key solution that supports the development of sustainable, renewable and climate friendly energy.
The Wärtsilä biogas powered SOFC first reforms the carbonaceous methane gas into hydrogen, which is then fed to the cell (schematic,
click to enlarge
). Decarbonising the biofuel means its CO2 can be captured and stored. This, however, is a future development that is undergoing intensive research and will emerge when SOFCs are scaled up to power entire cities. An integrated CO2 grid would then transport the greenhouse gas to a safe storage site. The energy generated in this concept would be carbon-
negative
and
actively remove
CO2 from the atmosphere instead of merely preventing the release of new emissions, which is what ordinary renewables do.
Special features of SOFCs include:
SOFC technology can operate in the temperature range of 650 - 800 °C, which allows the use of conventional materials in the balance of plant components.
Since a fuel cell system has very few moving parts their service need will probably be considerably lower and system reliability higher when compared to conventional technologies.
Planar SOFC products have the potential to reach a competitive cost level in mass production.
Since pure hydrogen is costly and available only in limited quantities, a number of other fuels have been successfully used with SOFCs, such as methanol, natural gas, biogas, gasoline and even diesel oil and ethanol.
In practice, the most potential fuels are natural gas, various types of biogas (methane from anaerobic digestion, or synthetic natural gas from biomass) and low-sulphur diesel. In stationary applications natural gas is widely used and the reforming of natural gas is conventional technology.
When low-cost manufacturing of SOFC products is achieved, it will change our way of producing electricity and consuming energy, say the organisers of the Green Housing Fair. The schematic of the Wärtsilä SOFC system illustrates how the fuel cell works. The company has developed extensive software to adapt a SOFC power unit into customer infrastructure.

Decentralisation
The significance of the capacity to use biogas increases in decentralized energy production. The benefits of decentralized energy production include more efficient utilization of local sources of energy, shorter transport distances for fuels and reduced energy transmission losses:
energy :: sustainability :: biomass :: bioenergy :: biofuels :: biogas :: biomethane :: hydrogen :: solid oxide fuel cell :: emissions :: carbon-negative :: decentralisation :: combined heat-and-power :: district heating :: Finland ::

Biogas-based fuels are energy sources compliant with sustainable development. In addition to landfills, biogas is generated in agriculture and water treatment plants from a wide variety of organic materials.

Biomethane can be obtained from two main conversion processes: either the material is anaerobically digested via biochemical processes, or raw biomass is thermochemically transformed via a process known as gasification. In the first case, the term 'biogas' or 'landfill gas' is most commonly used; in the latter case, experts speak of 'synthetic natural gas' (SNG) or 'green gas'.

Bio-based gases can be made from virtually any type of biomass, ranging from dedicated energy crops to manure and various streams of agricultural, municipal and industrial waste.

Long-term clean energy strategy
The development of fuel cell technology is a part of Wärtsilä's long-term development strategy for cleaner and sustainable energy production technologies. The fuel cell unit for the fair site is Wärtsilä's first field application of the fuel cell technology.

The technology is in early demonstration phase where a low number of units are manufactured at high cost. Fontell says that it would cost around US$10 - 20,000/kW to buy the technology, which is still far from the target level. To be competitive, a fuel cell would need to cost no more than US$2,000-2,500/kW. Forecasts for 2015-2020 show the price falling to USD 1,000/kW, so the technology has potential to become competitive. But the cost development depends on both how the technology proceeds, and how fast the manufacturing volumes can be increased.


Since 2000, Wärtsilä has developed fuel cell technology for distributed power generation, and is today among the world's front-line pioneers of this technology. The driving force is that the fuel cell technology will be one of the most promising energy technologies for decentralized power generation in the future.

Wärtsilä is involved in extensive domestic co-operation with Finnish R&D institutions and potential equipment suppliers, and participates in international co-operation in Europe, USA and Japan. System integration of the various technologies included in fuel cell systems is one of Wärtsilä's expertise areas.

Wärtsilä is one of the leading companies in the world developing the specific SOFC technology. This development is supported by close collaboration with the Danish company Topsoe Fuel Cells A/S and VTT Technical Research Centre of Finland.



The Vaasa Housing Fair 2008 will be held at a beautiful location by the sea in Suvilahti, Vaasa, three kilometers from the Vaasa city center. The housing fair area consists of private houses, small housing associations and blocks of flats, all of which have been built in an urban style, while still succeeding in remaining close to nature.

The Vaasa Housing Fair to be held between 11 July and 10 August 2008 is a pioneer in the implementation of clean energy production processes for a restricted area. In addition to fuel cells, power and heat are produced with microturbines and from low-temperature heat collected from the sea bed using a geothermal heating pump.



References:


Energy & Enviro Finland: An unique fuel cell plant using landfill gas will produce energy for a Finnish housing fair - February 27, 2008.

Energy & Enviro Finland: Finnish Housing Fair pioneers in ecological living - February 27, 2008

Vaasa Housing Fair 2008.

Energy & Enviro Finland: Wärtsilä fuel cell system to power city of Vaasa - June 15, 2006.