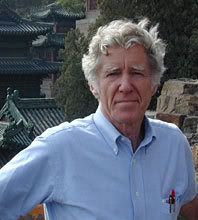 Two days ago, colleague of ours attended a lecture by Lester Brown, founder and president of the
Earth Policy Institute
. During his talk, in the presence of more than five-hundred seemingly eco-conscious people, Brown presented a doom and gloom picture of our future. In no uncertain terms he said we must absolutely reduce global CO2 emissions by at least 80% by 2020 "to save civilisation". If we don't succeed, life as we know it ceases to exist. Now cutting the entire world's emissions by 80% within 12 years time requires truly extraordinary measures. Forget Kyoto, forget the EU's low-carbon goals, forget Sweden's quest for oil independence - none of these initiatives will ever achieve Brown's 80% mark.
Lester Brown's dramatic sense of urgency can lead him to only two conclusions: either we power down our societies completely, but then "civilisation" collapses anyways because our entire way of life is based on access to abundant and affordable energy. A total power down means unimaginable social war - a Mad Max world. The only credible alternative is a massive investment in carbon-
negative
energy, which allows us to continue to live relatively healthy, safe and wealthy lives. There is no scenario in between, not when Brown takes his own message serious - an 80% reduction in emissions in under 12 years time...
So let's suppose Brown does not want societal collapse and prefers us to live long and prosperous lives. Then we need to find a way to generate energy while simultaneously
removing killer CO2 from the atmosphere
. We absolutely need to do
both jobs at the same time
.
'Carbon neutral' technologies like wind or solar power are obviously not up to the job, even though they can help a bit. They're largely unfit because these sources generate modest but significant amounts of CO2 emissions over their lifecycle. And of course, under Brown's scenario, that's a no-go. According to the EU's
low-carbon technology roadmap
, per GWh of electricity generated, solar PV releases +100 tonnes of CO2, wind +30 tonnes, large hydropower around +20 tonnes. Even nuclear - with around +15 tonnes of CO2 per GWh of electricity - will not do the trick. Moreover, shows the roadmap, these energy sources are very costly and require massive subsidies. And even if we were to replace
all
coal, gas and oil consumption with these energy sources today, we wouldn't come close to Brown's 80% reduction, because many other, non-energy related sources of greenhouse gases will continue to spew CO2 into the atmosphere.
In short, we need something far smarter and more drastic than conventional renewables or nuclear: we need a set of technologies that allows us to generate clean, reliable and renewable power and, while doing so, effectively
remove
massive amounts of the murderous greenhouse gas from the atmosphere. Only then can Brown's apocalyptic scenario be averted.
The good news is: these technologies already exist and can be implemented on a planetary scale, today. Amazingly though, Lester Brown himself isn't aware of their existence. The man who claims to know for sure how dangerous the disrupted carbon cycle really is, isn't aware of the most basic and feasible ways to restore this balance and save the planet. Our friend, who was present at Brown's lecture, quizzed the man about carbon-negative energy, but to his great amazement he had never heard of the concept. We couldn't believe it, so we checked Brown's publications and the Earth Policy Institute's website, but nope, nothing there. Can you imagine?
It's true, carbon-negative energy, also known as "negative emissions energy", is a highly counter-intuitive concept - generating energy while removing emissions from the past sounds a bit weird indeed. However, with some effort most people should be able to understand how it works. At least Brown should. Let's repeat the basics, though, for those who aren't already familiar with the idea.
Going negative
Carbon-negative energy systems are based on biological machines that sequester carbon dioxide from the atmosphere. As they grow, they take away the dangerous greenhouse gas and lock it up in their tissue. These machines consist of cellulose - the most abundant organic polymer on Earth - and lignin - the second most abundant organic polymer on the planet. They come in many forms, such as grasses and trees - basically any type of 'biomass' that can be found everywhere around us.
The good thing is, these carbon-trapping biological machines stockpile a lot of solar energy via photosynthesis. This means we can use them to generate electricity. We use the machines as biofuels in power plants - either existing coal plants or new biomass power plants. When we burn the fuel, the CO2 stockpiled by our machines gets released back into the atmosphere. This cycle is conventionally called "carbon neutral", because the CO2 released was earlier taken out of the atmosphere by the crops as they grew. In this sense, burning biomass does not yield CO2 emissions.
But now we go one step further. We can go beyond mere carbon-neutrality and turn our system into one that goes carbon-
negative
. We want to remove carbon dioxide from the atmosphere, so all of us, including Lester Brown, can survive. This can be done by decarbonising the fuel and trapping the CO2 from our (biomass) power plants
before
it enters the atmosphere. Once we do that, we can store the CO2 underground and keep it locked up for centuries. The result is electricity production that yields "negative emissions". These negative emissions are radical: scientists from the IEA and the Abrupt Climate Change Strategy group have found that bio-energy coupled to carbon capture and storage can deliver electricity in a system that takes a whopping 1000 tons of CO2 out of the atmosphere per GWh generated. So that is:
minus
1000 tonnes. Compare this with solar (+100 tonnes), wind (+30 tonnes) or nuclear (+15 tonnes) - energy sources which all
add
CO2 to the atmosphere. Carbon-negative bioenergy on the contrary can remove
huge
amounts of the greenhouse gas so feared by Brown, while at the same time powering our societies.
Sequestering CO2 from biomass into geological formations such as saline aquifers, special rock formations or depleted oil and gas fields is a non-risk strategy, at least in the case of biogenic CO2. If ever a leak were to occur, there would be no net addition of CO2 to the atmosphere, because the CO2 is obtained from carbon neutral biomass from the start. That's why bioenergy with carbon storage differs radically from fossil fuels coupled to CCS. Some interesting new research also shows
geosequestration is much safer than previously thought
. Efficient and cost-effective carbon capture technologies are here, concrete projects demonstrating the feasibility of CCS already exist, biomass is cheaper than coal if scaled up (see the EU numbers), and bioenergy coupled to CCS is a no-risk strategy. There is no reason not to support this most radical tool in the climate fight.
Biochar
Now there is another approach to generating carbon-negative energy and reach an 80% cut in global emissions. You trap CO2 by growing plants - as explained above. These biofuels are then transformed via a technology known as pyrolysis. This results in three products: (1) a hydrogen-rich combustible gas which can be used for the production of electricity or liquid fuels (bio-oil), (2) tars, and (3) biochar. If you tweak the pyrolysis process you can almost eliminate the tar fraction and maximise gas and biochar production.
Now comes the trick: you use the gas as an energy source, while you put biochar in agricultural soils. Scientists have found that adding biochar to soils not only results in a stable carbon sink that stores carbon for centuries (possibly millennia), but that it also boosts the fertility of the soil in a dramatic way. The result is that you can grow even more biomass on the new, rich black earth. Black is the real green. Thus a synergy emerges between carbon storage, biomass production and bioenergy production. The energy obtained from the cycle is carbon-
negative
, and the system as a whole removes CO2 from the atmosphere:
energy :: sustainability ::biomass :: bioenergy :: biofuels :: climate change :: global warming :: bio-energy with carbon storage :: biochar :: negative emissions :: carbon-negative :: collapse :: civilisation :: Lester Brown :: Earth Policy Institute ::

Soil, energy and climate experts have analysed the global potential of such biochar systems and have found them capable of

reversing

climate change. In theory, biochar can halt global warming all by itself. The concept is relatively new, which could explain why people like Lester Brown have never heard of it.

What is more, biochar based carbon-negative energy offers another major set advantages: it can help end deforestation, poverty and hunger in the tropics. This is so because farmers there can make a switch from slash-and-burn practises to slash-and-char, in which case their nutrient poor soils would suddenly become fertile, removing the need for them to continuously slash and burn for new land. The famous Amazonian dark earths (Terra Preta) are testimony to the great fertility of these artificially created, carbon-rich soils. Crops grow much better on these soils, and would yield more food and more residual biomass. Yield increases of between 200 and 800 percent have been reported.

If biochar were implemented across the humid tropics, slash-and-burn would be halted, deforestation would come to an end, abandoned land would be made fertile again, and hunger would be reduced dramatically. The latter point is important: some 300 to 500 million poor farmers utilize slash-and-burn techniques, which ultimately pushes them into poverty because the poor soils they cultivate don't sustain productive agriculture. Permanent food insecurity is the result.


It is these people - in Congo, in Gabon, in the Central African Republic, in the Democratic Republic of Congo, in Cameroon, in Brazil, in Indonesia, in Papua New Guinea - who make up some of the world's poorest populations, facing malnutrition and hunger. A look at a hunger map of Central Africa says more than enough: the forest-rich countries in the Congo Basin face the world's highest malnutrition rates (

click map

to go to the World Food Program's interactive hunger map). Six in ten people there are undernourished. 75 percent of the DRCongo's 60 million people are hungry - an unimaginable catastrophy, not only due to war, but to a lack of productive agriculture. Biochar based farming could greatly help solve this ongoing food crisis.

By introducing biochar, four of the world's most pressing problems can be tackled simultaneously: (1) hunger can be reduced because of much higher yields as a result of the conversion of acidic tropical soils into fertile, biochar-amended soils; (2) deforestation and the huge emissions that go with it (20% of the world's total emissions comes from slash-and-burn) can be slowed or even halted; (3) access to modern, renewable rural energy would be provided because biochar systems are based on pyrolysis, which yields carbon-negative energy; and (4) most importantly, to Brown, climate change could be tackled. In this sense, biochar is truly revolutionary.

Is biochar cost-effective? Without a doubt, at least in the vast tropics with their acidic soils. And you don't need carbon credits to make it work. The sheer benefits of increased crop yields - certainly in a context of high food prices - makes it cost-effective in the tropics. If carbon credits are obtained for storing the biochar, the sector would even become highly profitable.


Now Lester Brown knows how he can prevent the end of civilisation: by massively promoting carbon-negative bioenergy, either one of the two systems. Bio-energy with carbon storage, and biochar are the only technologies capable of reversing climate change because they yield negative emissions. Forget costly and risky geo-engineering ideas - such as launching mirrors into space, filling the atmosphere with sulfur or iron seeding the oceans - we already have two radical climate fighting tools that are safe, feasible, cost effective and can be implemented today.

We only need a man like Brown to learn of their existence and to promote them. We are confident that he will start spreading the word, once he has understood the concepts.


But Brown might ask the question as to whether there is enough land to grow all this biomass. Well, he already knows the answer. According to collegues of his - experts from the IEA's Bioenergy Taskforces and the FAO - there is enough land to grow around 1550 Exajoules worth of bioenergy by 2050 in a sustainable manner (see map,

click to enlarge

). Sustainable, that is, without deforestation and without entering protected areas, and while meeting all food, fiber, feed, and forest products needs of populations. Current global energy consumption, from all sources (oil, gas, coal, nuclear, renewables), is around 440 Exajoules. So 1500 Ej by 2050 means there is plenty of potential, certainly if we only have to look at 2020, which is Brown's time horizon. (Note these projections do not take into account biotech and plant science breakthroughs, of which there are major ones every few weeks or months.)

The bulk of this potential can be found in poor countries in the South, where hundreds of millions of farmers are set to benefit from the emerging bioenergy sector and could get out of poverty because of it (at least according to scientists from these countries, agricultural experts, economists, and think tanks like the WorldWatch Institute or the FAO; and provided smart policies are put in place).

If he wants to, Lester Brown can save the planet and end poverty. All he has to do is read up on biochar and bio-energy with carbon storage. We know that when he understands the concepts, he will throw all his weight behind carbon-

negative

biofuels. To help him and all those unaware of negative emissions systems, we have compiled a short list of references:



On bioenergy with carbon storage:


H. Audus and P. Freund, "Climate Change Mitigation by Biomass Gasificiation Combined with CO2 Capture and Storage", IEA Greenhouse Gas R&D Programme.

James S. Rhodesa and David W. Keithb, "Engineering economic analysis of biomass IGCC with carbon capture and storage",

Biomass and Bioenergy

, Volume 29, Issue 6, December 2005, Pages 440-450.

Noim Uddin and Leonardo Barreto, "Biomass-fired cogeneration systems with CO2 capture and storage",

Renewable Energy

, Volume 32, Issue 6, May 2007, Pages 1006-1019, doi:10.1016/j.renene.2006.04.009

Christian Azar, Kristian Lindgren, Eric Larson and Kenneth Möllersten, "Carbon Capture and Storage From Fossil Fuels and Biomass – Costs and Potential Role in Stabilizing the Atmosphere",

Climatic Change

, Volume 74, Numbers 1-3 / January, 2006, DOI 10.1007/s10584-005-3484-7

Peter Read and Jonathan Lermit, "Bio-Energy with Carbon Storage (BECS): a Sequential Decision Approach to the threat of Abrupt Climate Change",

Energy

, Volume 30, Issue 14, November 2005, Pages 2654-2671.

Stefan Grönkvist, Kenneth Möllersten, Kim Pingoud, "Equal Opportunity for Biomass in Greenhouse Gas Accounting of CO2 Capture and Storage: A Step Towards More Cost-Effective Climate Change Mitigation Regimes",

Mitigation and Adaptation Strategies for Global Change

, Volume 11, Numbers 5-6 / September, 2006, DOI 10.1007/s11027-006-9034-9

Biopact: The strange world of carbon-negative bioenergy: the more you drive your car, the more you tackle climate change - October 29, 2007

Biopact: Researchers find geosequestration of CO2 much safer than thought - February 18, 2008




On biochar:


Amonette, J.; Lehmann, J.; Joseph, S., "Terrestrial Carbon Sequestration with Biochar: A Preliminary Assessment of its Global Potential", American Geophysical Union, Fall Meeting 2007, abstract, December 2007.

Johannes Lehman, John Gaunt, Marco Rondon, "Bio-char sequestration in terrestrial ecosystems - A review" [*.pdf], Mitigation and Adaptation Strategies for Global Change (2006) 11: 403–427

Prof. Johannes Lehman's site: Bio-char or Agri-char: the new frontier, Cornell University.

Dr. Christoph Steiner's website: Biochar.org.

Terra Preta Bioenergy List.

Biopact: Biochar and carbon-negative bioenergy: boosts crop yields, fights climate change and reduces deforestation - January 28, 2008

Biopact: Research confirms biochar in soils boosts crop yields - June 01, 2007

Biopact: Towards carbon-negative bioenergy: U.S. Senator introduces biochar legislation - October 07, 2007

Biopact: Terra preta: how biofuels can become carbon-negative and save the planet - August 18, 2006

Biopact: Terra preta and the future of energy: the Secret of El Dorado - August 19, 2007

Biopact: Biochar soil sequestration and pyrolysis most climate-friendly way to use biomass for energy - April 26, 2007




On carbon-negative bioenergy compared with geo-engineering:


Biopact: Simulation shows geoengineering is very risky - June 05, 2007

Biopact: Climate change and geoengineering: emulating volcanic eruption too risky - August 15, 2007

Biopact: Capturing carbon with "synthetic trees" or with the real thing? - February 20, 2007

Biopact: New study shows stabilizing climate requires near-zero carbon emissions now - boosts case for carbon-negative bioenergy - February 15, 2008



Further reading on negative emissions bioenergy and biofuels, and carbon capture techniques:


Biopact: Commission supports carbon capture & storage - negative emissions from bioenergy on the horizon - January 23, 2008

Biopact: "A closer look at the revolutionary coal+biomass-to-liquids with carbon storage project" - September 13, 2007

Biopact: New plastic-based, nano-engineered CO2 capturing membrane developed - September 19, 2007

Biopact: Plastic membrane to bring down cost of carbon capture - August 15, 2007

Biopact: Pre-combustion CO2 capture from biogas - the way forward? - March 31, 2007

Biopact: Towards carbon-negative biofuels: US DOE awards $66.7 million for large-scale CO2 capture and storage from ethanol plant - December 19, 2007

Biopact: Biochar and carbon-negative bioenergy: boosts crop yields, fights climate change and reduces deforestation - January 28, 2008