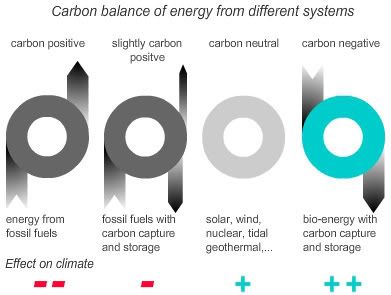 StatoilHydro and India's leading oil company ONGC have
signed
a Memorandum of Understanding to jointly explore the potential of developing Carbon Capture and Storage (CCS), and CDM (clean development mechanism) projects in India.
The two companies have agreed to jointly screen possibilities for developing CCS and CDM projects within ONGC's operations in India. The cooperation could result in CO2 emissions reduction projects as well as the promotion of energy efficiency and growing use of renewable energy under the mechanisms of the Kyoto Protocol.
Biopact continues to track CCS developments (see references) because the technologies can be applied to bioenergy, in which case the most radically green energy system emerges: one that actively
removes
CO2 from the atmosphere to yield
'negative emissions'
. When CCS is coupled to biomass-based electricity production or to biohydrogen production, each time consumers use the decarbonized energy, they would be cleaning up the atmosphere and be fighting climate change. Bioenergy coupled to CCS overcomes the senseless binary opposition often heard in clean energy debates, which pit fossil fuels with carbon capture
versus
renewables. "Bio-energy with carbon storage" (BECS) systems are
both
: renewable, and capturing carbon.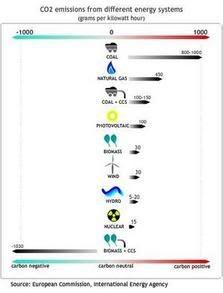 Nuclear power or renewables like wind, biomass and solar are called 'carbon neutral' because they do not add CO2 to the atmosphere, or only very small amounts over their lifecycle. But carbon-negative bioenergy goes much further: when CO2 from carbon-
neutral
bioenergy production is captured and then stored, a negative emissions energy system appears. This is so because during their growth, crops capture and store CO2 from the atmosphere. If, after extracting the energy from these energy crops, the greenhouse gas is geosequestered, the negative emissions balance is the result.
Such radical BECS systems, using CCS technologies developed by the fossil fuel industry, can yield negative carbon emissions as large as
minus
1000 grams per kWh of electricity. Ordinary renewables all result in net emissions (solar: +100gCO2eq/kWh, wind and non-BECS biomass: +30gCO2eq/kWh, nuclear: +15gCO2eq/kWh). In short, the difference between BECS and all other energy systems is very significant (graph,
click to enlarge
).
What is more, one of the major obstacles to the implementation of CCS projects when used on fossil fuels - the issue of CO2 leakage - would be absent in BECS systems, because the CO2 is biogenic in nature and would not result in net carbon emissions. Any leakage from BECS sequestration sites would be benign, in contrast to leakages from sequestered CO2 that originated from fossil fuels.
A Biopact member was recently interviewed by Mongabay, a leading environmental news organisation, about the potential and risks of BECS systems in developing countries. Laurens Rademakers
explained
biomass can be produced efficiently in many of these countries, some of who already have oil & gas infrastructures in place (which could coupled to CCS), and where suitable geosequestration sites are present. India would be one such country and could benefit greatly from BECS systems, as it is set to become the world's third largest carbon emitter in the mid term future.
For the time being, CCS is not included in any formal emissions reduction scheme - neither in the EU's plans and mechanisms nor in the Kyoto Protocol's CMD. But if CCS were to be included, the radical negative emissions BECS systems could be appearing first in developing countries, because they have a large and sustainable potential for the production of biomass:
energy :: sustainability :: biomass :: bioenergy :: biofuels :: carbon capture and storage :: carbon emissions :: carbon-neutral :: carbon-negative :: negative emissions :: bio-energy with carbon storage :: India ::

The signing between StatoilHYdro took place at a special event organised by TERI (The Energy and Resources Institute) and the Norwegian Embassy prior to the Delhi Sustainable Development Summit (DSDS) in New Delhi, 7-9 February.

Norway's Prime Minister Jens Stoltenberg and Nobel Peace Prize winner Dr Rajendra Pachauri were also present at the signing.

The agreement is an excellent start for developing environmental projects and technology transfers. India's energy sector is growing fast and we're excited to contribute with our CCS and CDM competence in the cooperation with ONGC.

- Alexandra Bech Gjørv, Senior Vice President New Energy, StatoilHydro
The DSDS is an annual event that has matured into India's most important gathering of international leaders concerned with global sustainable development. This year's conference attracted the prime ministers of India, Norway, Denmark and Finland, as well as numerous ministers and government officials from several countries.

StatoilHydro has an agreement with ONGC that gives it access to exploration acreage off India, mostly in deep water. StatoilHydro will also enter block 98/2 in the KG basin on the Indian east coast with a 10% equity share. ONGC will receive technological support from StatoilHydro to increase the recovery of its Vasai East oil field. Furthermore, StatoilHydro will also provide ONGC with offshore operator know-how. Gas finds in the area The 98/2 block that is operated by ONGC is in the appraisal phase after a number of gas finds have been made in the block.


A CCS agreement between a European oil & gas company and a developing, emerging economy is not new. Recently, Total SA and Indonesia signed a similar deal. Indonesia is one of the leading candidates to implement CCS projects. It too has a large biofuel potential that could be coupled to carbon capture and storage (previous post).

References:
StatoilHydro: StatoilHydro and ONGC cooperate in India - February 6, 2008.

Biopact: Total and Indonesia sign a MOU on CO2 capture and storage: towards carbon negative bioenergy? - December 17, 2007

Mongabay: Carbon-negative bioenergy to cut global warming could drive deforestation:
An interview on BECS with Biopact's Laurens Rademakers - November 6, 2007




Scientific literature on negative emissions from biomass:


H. Audus and P. Freund, "Climate Change Mitigation by Biomass Gasificiation Combined with CO2 Capture and Storage", IEA Greenhouse Gas R&D Programme.

James S. Rhodesa and David W. Keithb, "Engineering economic analysis of biomass IGCC with carbon capture and storage",

Biomass and Bioenergy

, Volume 29, Issue 6, December 2005, Pages 440-450.

Noim Uddin and Leonardo Barreto, "Biomass-fired cogeneration systems with CO2 capture and storage",

Renewable Energy

, Volume 32, Issue 6, May 2007, Pages 1006-1019, doi:10.1016/j.renene.2006.04.009

Christian Azar, Kristian Lindgren, Eric Larson and Kenneth Möllersten, "Carbon Capture and Storage From Fossil Fuels and Biomass – Costs and Potential Role in Stabilizing the Atmosphere",

Climatic Change

, Volume 74, Numbers 1-3 / January, 2006, DOI 10.1007/s10584-005-3484-7



Further reading on negative emissions bioenergy and biofuels:


Peter Read and Jonathan Lermit, "Bio-Energy with Carbon Storage (BECS): a Sequential Decision Approach to the threat of Abrupt Climate Change",

Energy

, Volume 30, Issue 14, November 2005, Pages 2654-2671.

Stefan Grönkvist, Kenneth Möllersten, Kim Pingoud, "Equal Opportunity for Biomass in Greenhouse Gas Accounting of CO2 Capture and Storage: A Step Towards More Cost-Effective Climate Change Mitigation Regimes",

Mitigation and Adaptation Strategies for Global Change

, Volume 11, Numbers 5-6 / September, 2006, DOI 10.1007/s11027-006-9034-9

Biopact: Commission supports carbon capture & storage - negative emissions from bioenergy on the horizon - January 23, 2008

Biopact: The strange world of carbon-negative bioenergy: the more you drive your car, the more you tackle climate change - October 29, 2007

Biopact: "A closer look at the revolutionary coal+biomass-to-liquids with carbon storage project" - September 13, 2007

Biopact: New plastic-based, nano-engineered CO2 capturing membrane developed - September 19, 2007

Biopact: Plastic membrane to bring down cost of carbon capture - August 15, 2007

Biopact: Pre-combustion CO2 capture from biogas - the way forward? - March 31, 2007