Hybrid electric vehicles that run on both conventional gasoline and stored electricity can be no more than a stop gap until more sustainable technology is developed,
according to
researchers in France. Writing in the Inderscience publication
International Journal of Automotive Technology and Management
, they suggest that the adoption of HEVs might even slow development of more sustainable fuel-cell powered electric vehicles that utilize (bio)hydrogen as their fuel.
No matter which type of vehicle might be most sustainable in the future - pure electric or hydrogen powered -, one thing is certain: in both cases biomass remains a very good candidate to generate the energy needed for transportation in an affordable, clean and efficient manner - be it H2 or electricity (see below). Biomass energy can even yield radical
"negative emissions"
when it is coupled to carbon capture and storage, and thus actively
remove CO2 from the past from the atmosphere
- something only biomass is capable of.
Jean-Jacques Chanaron, Research Director within the French National Centre for Scientific Research (CNRS) and Chief Scientific Advisor at the Grenoble School of Management and Julius Teske at Grenoble, question strongly whether the current acceptance of hybrid vehicle technology particularly in the USA is in any way environmentally sustainable.
The researchers have analyzed the spread of this technology including the non-financial drivers for its adoption. They point out that most manufacturers are rapidly integrating hybrid electric vehicles into their technology portfolio, despite the absence of significant profitability.
They add that the misinformed craze for hybrid vehicles especially in the USA, and increasingly in Japan and Europe, and potentially in China, could represent a red light for more innovative technologies, such as viable fuel-cell cars that can use sustainably sourced fuels, such as hydrogen. They concur with earlier studies that suggest that hydrogen fuel cells will not be marketable in high volumes before at least 2025. This could, however, be too late for some models of climate change and emissions reduction. They also point out that even fuel cell technology has its drawbacks and much of the marketing surrounding its potential has emerged only from the hydrogen lobby itself.
There is a general convergence of strategies towards promoting hybrid vehicles as the mid-term solution to very low-emission and high-mileage vehicles. This is largely due to Toyota's strategy of learning the technology, while building up its own "quasi-standard", thanks to its high-quality and reliability reputation and its high market share on the North American market.

- Jean-Jacques Chanaron & Julius Teske
But they say that such a convergence is based more on customer perception triggered by very clever marketing and communication campaigns than on pure rational scientific arguments and may result in the need for any manufacturer operating in the USA to have a hybrid electric vehicle in its model range in order to survive.
Moreover, political pressures also play a significant part. The three major US manufacturers - GM, Ford, and Chrysler - recently urged President Bush to financially and politically support a national technological solution for hybrids; this was independent of the currently dominant solutions initiated by Toyota. The researchers concede that "the quest for low emission, clean, and high-mileage vehicles is on its way and should be at the top of the manufacturers' agenda". However, they suggest that the technology, marketing, and public perception leads to one overriding problem: is a hybrid strategy sustainable in the long run? Chanaron and Teske think not:
energy :: sustainability :: biomass :: bioenergy :: biofuels :: biohydrogen :: bio-electricity :: renewable :: mobility :: hybrid electric vehicle :: fuel cell :: electric vehicle ::

The complexity and high cost of the hybrid technology is also playing against itself, they say: "There is a huge strategic dilemma for the key players of the automotive industry where a mistake in technology decision-making might turn even a big player into a take-over candidate. The next five years will provide industry observers with more accurate trends and success or failure factors."

Biopact notes that no matter which vehicle technology is most sustainable over the long run, bioenergy is in all cases the most economically viable, and in many cases the most environmentally friendly way to produce automotive energy.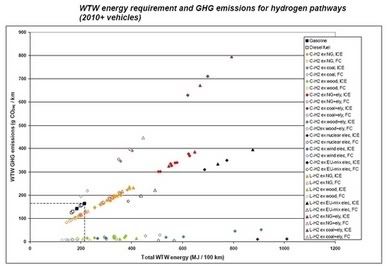 When hydrogen is chosen as the fuel for fuel cell cars, the cleanest, most efficient and most affordable way to produce the gas is by converting biomass through gasification. This is the conclusion of a very large EU-funded well-to-wheel study of over 70 different propulsion technologies and energy pathways for the future. Of more than 30 different H2 production pathways - from electrolysis on the the basis of nuclear or wind power to steam reforming of natural gas - biohydrogen used in fuel cells and made from the gasification of biomass, is the cleanest and gives most mileage per amount of energy invested (previous post; graph,

click to enlarge

).


When pure electric cars are to be the future, then again bio-electricity is the clear winner amongst all sources of energy, over the medium to long term. According to the recent EU Strategic Energy Technology Plan, biomass based electricity is expected to become the cheapest form of electricity - even beating coal (previous post; table,

click to enlarge

).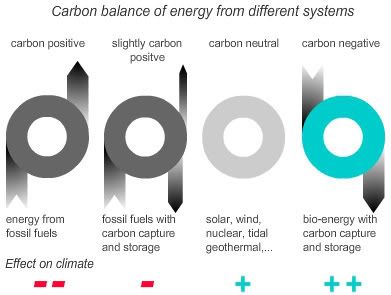 Moreover, both biomass and biohydrogen production allow for the implementation of radical carbon-negative energy concepts. Bio-electricity and biohydrogen can be completely decarbonised by coupling their production to carbon capture and storage (CCS). When this is done, an energy carrier yielding "negative emissions" is obtained. Only fuels and energy carriers made from biomass can become carbon-negative, all other renewables remain fundamentally carbon positive.

The difference is staggering: over their lifecycle, renewables like wind or solar contribute between +30 and +100 gCO2eq per kWh of electricity. Bioenergy coupled to CCS yields up to -1000 gCO2 per kWh (that is:

minus

, "negative" emissions).

The bizarre aspect of such radical forms of carbon-negative bioenergy is that the more you use of it (in this case in your electric or hydrogen car),

the more CO2 you take out of the atmosphere

. The more you drive, the more you save the planet (previous post). Clearly, when it comes to mitigating climate change, carbon-negative biomass based transportation energy is the way forward.

The only issue with biomass is the fact that it is such a versatile primary energy resource. It can be transformed into a large range of products - from bioproducts and green platform chemicals to liquid, gaseous or solid biofuels - and used in a variety of applications - from producing heat to acting as a carbon sink - that it remains to be seen which utilization pathway is most efficient. Transforming biomass into an energy carrier for future cars might not be the most optimal use, because other services and products might be more cost-effective, better at mitigating climate change, or more energy efficient.



References:


Jean-Jacques Chanaron and Julius Teske, "Hybrid vehicles: a temporary step",

International Journal of Automotive Technology and Management

, 2007 - Vol. 7, No.4 pp. 268 - 288, DOI: 10.1504/IJATM.2007.017061

Eurekalert: The trouble with hybrids - Hybrid electric vehicles not as green as they are painted - February 7, 2008.

Biopact: The strange world of carbon-negative bioenergy: the more you drive your car, the more you tackle climate change - October 29, 2007

Biopact: Commission presents European Strategic Energy Technology Plan: towards a low carbon future - November 23, 2007

Biopact: Hydrogen out, compressed biogas in - October 01, 2006