Euronews has a small
presentation
about the different scales at which Europe is heating with biomass. The document shows a large operation to heat part of an entire city, in this case Vilnius, via a municipal heating system based on biomass. The decision to use the carbon-neutral fuel was made for economic reasons as much as for ecological ones, because the fuel has become competitive. Moving to France and to home heating we arrive at pellet and wood chip heating with small, portable modules that are entirely automated. Finally, around Ljubljana in Slovenia, farmers survive because of the new bioenergy opportunities; without this emerging market, which can bring up to 50 per cent of new income to farmers, they would not make it.
The presented projects are part of the
Intelligent Energy Europe
program. This program allows researchers and companies from different EU countries to design specific applications for bioenergy, and allows them to exchange best practises. Sub-projects, like
BioHousing
, zoom in on one specific type of technology that holds large market potential, in this case the development of standardized biomass heating modules for homes. The
AgriForEnergy
project, headed by Slovenia's forestry service, helps farmers understand the new bioenergy market and find opportunities.
Five Eures
brings together EU countries to study large scale heating with biomass at the level of entire cities.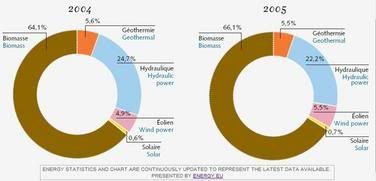 Biomass is by far the largest source of renewable energy in the EU today. According to Eurobserver, bioenergy's share of the EU's primary renewable energy has reached more than 66% (2005) compared with that of hydropower (22.2%), wind (5.5%), geothermal (5.5%) and solar (0.7%).
This large difference is mainly due to the versatility and competitiveness of biomass. The "sleeping giant", as the resource is often called, can be used both for the production of electricity, heat, and combined heat and power (and cooling - socalled
'polygeneration'
). Of course, it can be transformed into liquid biofuels for transport, as well as in a large number of bio-products - from biopolymers to renewable platform chemicals.
Another major advantage of biomass is the fact that it can be used in most existing energy infrastructures. As a solid biofuel in coal plants, which can first co-fire with coal, then switch to full biomass power with minor adaptations, or as liquid biofuels in fuel infrastructutes for transport; green gas (synthetic gas upgraded to natural gas quality) and biomethane can be fed into the natural gas network (
previous post
).
The fact that biomass is solar energy stored by plants that grow their own storage medium (lignocellulose) makes it important for baseload applications. Intermittent renewable energy sources like wind or solar would depend on fossil fuels to provide baseloads, but biomass can now take over this role. Coupling bioenergy to other renewables, allows for the design of entirely non-fossil, green energy systems (
previous post
on a test project in Germany that couples biogas to wind and solar).
But the heating market remains the most easy target for biomass. Burning wood in new, dedicated biomass boilers is both more economic, climate friendly and efficient than heating with fossil heating oil, electricity or natural gas. The economic argument explains the growing success of pellet heating systems and district heating, especially in the leading green EU countries, like Sweden, France and Austria (in that latter country, biomass for home heating is taking the market by storm -
previous post
):
energy :: sustainability :: biomass :: bioenergy :: biofuels :: wood :: energy crops :: co-firing :: heating :: bio-heat :: competitiveness :: renewables :: rural development :: European Union ::

For a country like the UK - of all large EU member states performing worst on renewables - biomass would be the most obvious candidate allowing it to reach its renewable targets (set at 15% by 2020) with some ease. But instead of signalling a major push towards renewables, the government recently gave the signal first that it would be investing in nuclear energy again. However, nuclear only delivers electricity, which is not the same as energy.

Greenpeace UK rightly says the lion's share of Great Britain's energy demand is for heat and transport. Although nuclear power currently accounts for about a fifth of UK electricity generation, that is less than 4% of total energy demand The often repeated argument that 'nuclear electricity improves security of gas or oil supply' is elegantly debunked. 86% of the UK's oil and gas consumption is for purposes other than producing electricity. Most of the gas used is for heating and hot water. Virtually all oil is used for transport and heat.

In this context, nuclear power – which can only generate electricity and no heat-to-market – is irrelevant indeed. Solar heating and biomass heating should get priority instead. That is where the renewable energy gains can be made most swiftly and economically.

To stick with the UK, the country's Biomass Strategy (previous post) indicates that by expanding existing biomass supplies the potential future biomass resource makes up a total of approximately 96.2 TWh (8.3 Mtoe), that is, more than 20% of current residential primary energy consumption. As biomass trade is growing, the country can easily import green fuels from countries with cheap and abundant supplies, in particular Scandinavia and North America.

References:
Euronews: Burning the wood you can't see for the trees - January 31, 2008.

European Commission: Intelligent Energy Europe.

EU BioHousing Project.

EU AgriForEnergy project.

All (renewable) energy statistics for Europe can be found at Energy.eu.

Greenpeace UK: Mind the gap - January 10, 2008.

Biopact: Biomass pellets revolution in Austria: 46% less costly than heating oil; most efficient way for households to reduce carbon footprint - October 06, 2007

Biopact: UK outlines Biomass Strategy: large potential for bioenergy, bioproducts - May 28, 2007

Biopact: Germany is doing it: reliable distributed power based on 100% renewables - December 29, 2007.