An interdisciplinary research centre dedicated to reducing the planet's carbon emissions from fossil fuels has been
established
at The University of Nottingham. The £1.1 million
Centre for Innovation in Carbon Capture and Storage
(CICCS) will explore cutting edge technology that captures polluting carbon dioxide and stores it permanently in geological formations and soils or transforms it into useable and stable products — preventing its damaging release into the atmosphere.
Biopact tracks developments in carbon capture and storage (CCS), because the technologies can be (and are already being) applied to bioenergy to yield radical 'negative emissions' that remove historic CO2 from the atmosphere. Scientists have estimated that if applied on a global scale, such 'bio-energy with carbon storage' (BECS) systems can bring atmospheric CO2 levels back to pre-industrial levels by mid-century (2060). BECS is the most radical tool in the climate fight. Only bioenergy systems can become carbon
negative
, all other renewables and nuclear always remain carbon positive and contribute (small amounts of) CO2 to the atmosphere over their lifecycle.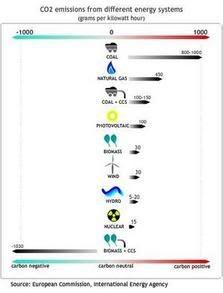 Bioenergy coupled to CCS comes in many different forms. The most obvious one is applying the technologies of pre-combustion capture, oxyfuel combustion or post-combustion capture to power plants that burn solid biomass. In this case, BECS systems can yield negative emissions as large as
minus
1000 grams of CO2 per kWh (compared with emissions from photovoltaic solar power: +100 gCO2eq/kWh, non-CCS biomass or wind power: +30gCO2/kWh, or nuclear power : +10gCOeq/kWH - see table,
click to enlarge
). Alternatively, CCS can be coupled to the production of liquid and gaseous biofuels, during which it captures CO2 emerging during the production phase (a first
example
). Its largest potential for biofuels can be found in its application to the production of fully
decarbonised
biofuels such as biohydrogen or bio-ammonia.
Bioenergy with carbon storage has multiple advantages and overcomes the main risk associated with CCS applied to fossil fuels: leaks of climate damaging CO2 from the geosequestration site. When CO2 originally captured from fossil fuels leaks, it contributes to climate change. But when bio-genic CO2 leaks, there is no net addition. However, for CCS to become feasible, a lot of incentives are needed, sound legislation and strong policy has to be introduced, and technology advancements must be made.
The CICCS will contribute to tackling these challenges. The Centre will be investigating new technologies that will store greenhouse gases from power plants safely and efficiently. From governments and environmental pressure groups to oil producers and energy-intensive industry, interdisciplinary research taking place at the centre will have a potentially global impact.
The CICCS will participate in a large number of research and development programmes, including the
European Research Fund for Coal and Steel
(RFCS), other EU programmes, Research Councils and the Department of Trade and Industry (DTI)
cleaner coal technology programme
. CICCS's main programmes are:
Cleaner coal technology: this programme supports the power industry through research on gas clean-up (mercury, CO2 and NOx), coal beneficiation, PF combustion, gasification, and combustion by-products control
CO2 capture - new high capacity adsorbents for cleaner coal technology: (1) high capacity adsorbents for more efficient capture in traditional pulverised fuel (PF) combustion and integrated combined cycle gasification are being developed. (2) Novel and cost-effective processing of nanomaterials with high surface area and high thermal stability for carbon capture.
Carbon geological sequestration: (1) saline aquifers and brines from oil and gas wells are being studied to ensure the integrity of long-term geological storage. (2) storage in red muds at the point of capture. (3) storage in unmineable coal seams.
Terrestrial CO2 storage - establishing reliable leakage monitoring with a soil gas release facility; terrestrial CO2 storage can come in the form of biochar systems (previous post)
Advanced concept-mineral carbonation to develop a CO2 sequestration module that uses silicate minerals to sequester carbon dioxide into a permanent, solid and stable form (an example can be found here).
Light harvesting: Long-term usage involving using light energy for the photochemical conversion of CO2 into fuels or chemicals.
Tackling public acceptability and regulatory issues through a broad sociological study of carbon capture and storage technologies and envisioning a new carbon economy.
The centre will be led by Professor Mercedes Maroto-Valer, of the University's School of Chemical and Environmental Engineering. But the research will be cross-disciplinary, bringing together engineers, mathematicians, bioscientists, geographers and geologists:
energy :: sustainability :: biomass :: bioenergy :: biofuels :: biogas :: biohydrogen :: bio-ammonia :: bio-electricity :: bio-energy with carbon storage :: biochar :: geosequestration :: carbon capture and storage :: negative emissions :: climate change ::

The Engineering and Physical Sciences Research Council (EPSRC) will fund the centre over the next five years through its Challenging Engineering initiative.

We are excited about the prospects for CICCS to become a world leader in the field. We will continue to develop new processes that will make a significant impact in finding solutions for climate change and protecting the planet. We will present the research, training and outreach activities planned by CICCS at the launch event. The response to the centre has been outstanding so far.

- Prof Maroto-Valer, Director of the Centre for Innovation in Carbon Capture and Storage
Dr Nick Palmer MP added: "I'm delighted to help launch the centre, as its technology may well be crucial to Britain's future. Britain has huge coal reserves, which could have a greatly enhanced future to guarantee our energy security if carbon capture technology were more advanced."

The official opening of the Centre for Innovation in Carbon Capture and Storage will took place yesterday at the University Park.



Schematic

: different sources from which to capture CO2, including biomass, and pathways to sequester it.

Credit

: IPCC.

References:
The University of Nottingham: Carbon research with global impact - February 6, 2008.

Biopact: Carbon-negative energy revolution a step closer: Carbon8 Systems to capture CO2 from biomass through carbonation - January 29, 2008

Biopact: Biochar and carbon-negative bioenergy: boosts crop yields, fights climate change and reduces deforestation - January 28, 2008

Biopact: Towards carbon-negative biofuels: US DOE awards $66.7 million for large-scale CO2 capture and storage from ethanol plant - December 19, 2007



Scientific literature on negative emissions from biomass:


H. Audus and P. Freund, "Climate Change Mitigation by Biomass Gasificiation Combined with CO2 Capture and Storage", IEA Greenhouse Gas R&D Programme.

James S. Rhodesa and David W. Keithb, "Engineering economic analysis of biomass IGCC with carbon capture and storage",

Biomass and Bioenergy

, Volume 29, Issue 6, December 2005, Pages 440-450.

Noim Uddin and Leonardo Barreto, "Biomass-fired cogeneration systems with CO2 capture and storage",

Renewable Energy

, Volume 32, Issue 6, May 2007, Pages 1006-1019, doi:10.1016/j.renene.2006.04.009

Christian Azar, Kristian Lindgren, Eric Larson and Kenneth Möllersten, "Carbon Capture and Storage From Fossil Fuels and Biomass – Costs and Potential Role in Stabilizing the Atmosphere",

Climatic Change

, Volume 74, Numbers 1-3 / January, 2006, DOI 10.1007/s10584-005-3484-7



Further reading on negative emissions bioenergy and biofuels:


Peter Read and Jonathan Lermit, "Bio-Energy with Carbon Storage (BECS): a Sequential Decision Approach to the threat of Abrupt Climate Change",

Energy

, Volume 30, Issue 14, November 2005, Pages 2654-2671.

Stefan Grönkvist, Kenneth Möllersten, Kim Pingoud, "Equal Opportunity for Biomass in Greenhouse Gas Accounting of CO2 Capture and Storage: A Step Towards More Cost-Effective Climate Change Mitigation Regimes",

Mitigation and Adaptation Strategies for Global Change

, Volume 11, Numbers 5-6 / September, 2006, DOI 10.1007/s11027-006-9034-9

Biopact: Commission supports carbon capture & storage - negative emissions from bioenergy on the horizon - January 23, 2008

Biopact: The strange world of carbon-negative bioenergy: the more you drive your car, the more you tackle climate change - October 29, 2007

Biopact: "A closer look at the revolutionary coal+biomass-to-liquids with carbon storage project" - September 13, 2007

Biopact: New plastic-based, nano-engineered CO2 capturing membrane developed - September 19, 2007

Biopact: Plastic membrane to bring down cost of carbon capture - August 15, 2007

Biopact: Pre-combustion CO2 capture from biogas - the way forward? - March 31, 2007

Biopact: Towards carbon-negative biofuels: US DOE awards $66.7 million for large-scale CO2 capture and storage from ethanol plant - December 19, 2007

Biopact: Biochar and carbon-negative bioenergy: boosts crop yields, fights climate change and reduces deforestation - January 28, 2008