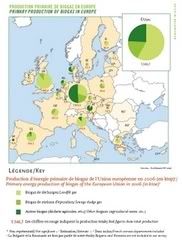 German bioenergy group BKN BioKraftstoff Nord AG has
announced
its subsidiary BIOSTROM Energy Group AG has created a joint venture with BEE Beteiligungsgesellschaft Erneuerbare Energien mbH to invest €50 million (US$73.05mln) in 20 biogas projects in France's Alsace region. The new company, France Biogaz Valorisation, based in Haguenau, will build biogas plants with a capacity of at least 500 megawatts annually.
Leading development company Sterr-Koelln & Partners will assist the planning and construction of the anaerobic digesters, which will primarily cater to customers from the foodstuffs industry. BIOSTROM and BEE both have a 50 percent stake in France Biogaz Valorisation, with the first €50 million investment being part of a strategy that will be expanded to a nine-digit sum when the first plants are online. The consortium will plan and develop projects and organise investment, with finance being provided by institutional investors and food processors.
This joint venture is of great importance, because there are only a few biogas facilities in France so far, with a combined output of 60MWel, even though the potential is enormous. Demand for biogas technologies is huge and our business model is unrivalled in meeting it because we aren't a biogas plant manufacturer, but a general project developer who succeeds in covering the entire project and value chain: from the location search, to long-term operational and financial management. This model has proved to be highly successful elsewhere.

- Guenter Schlotmann, COO of BKN BioKraftstoff Nord
The venture targets France because biogas production potential was found to be very large there and renewable energy regulations favorable. In France, renewable energy use receives incentives that compare favorably to Germany's Erneuerbare Energien Gesetz (Renewables Law), in that a fixed amount of support is guaranteed independent of the scale of the project and the raw materials used.
Furthermore, France's biogas market is very underdeveloped compared to Germany, where thousands of farmers have built small and larger plants to generate extra income by feeding green electricity into the grid or renewable gas into the natural gas pipelines. According to BKN, independent studies expect annual growth in this market segment in France to be between 30 and 60 per cent until 2020:
energy :: sustainability ::biomass :: bioenergy :: biofuels :: biogas :: biomethane :: natural gas :: waste :: anaerobic digestion :: France ::

The new consortium plans to produce biogas mainly from waste streams from the food processing industry. According to BKN, French food processors currently have to pay to remove large amounts of waste materials such as potato peelings. This waste is a free feedstock for the production of biomethane, which can be generated profitably.

Biogas is obtained by fermenting organic material - either agricultural, industrial or municipal waste or dedicated energy crops - under anaerobic conditions. Biogas can be upgraded to natural gas quality by scrubbing out corrosive residual gases, to obtain almost pure methane. This gas can then be used locally for the production of heat and power, or fed into the natural gas grid.

Germany is world leader in biogas development, but the sector is expanding rapidly throughout Europe. According to the latest "Biogas Barometer", in 2006, around 5.35 million tonnes of oil equivalent (mtoe) was produced in the EU, an increase of 13.6% compared to 2005. The production of electricity from biogas grew by 28.9% over the same period. Germany remains European leader and noted a 55.9% growth in 2006 in electricity generated from the renewable gas (previous post, and map,

click to enlarge

).

According to a study commissioned by the German Green Party, Europe has a very large biogas potential, so large in fact that it could replace all Russian natural gas imports by 2020 (more here). A short overview of some of the recent technological developments in biogas production can be found here: Experts see 2007 as the year of biogas; biomethane as a transport fuel.

BKN BioKraftstoff Nord AG has specialised itself in biogas project management after abandoning biodiesel projects, following a collapse of the industry in Germany mainly because of taxes on biofuels. BIOSTROM Energy Group AG functions as the company's operational subsidiary which plans and builds concrete projects.



References:


BKN BioKraftstoff Nord: Joint Venture für Frankreich gegründet, 50 Mio. EUR Projektvolumen gesichert - February 15, 2008.

Biopact: Study: EU biogas production grew 13.6% in 2006, holds large potential - July 24, 2007

Biopact: Report: biogas can replace all EU natural gas imports - January 04, 2008

Biopact: Experts see 2007 as the year of biogas; biomethane as a transport fuel - January 09, 2007