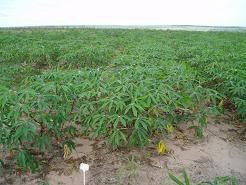 The state-owned Brazilian Agricultural Research Enterprise (
EMBRAPA
) and biotech researchers from the Chinese Academy of Tropical Agricultural Sciences (
CATAS
) have
launched
a cooperation program to research the use of a recently discovered type of cassava for biofuels. Brazilian scientists have a large manioc germplasm bank in which sweet cassava mutants can be found that are highly suitable for ethanol production. Under the collaboration, China offers its rapid genome sequencing capacities to Brazil for further research into the new crop. The People's Republic's scientists indicated the country is thinking of switching from ordinary cassava - which is rich in starch - to the new and more easily convertible sugar varieties instead.
EMBRAPA met with a Chinese science delegation at its headquarters in Brasilia last month, to kick off the technical cooperation between the two countries' leading tropical agriculture research institutions. The program is headed by two EMBRAPA units:
Genetic Resources and Biotechnology - Pastures
(Planaltina – DF); and
Agroenergia e Mandioca e Fruticultura Tropical
(Bioenergy from Manioc and Tropical Fruticulture). The Chinese committee visited EMBRAPA Mandioca e Fruticultura, in Cruz das Almas, in Bahia state, as well as EMBRAPA Pastures' manioc germplasm bank which contains a collection of 500 representative cassava accessions.
The technical cooperation is aimed at exploring the development of hybrid sweet cassava that grows well in open pastures, and in poor and acid soils, is pest and disease-tolerant and is optimised for sugar production, explains EMBRAPA Genetic Resources and Biotechnology researcher Luiz Joaquim Castelo Branco Carvalho. In 1996, the researcher and his team identified natural cassava mutants rich in glucose in the Amazon. After fundamental genetic and biochemical research the researchers now conclude that this type of sweet cassava has great potential for fermentation into alcohol.
Cassava improvement programs in Brazil have so far focused on the production of flour and starch. The new varieties of sweet cassava can diversify the market for the crop and open new markets, says Carvalho. One of these markets is alcohol production, because the glucose-rich cassava allows for the direct conversion of the roots' sugars into ethanol. This fact contrasts with the conventional process in which starchy cassava tubers first need to undergo a hydrolysis treatment. The sweet cassava variety skips this step.
China currently cultivates around half a million hectares of cassava, of which 200,000 are destined for ethanol production. The People's Republic chose cassava as one of its future biofuels crops, because it is considered to be an industrial plant, and not a food crop. According to Wenquan Wang, researcher at CATAS, cassava has gained importance because of its low environmental footprint and because it has a well established industrial presence. "For 30 years, cassava was a staple for many Chinese people, later it became a crop for animal feed, and nowadays 60% of the entire harvest is destined for the industrial production of starch, 20% goes to ethanol and the remainder is turned into pig feed."
However, China's cassava ethanol initiative is mainly based on starch rich varieties. Together with Brazil it is now looking at introducing the sweet varieties instead, which demand less costly and complicated conversion steps.
Since 1996 Carvalho and his team have achieved significant research results: they identified the genes and processes involved in the mutation that led to the emergence of the sugar-rich cassava plant. With this information, concrete applications become possible.
Currently, the genetic characteristics of the sweet root crop are being transferred to commercial cassava varieties via conventional breeding techniques. This research in turn is used by EMBRAPA scientist for genomic studies and to deepen the knowledge about the metabolic processes at work in the sugar-rich plant.
It is these results which interested the CATAS and which called for a cooperation to speed up the development of sweet cassava dedicated to ethanol production. For the Brazilian side, the technical partnership with China will advance the sequencing of the genome of the cassava varieties. Both EMBRAPA Genetic Resources Biotechnology - Pastures, and EMBRAPA proper have already started this genome sequencing project, but China has rapid and mass sequencing capacities which allow for much faster analyses of the genomes found in the mutants:
energy :: sustainability :: biomass :: bioenergy :: biofuels :: ethanol :: cassava :: plant breeding :: genomics :: biotechnology :: Brazil :: China ::

Commenting on the Chinese delegation's visit to the cassava germplasm bank, Eduardo Alano Vieira, researcher at EMBRAPA Pastures, said that "It is an active bank, with new accessions being added continuously".

Researchers at EMBRAPA Pastures are zooming in on another particular type of cassava, rich in betacarotene (red cassava), of which eight varieties are being researched. Alano says the plants are interesting from a nutritional perspective and have characteristics that could be embedded into the sweet variant for ethanol. On the basis of these varieties, he is developing a crop that allows the producer to plant a productive, suitable material that is tolerant to aluminum toxicity (which affects a very large number of soils throughout the tropics and the subtropics), and which is disease tolerant.

When it comes to the sweet cassava for ethanol, the goal is to couple high productivity to a root crop with a thin skin, which facilitates processing.

First breeding and planting experiments show promising results: over the past year, 100 individuals were obtained from crossing IAC 12, which grows well on open pastures, with the sugar varieties found in the Amazon. Sugar yields were encouraging and the hybrids adapted well to the conditions in the open pasture.

EMBRAPA stresses that the cooperation agreement with China is established in full accordance with the rules found in the Brazilian laws dealing with access to and distribution of geneting resources and biodiversity benefits.

Translated by Laurens Rademakers



References:


EMBRAPA: Brasil e China discutem produção de álcool a partir da mandioca - January 25, 2008.

EMBRAPA: Pesquisadores chineses conhecem tecnologias geradas pela pesquisa com mandioca - January 28, 2008.