The Carbon Trust is
calling
for Expressions of Interest from potential partners within the scientific community to collaborate in the development of a world-class commercially viable pyrolysis oil upgrading process. The Carbon Trust - an independent low carbon economy research company created by the British Government - will potentially invest £5 million (€6.6/US$9.8 million) to one or more commercially-focussed research projects in this area of advanced biofuels over next 3-5 years.
As part of its mission to accelerate the move to a low carbon economy, the Carbon Trust has identified pyrolysis oil from sustainable sources of biomass as having the potential to produce low-cost fuels with low system greenhouse gas (GHG) emissions - if it can be integrated into a conventional refinery.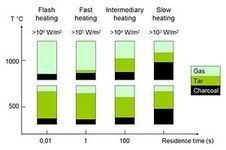 Pyrolysis is a process in which organic materials - any type of biomass - are heated in absence of air in a reactor (schematic,
click to enlarge
). Under these conditions, organic vapours, pyrolysis gases and charcoal are produced. Depending on the residence time and the temperature to which the biomass is exposed, varying amounts of these products are obtained (figure,
click to enlarge
). Under fast pyrolysis (temperatures of 450 - 600 °C), the vapours are condensed to bio-oil and typically, 70-75 wt.% of the feedstock is converted into this oil (also known as 'biocrude' or 'pyrolysis oil').
However, the properties of the bio-oil produced from current fast pyrolysis processes are far from suitable for direct integration. The Pyrolysis Challenge aims to produce oil with the properties required for integration either by modifying the pyrolysis process to produce better quality oil directly; or upgrading the oil before or at the refinery.
The Carbon Trust is therefore seeking a potentially wide range of partners to work with, who will commit an element of matching support to deliver a breakthrough in this area. Partners may include refinery technology developers, catalyst developers and research organisations involved in the study of pyrolysis processes, bioenergy and relevant related disciplines.
Through applied research and development, the expected outcomes of the Pyrolysis Challenge include:
Proof of scientific and engineering principle for a novel process for low-cost and low GHG intensity upgrading of biomass pyrolysis oil
Complete characterisation of the upgraded oil, including details of characterisation processes and the impact of different feedstocks
An assessment of the likely commercial and environmental value of any associated co-products and processes for their exploitation
Development of a large lab-scale or small industrial demonstration unit
Modelling of the full scale process economics, whole system GHG intensity and key technical parameters
Pyrolysis processes are seen as a leading next-generation biofuel technology, because it can efficiently tap any type of biomass - both waste streams as well as dedicated energy crops - thus overcoming the conflict between food versus fuel. The Pyrolysis Challenge is the first of several potential strands of the Carbon Trust Bioenergy Accelerator, focussed on the sustainable bioenergy challenge.
The Carbon Trust sees bioenergy as the key renewable for delivering emissions reductions (table,
click to enlarge
):
energy :: sustainability :: biomass :: bioenergy :: biofuels :: fast pyrolysis :: bio-oil :: biocrude :: biorefining :: emissions :: Carbon Trust ::
The recent EU announcement that Britain has to generate 15% of its energy from renewable sources by 2020 changes the entire energy equation for the UK. Energy from sustainable sources of biomass could have a major role in reducing green house gas emissions from transport. However, many 'first generation' biofuel supply chains offer only limited reduction in carbon emissions and their adoption has been driven by other factors. The Carbon Trust therefore seeks to increase the rate at which more advanced 'second generation' technologies, that do have the potential to deliver sustainable low-carbon biofuels, come to market.

- Mark Williamson, Director of Innovations at the Carbon Trust
The Carbon Trust business incubators provide strategic and business development consultancy for early-stage businesses with genuine commercial and technical promise leading to low carbon technologies.



Workshop


The Carbon Trust is organising a Pyrolysis Challenge workshop, to take place in Central London on the 11th March 2008 to further explain the pyrolysis challenge and opportunity and give researchers a chance to network.

The workshop will be an interactive, practical session, facilitated by an experienced industry figure, designed to generate opportunities for networking and collaboration. The day will begin with an introduction to the Carbon Trust, our support for low-carbon technologies and our rationale for investment in pyrolysis oil upgrading at this time. The Carbon Trust will then outline the process for bidding to carry out the work and take questions from the audience. In addition, an eminent speaker will give their perspective of the challenge and opportunity. The organisation will then conduct facilitated brainstorming discussions around how to develop interdisciplinary consortia, how to encourage and develop latent capability and the best models for commercial exploitation of the results.

The Carbon Trust is an independent company set up by government in response to the threat of climate change, to accelerate the move to a low carbon economy by helping organisations reduce their carbon emissions and by developing commercial low carbon technologies. The Carbon Trust works with UK business and the public sector through its work in five complementary areas: insights, solutions, innovations, enterprises and investments. Together these help to explain, deliver, develop, create and finance low carbon enterprise.

The Carbon Trust is funded by the Department for Environment, Food and Rural Affairs (Defra), the Department for Business, Enterprise and Regulatory Reform (BERR), the Scottish Government, the Welsh Assembly Government and Invest Northern Ireland.

References:
Carbon Trust: Carbon Trust issues 2nd generation biofuel challenge - February 18, 2008.

Carbon Trust: Technology Accelerator.

Carbon Trust: Incubator Program.

Carbon Trust: Applied Research.

Carbon Trust: Carbon Trust Support for Low Carbon Innovation [*.pdf].

Carbon Trust: An introduction to the Carbon Trust Applied Research Grant Programme [*.pdf].

Carbon Trust: An introduction to the Carbon Trust Incubator Programme [*.pdf].