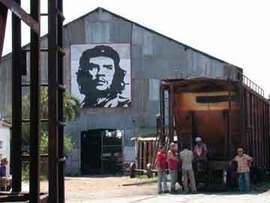 Cuba once was the world's largest sugar exporter, but since the collapse of the Soviet Union its output declined dramatically. Today, the island state is a shadow of its former self. Even though the emerging ethanol market holds major potential for the revival of Cuba's economy, Fidel Castro has spoken out against the fuel, claiming it endangers food security. This was mainly a rhetorical exercise, aimed at slamming the United States, because despite the criticism, Cuba has been quietly investing in its own ethanol infrastructure, striking deals with Venezuela and Nigeria.
With Castro gone and his brother Raul taking over, Cuba could become a major player on the world biofuels scene and reap major social, economic and environmental benefits in the process. Raul Castro is said to be a pragmatist, and a fan of biofuels. The sector could offer an excellent opportunity for the country to transform its economy gradually into a more open, market-oriented system.
Sugar has always played a key role in Cuba's ideological history. Fidel Castro grew up on his father's plantation, where he witnessed inequality at work. This experience was part of his transformation into a revolutionary. Once he came to power, the U.S. touched the island's pride by reducing its raw sugar import quota by 7 million tons. This led Cuba to retaliate: it nationalised some $850 million worth of US property and businesses.
With the U.S. sugar market off limits, Castro looked at the Soviets, and immediately struck a 'sugar for oil' deal with them - his first large trade agreement. In 1970 he kickstarted a megalomaniacal project - typical of revolutionary leaders - calling for a doubling in sugar output. The infamous 'Ten Million Tonne Harvest' plan forced every able man to become a cane planter and cutter. The scheme met with relative success, and the island produced a record 80 million tons of cane (graph,
click to enlarge
).
Cuba now became increasingly dependent on the USSR for most of its manufactured goods and for oil, which it could partially pay for with sugar. At the height of the industry's capacity, over 150 sugar factories processed between 70 and 80 million tons of cane, exporting 10 million tons per year. This propelled Cuba into its status of the world's largest exporter.
But then the Soviet empire collapsed, and with it Cuba's sugar based economy. Output declined catastrophically from more than 80 million tons in 1990, to less than 10 million tons of cane today. Since 2003 Cuba has dismantled 71 out of its 156 sugar factories. Of the 70 working plants, half are lying idle or are producing under capacity. A nation that once exported 10 million tons of sugar per year produced a mere 1.5 million tons in 2006, of which a meager 1 million tons to be exported.
The new ethanol industry is the most obvious low hanging fruit for Cuba's leaders to revive the island's economy. Analyses show the country has the capacity to produce between 2 and 3.2. billion gallons of exportable ethanol from existing plantations. This figure puts Cuba into the big league, placing it right behind the U.S. and Brazil as the third largest producer.
Given that sugarcane yields highly competitive biofuels that needn't be subsidised, tapping this potential would bring in major economic returns. What is more, the sector would also bring a reliable and renewable supply of electricity to the country's population. As is done in Brazil, ethanol factories utilize bagasse - the residue from cane pressing - to cogenerate heat and power, excess electricity being fed into the grid. Biofuels could thus bring a huge number of jobs, foreign currency, and energy to Cuba:
energy :: sustainability :: biomass :: bioenergy :: biofuels :: ethanol :: sugar :: sugarcane :: privatisation :: foreign investment :: Cuba ::

But this scenario will entirely depend on the economic policies of the island's new leaders, and on America's willingness to engage with them. Analysts are speculating that Fidel's exit opens the door to economic reform like that seen in China.

Meanwhile, despite Castro's criticism of biofuels - mainly a rhetorical exercise aimed at slamming the United States - Cuba is quietly modernizing its ethanol infrastructure. It has struck deals for ethanol plants with Venezuela, and has been cooperating with African countries, most notably Nigeria.

Fidel Castro was most outspoken against ethanol, and especially against America's corn based industry. He divided the international left, with him getting backing from Hugo Chavez (who prefers to play oil games), while more moderate social democrats - Brazil's Lula, Italy's Prodi, and Chile's Bachelet - seeing social and economic opportunities in the sector (previous post).

Contrary to his brother, Raul Castro is seen as a pragmatist who is more concerned with improving Cubans' daily lives than spreading the revolution. He has spoken out in favor of biofuels, especially in the context of providing local energy security. But to kickstart an export oriented biofuels revolution in Cuba, foreign investments are needed. New and efficient sugar processing plants, ethanol conversion facilities, and cogeneration plants need to be build.

It remains to be seen whether analysts are right in thinking Raul is to favor loosening state control on Cuba's economy and thus allow these crucial investments to come in. The country has said it would allow foreign investment in its tourism industry, and several European businesses have indeed entered the sector. However, the sugar and ethanol industry is different, because it touches a key sensitivity of Cuba's economy - nationalised sugar production in Cuba remains a matter of pride.

In any case, if foreign investments are allowed, Cuba could become a major exporter, because its own fuel needs are very small. In 2006, Cuba consumed around 150,000 barrels of oil per day, of which 50,000 barrels were met by local production. Its small oil imports make analysts optimistic about Cuba's ethanol export potential: assessments show that if it were to export 3 billion gallons per year - a feasible option - it would generate around US$ 7 billion per year.

The ethanol would not likely enter the U.S. market, because America's State Department has said the country won't end its trade embargo anywhere soon. However, there are enough other markets interested in highly competitive sugarcane based ethanol. The EU, which is far more pragmatic towards Cuba, would be the most obvious choice as the Union has recognised it will have to rely on imports in order to meet its renewable fuel targets.

What is more, the biofuel would come from former and existing plantations, and thus have a very strong environmental profile. No new land would need to be cleared, making the fuels largely sustainable and green.

References:
Juan Tomas Sanchez, Cuba y el etanol: proyeciones para una economía privada [*.pdf], Cuba in Transition: Volume 17, Papers and Proceedings of the Seventeenth Annual Meeting of the Association for the Study of the Cuban Economy, August 2–4, 2007.

Biopact: Cuba quietly upgrading its ethanol plants to produce biofuels - May 25, 2007

Biopact: Cuba and Venezuela agree to build 11 ethanol plants, co-operate on biofuels - March 02, 2007

Biopact: Cuba set to become major ethanol producer - November 18, 2006

Biopact: Nigerian NGO calls for ethanol cooperation with Cuba - July 24, 2007

Biopact: Biofuels and the left - who's right: Lula, Prodi, Castro or Chavez? - April 05, 2007