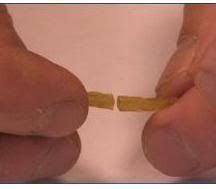 French scientists have invented a renewable, bio-based polymer that is able to self-repair even when it is sliced in two. The rubber-like material, made from plant oil and urea, was developed on the basis of a new chemistry field called supra-molecular engineering. The material shows exceptional performance such as self-repair through mere contact at room temperature. The researchers
report
the properties of the new material in the top journal
Nature
(videos
here
). The new chemistry field is set to lead to a wide range of new materials applications, with a key role for bio-based feedstocks.
The self-healing material is the fruit of research work conducted in the "
Matière Molle et Chimie
" Laboratory, a mixed research unit between the CNRS and ESPCI (Ecole Supérieure de Physique et de Chimie Industrielles) run by Professor Ludwik Leibler, a former colleague of Pierre Gilles de Gennes, 1991 Physics Nobel Prize.
The French researchers show that mass production of the rubber is near: they are already making kilogramme quantities in their Paris laboratories. Better still, the process is almost completely green, and could be entirely so with a few adjustments: an abundant renewable feedstock is used in a 'green chemistry' approach. The self-healing artificial rubber could have applications in anything from adhesives to self-repairing toys, shoes, gloves and bicycle tyres.
How it works
Conventional rubber is made of a single, continuous, stretchy molecule, held together with strong chemical links called covalent bonds. Once these bonds are cut by a break in the material the rubber can not be reassembled.
Leibler's approach was to use small molecular groups instead: the fatty acids from vegetable oil. Reacting these molecules with urea in a two-step process stuck nitrogen-containing chemical groups (amides and imidazolidones) onto the ends of the fatty acids. The fatty acids link to each other using hydrogen bonds — a strong attractive force between hydrogen and another atom, and the bond responsible for holding water molecules to each other.
The resulting molecular system is very non-uniform: some acids have three protruding groups and some have two. This means that the compound can't crystallize into a hard, shatterable material. Instead it can be stretched to five times its original size and then return to normal, albeit slower than an elastic band would — it takes around a minute.
If rubber is cut, the end groups on the acids become exposed, and the hydrogen bonds to neighbouring groups are broken. It is in the amide group's nature to seek out a partner to link up to, and this happens when the cut surfaces are brought back in contact — the hydrogen bonds can form again. The longer the cut ends are held together, the more of these partnerships are made, and the more completely healed the rubber is.
A freshly cut sample can heal enough that the re-stuck rubber can be stretched to twice its size again after just 15 minutes. The system isn't perfect yet — healed rubber that hasn't been left long enough will break again at the original 'wound' site. The broken rubbers will stick only to the other broken piece, and the rubber doesn't have to be mended immediately — it can still efficiently reform up to 18 hours after being severed.
Other self-healing materials exist, but their bonds knit back together only when heated or a strong force is applied. Leibler's material works at room temperature, and just requires the two broken bits to be held together gently.
New materials like this one are based on the concept of supramolecular chemistry, a promising branch of chemistry that offers a major improvement potential for everyday applications. From this technique, we can expect materials like ultra-tough bio-based bitumen laid at 140°C instead of 180°C, easily-molded bioplastics with superior mechanical strength and chemical stability, hotmelt glues from vegetable origin, or indeed, biobased self-healing rubber.
Supramolecular chemistry
For over two centuries traditional molecular chemistry has focused on transforming matter by creating permanent bonds linking up atoms within molecules. Polymer chemistry, derived from this traditional chemistry, has developed considerably in the last century, the objective being to produce large molecular chains that combine sturdiness with light weight.
Supramolecular chemistry – a scientific field that has come to the fore in recent years in particular thanks to the Chemistry Nobel Prize presented to Jean-Marie Lehn, Donald Cram and Charles Pedersen in 1987 – consists in building complex assemblies of molecules joined by non-permanent or "reversible" bonds; these assemblies of molecules with a "reversible" structure are called "supramolecular":
energy :: sustainability :: biomass :: bioenergy :: biofuels :: bioplastics :: biopolymers :: self-healing :: rubber :: supramolecular chemistry :: green chemistry :: renewable :: bioeconomy ::

The same assembly principles can by and large be observed in biological systems (e.g. DNA). It is precisely the application of these concepts with the ultimate aim of developing materials with innovative properties that the "Matière Molle et Chimie" Laboratory has been focusing on since 2000. Over the last few years, the Laboratory has developed various supramolecular materials from molecules of different nature (small molecules derived from vegetable oils, large molecular chains in existing polymers) by creating hydrogen bonds between these molecules whose particularity, unlike conventional chemical bonds, is to be "reversible" under the effect of temperature.

This work into supramolecular chemistry shows how collaboration between fundamental research and application-oriented industrial research can lead to major innovations in the field of materials. Supramolecular chemistry is a concept now poised to become an everyday reality. Eventually, this new aproach will yield significant benefits for everyday applications: one can imagine all kinds of articles that could be reused after breaking or cracking thanks to the "auto-healing" process, or polymers, or even varnish or adhesive formulations of vegetable origin which will be processed or applied at relatively low melting temperatures and will afford major energy savings

. - Christian Collette, Arkema R&D Vice President
From concept to everyday applications
This new approach to the chemistry of materials is opening up the way to wide-ranging innovations and developments. Materials can indeed be developed from small molecules derived from vegetable oils, and be processed or applied at low temperature, with a behavior in the solid state that is typical of a polymer with large molecular chains, e.g. sturdiness and strength.

Another typical application is the example of an existing conventional polymer which is modified by integrating these temporary bonds, and so will be able to combine excellent fluidity at processing temperature with outstanding properties in the solid state, which are identical to, if not better than, those of an existing non-modified polymer.

Yet another highly promising application can already be envisaged for bitumens laid on high-traffic carriageways: these specialty bitumens are modified with polymers which make them more hard-wearing, albeit to the detriment of their viscosity; they then have to be heated at high temperature (180°C) for a long period of time for their preparation and application, which are highly energy-intensive operations. By adding to the bitumen an additive of vegetable origin derived from supramolecular chemistry, it is possible to lower to 140°C the temperature needed to heat up these bitumens prior to application while keeping their mechanical strength, and facilitate their recycling.

For the self-healing rubber, Leibler has a deal with French chemical company Arkema to develop and commercialize the material. Arkema was a key industrial partner in this research, in particular through its expertise in nanostructured materials, and is entering the phase of commercial development for several materials derived from this research. Leibler would like to see the new rubber used in toys: "children like to break things, if you could heal them it would be very nice."

Arkema is one of the first chemicals producers to develop products based on the supramolecular chemistry technology earmarked for industrial production. The company is also a global leader in the development of biopolymers with superior qualities (such as vegetable oil based bioplastic pipelines for use in the oil exploration and extraction industry, superior to petroleum based riser pipes - more here; or bioplastic fuel lines for aggresive biodiesel - see here).



References:


Cordier, P. , Tournilhac, F. , Soulié-Ziakovic, C. & Leibler, L. Self-healing and thermoreversible rubber from supramolecular assembly, Nature 451, 977–980 (2008), doi:10.1038/news.2008.611.

Nature: Self-healing rubber bounces back - February 20, 2008.

Nature: videos of the self-healing rubber.

Arkema: Supra-molecular chemistry yields new materials with outstanding properties - February 21, 2008.

Biopact: The bioeconomy at work: robust bioplastic used for off-shore oil riser pipes - April 18, 2007

Biopact: The bioeconomy at work: bioplastic fuel lines to handle aggressive biodiesel - December 13, 2006