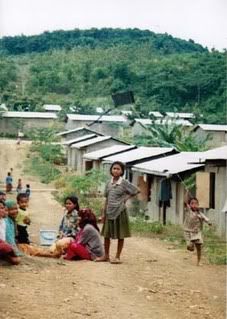 A group of environmentalists has
published
a report in which they say palm plantation companies in Indonesia are "tricking" people who live "close to nature", into giving up their land. "Happy natives" who, paradisiacally, live off the "bounty of the forest", are being "cheated" on by outside forces and end up in misery as a result. Social negotiations are not part of the process, we are only witnessing a clear-cut battle of powerful outside forces versus passive "victims". This is the undertone of the text titled "Losing Ground", by Friends of the Earth, Sawit Watch, and LifeMosaic. With its usual histrionic language, Friends of the Earth says the EU's biofuel policy is fueling a human rights "disaster" in Indonesia.
Biopact's cultural anthropologists warn that this way of representing a complex social process is in danger of being deeply essentialist, exoticist and ultimately paternalist. It could do a great disservice to the very people the environmentalists are writing about. Friends of the Earth reduces the density of social negotiations, there in Indonesia, to a clear-cut battle of powerful agents versus weak, passive "indigenous" natives "without history" who live "in sync with nature", who cannot speak for themselves and have no agency of their own. This discourse full of binary oppositions must be deconstructed. After this exercise, the anthropologists instead call for a deeper debate about modernity, globalisation, agency and social change - the fundamental forces in which the drive towards biofuel production must be placed.
They also urge researchers to inform a more genuinely critical analysis by data obtained from research that relies on a stronger analytical framework and on the techniques of ethnography, which are most suited to assess the complex social effects of biofuel production on people in an objective way. Journalism, anecdotal evidence and simple interviews - as used by the authors of "Losing Ground" - will not suffice and merely result in representations that confirm the underlying views of the analyst.
Participants in this debate need a broad view on the history of modernity, the politics of representation and a self-reflexive attitude. They need to ask basic questions about themselves: who is talking, in whose name? Are we really representing the deeper views and desires of the people we are writing about? Is a discourse based on the modernist and universalist principle of "human rights" the best framework to assess the social impacts of an economic activity (leading philosphers doubt this; see e.g. Zizek on the
"Obscenity of Human Rights"
or Bricmont's
"Imperialisme humanitaire"
)? How can we ensure that the people who are affected - both positively and negatively - by the biofuels industry are heard in an objective way? Do the negative effects of the social transformations brought about by modernity outweigh the positive effects? Is activism in favor of the environment and human rights really as good for nature and society as is often believed (again,
scientists are not so sure
; they even find the contrary)? What are the ideological underpinnings of our own discourse on social and economic change in the developing world?
It is important to understand, from the start, that biofuels as such are neither bad nor good. They are merely a material product that can be used by societies to perform useful tasks and services. It is the way in which biofuels are produced that needs be scrutinised. And here, a wide range of ideological perspectives emerges.
Biofuels can be produced within the framework of a modernist, capitalist system, and contribute to the perpetuation of that system which thrives on affordable energy and transport. This production method involves intensive monoculture and profit-driven agriculture that leads to a concentration of power in the hands of those who control the means of production. This model leads to great technological and social transformations, such as the ones reported by Losing Ground: local populations are dislocated and become part of an abstract universe called "modernity"; migrations from rural to urban areas take off; people become part of a more complex, globalised society.
This socio-economic paradigm has the potential to fuel social inequalities and considers people to be abstract "free labor", part of an anonymous labor market. Local people undergo a process of alienation and are forced to cope with new views on work, leisure and life. However, modernity also brings economic, social and cultural services many people appear to be aspiring to all over the world: it offers opportunities for social mobility, "modern" health care, education, and economic prosperity.
When modernity arrives, local lifeworlds are "deterritorialised" - quite literally in this case - and consequently "reterritorialised" by new perspectives on life, dominated by consumerism, individualism and the abstract forces of capitalist economics and modern representational politcs.
However, researchers analysing this process often make the mistake of looking at the people who undergo it, as passive subjects who are incapable of interpreting what is happening to them; incapable of making their own version of modernity, of acting upon and transforming the forces they encounter into a socially manageable system. This mistake then often leads to outside analysts and activists thinking they need to "protect" and "represent" these passive subjects - the "victims" of modernity. There are many instances in which this role is legitimate, but just as many in which it says more about the "defenders" than about the people they claim to be representing:
A more robust, critical and objective analysis of the transformations brought about by modernity consists of relying on analytical techniques developed by ethnography and anthropology. This social science has itself gone through a process of intense self-reflection and self-questioning:
energy :: sustainability :: biomass :: bioenergy :: biofuels :: human rights :: paternalism :: essentialism :: anthropology :: ethnography :: modernity :: social sustainability :: Indonesia ::

The history of anthropology is tightly linked to the very transformations it now analyses: from being a social science in the service of empire and colonies (used to investigate the lives of local populations, with the intent of using the knowledge to subject them), to a modern science with methods and techniques that allow for an objective representation of what people in other cultures really want, think and feel when confronted with modernity and globalisation.

The value of anthropological analysis precisely lies in the fact that it continuously

questions its own methods of questioning

, while it performs its tasks. This "feedback" mechanism is at work during the ethnographic phases and during the analytical phases. Anthropology works in several research rounds: learning the cultural codes and language of the people being researched, questioning them via careful and intensive participant observation, then retreating to analyse the ethnographic data and screen them for bias, and finally repeating the process several times over.

It has been shown that these techniques lead to representations that capture local realities in all their complexities. Very seldom do they result in the simplistic, black and white stories such as the one found in Losing Ground or in mainstream media. The far more complex and nuanced findings obtained by anthropologists explain the fact that they do not easily "take sides". It is also explains why they have begun to analyse precisely those organisations and activists who do take sides. They are often found to be representing everything except the views of the people they write about and whose interests they claim to be defending. Instead, when activists are analysed, anthropologists uncover a reality which shows that they are part of a very particular universalist deeply modernist process themselves.

Earlier we referred to an interesting anthropological analysis of the way in which farmers in India cope with genetically modified seeds. In this debate, activists and media reduce a complex reality to simplistic stories about "good" farmers versus "bad" multinationals. The farmers are victims of evil outside forces and completely passive, dominated subjects. End of the story. Or so the activists thought. Enter the anthropologist, who spent five years amongst the farmers and found a world in which they suddenly appear to be highly active, well organised individuals who understand what they are doing perfectly well; instead of a black and white story, he "discovered" an intense process of continuous social negotiations, smart grassroots politics, unexpected coalitions between farmers and multinationals, and so on. Obviously he also found many negative aspects of the farmers' new relationship with the multinationals, but he refused to depict his research subjects as naive, passive victims who are incapable of defending their own interests.

This type of analyses is urgently needed in the discussion about the social effects of the emerging biofuels industry in the developing world. Biopact urges social analysts interested in participating in the debate to use ingredients that are needed for a genuine critique of biofuels: self-reflection, a broad perspective on the history of modernity, and the use of robust anthropological analytical frameworks with which to gather and analyse the views of the people affected by the sector.

Modernity as a development pathway is certainly up for debate. There are other ways to produce biofuels and to use them (if any are needed at all): strategies which stress

local

control over resources and a socially corrected distribution of their benefits without falling into a naive ideology of autarky; strategies which empower local communities economically and enhance their capacity to cope with the forces of globalisation. But part of this quest to transit towards more post-modern, smart way of organising modern societies and their energy habits, is the need for a more critical analysis of the broad forces that are at work, and of the way in which local populations really cope with them. Reducing this debate to a moralistic story of good and evil, does a disservice to all those involved, including the people in Indonesia who are negotiating their way through this jungle of new opportunities and perils.



Picture

: Kelbung is a little village in the western interior of Madura, an island near Java. The village is inhabited by people who used to live in Kalimantan but were moved from their land and brought back to the island of their ancestors in Java.

References:
Friends of the Earth: EU fuelling human rights disaster in Indonesia - February 11, 2008.

Slavoj Zizek, "The Obscenity of Human Rights: Violence as Symptom" - Lacan.com, 2005.

Jean Bricmont, Impérialisme humanitaire. Droits de l'homme, droit d'ingérence, droit du plus fort? (Préface de François Houtart), Octobre 2005, 256 pages.

Biopact: Scientists: environmental crises do not lead to conflict - neomalthusian theory challenged - December 13, 2007