A small young farmers association called Key Farmers Cameroon is looking for technical assistance and investors to research biofuel production opportunities. The farmer funded non-profit carries out capacity building through training with poor farmer groups in marginalised rural communities in the Manyu amd Meme Divisions of Cameroon's Southwest province.
Created in 2003 as a community self-help Common Initiative Group of volunteers to combat hardship, hunger, diseases and poverty, Key Farmers Cameroon's work consists of "providing training support to farmers so they could improve on agricultural production and productivity as a means to fight poverty and misery in their households and communities."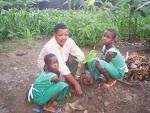 Over the years as Key Farmers expanded its activities, it became an umbrella organisation with 20 autonomous farmers groups working with more than 500 small farmers in 25 villages in the Upper Banyang sub-division, particularly in the Awanchi and Betieku clans.
The association is interested in co-operating with biofuel producers and consultants in research activities concerning green fuels. The market could offer new opportunities for marginalised farmers in the region. Members of Key Farmers Cameroon "have enough farmlands and are looking for partners who are interested to promote the production of oil palm in the area." Any other investors interested in growing jatropha, sugar cane and other energy crops are invited for partnership:
energy :: sustainability :: biomass :: bioenergy :: biofuels :: palm oil :: jatropha :: sugarcane :: poverty alleviation :: rural development :: Cameroon ::

The specific capacities of Key Farmers Cameroon are focused on the different project areas envisaged to increase the standard of living of the rural people and includes the following objectives:

To assist and train young farmers to acquire new skills and knowledge that would improve crop production and productivity to make them self-reliant and increase their incomes
To empower and train youths on the Agro-forestry and tree crops of high value as a means to increase family incomes, protect the environment and improve their health
To create an agricultural multipurpose centre in the Kendem area for capacity-building and to accommodate young farmers in income-generating, promoting crop production and marketing particularly palm oil, plantains, non–timber forest product, tree farming and the empowerment of women and youths in their fight to alleviate poverty and misery
Other related objectives are in the campaign against HIV/AIDS, support to poor and disadvantaged pupils to help develop skills on income-generating activities to sustain their education and way of life. Also the sensitisation of farmers on methods of saving money for agricultural exploitation and community development
The organisation is looking for "long term cooperation" and prefers collaboration with "social entrepreneurs" in the biofuels sector. Please contact Biopact for more information.