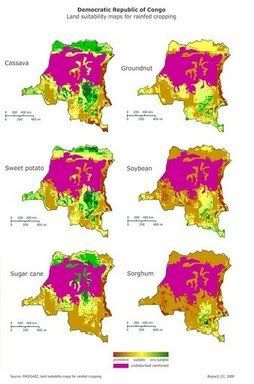 Biopact was originally founded by social scientists from Belgium, with working experience in the Democratic Republic of Congo, one of the poorest countries in the world. Several years ago they started looking at ways in which this large African country, coming out of the most gruesome and lethal war since WWII, could benefit from its vast natural resources which, up till now, have been the cause of multiple conflicts. They found that the emerging bioenergy market could offer unique chances for truly sustainable development, socio-economic stabilisation, rural development and mass poverty alleviation in this mainly rural country. Dr. Josef Schmidhuber, senior economist at the United Nations Food and Agriculture Organisation (FAO), now confirms this vision.
Biopact often refers to the vast agricultural potential in Central Africa and especially in the DRC, a country the size of Western Europe, which contributes much to the estimates by researchers from the International Energy Agency's Bioenergy Taskforces, who put the entire continent's
explicitly sustainable
bioenergy potential at more than 350 Exajoules per year by 2050 (
previous post
). Sustainable, that is, without
any
deforestation and after meeting all food, fiber and fodder needs of growing populations.
The UN's Food and Agriculture Organisation now says that, indeed, Congo is one of Africa's most promising biofuels producers due to its vast amount of farmland suited to a range of crops from palm oil to soybeans, from sugarcane to grasses. Better still, the fuels and bioenergy can be produced in a sustainable way, it says, without threatening the DRC's unique rainforests - so large is the non-forest land base (maps,
click to enlarge
).
Dr. Josef Schmidhuber, senior economist at the FAO, told Reuters the DRC had 80-115 million hectares of unused arable land, 4 million of which could be irrigated. All of the land in question is non-forest land. Congo currently utilizes less than 5 percent of all this potential arable land.
The DRC and many of the African countries have an enormous agri-ecological potential. They have production potential for more than (sugar) cane: palm oil, maize, jatropha, cassava even soybeans - whatever is suited to tropical and highland conditions.

- Dr. Josef Schmidhuber, senior economist, FAO
Many countries seeking to produce biofuels have run into problems over the use of land, and environmental campaigners have accused palm oil growers in Indonesia, for instance, of cutting down rain forests to make room for feedstock. Biopact has tried to show that this focus is too narrowminded and that it draws attention away from the vast potential for truly sustainable biofuels across Central Africa. Biofuel production there would have multiple environmental, social and economic benefits to some of the poorest nations on earth, such as the DRC.
Schmidhuber confirms that the environmental fears often raised against biofuels in the tropics need not be an issue in Congo, home to the world's second largest rainforest, given the enormous amount of arable land outside precious rain forest areas.
What is more, using land for energy crops does not come at the expense of food production and would even contribute to protecting the environment because it would allow farmers to become more efficient, instead of relying on destructive and inefficient slash and burn techniques that level rainforests. Producing bioenergy from domestic agriculture could boost productivity, as a lack of energy is a key factor holding back agricultural productivity and food production, Dr. Schmidhuber said.
This is a thesis Biopact has always stressed: without abundant, modern and affordable energy and fuels, food production itself and socio-economic development in general are threatened, with the environment being the first victim (we're not even talking about the environmental impacts of war and underdevelopment, which have
wrecked
all conservation efforts in Congo. The country's primates, for example, are being killed as a result of a lack of access to modern energy, which forces people into the forests to gather wood for charcoal). This type of energy poverty as well as catastrophically high oil prices can be tackled by efficient biofuel and bioenergy production:
energy :: biomass :: bioenergy :: biofuels :: sustainability :: energy poverty :: social conflict :: peace :: rural development :: poverty alleviation :: food security :: agriculture

DRC, in central-eastern Africa, is rich in natural resources with a land area the size of western Europe but years of civil war have hindered economic growth and inward investment. Schmidhuber said it would currently be difficult to produce biofuels for export and Congo would benefit first by providing fuel for domestic consumption.

You have to bear in mind barely 1 percent of the rural population has access to electricity ... There's a need for empowerment and to be sufficient in energy and not just food.

- Dr. Schmidhuber
He said capital investment in the sector from abroad depended on the scale of demand, referring to China's well-established interest and investment activity in Congo.

Domestic support seems to be there, there is a government programme that essentially stresses that one should try to explore energy options with the objective to produce motor-fuel and electricity.

- Dr. Schmidhuber
Latest World Bank figures show $402 million of foreign direct investment went to Congo in 2005. Other countries with similar potential to supply themselves with biofuels are, amongst others, Zimbabwe, Mozambique and Malawi, he added.

Biopact has been studying the bioenergy potential in Congo for a long time and developed several scenarios for their development and impacts on the country's economy. Members of the organisation were also involved in the creation of a 'biomass action plan' to phase out nuclear power in Belgium, by replacing nuclear energy with biomass from the DRC. The plan was launched last year by the Flemish social-democrats (previous post).

Biopact is currently working on a large project that looks at developing a 'fuel corridor' alongside the Congo River and its tributaries, - the country's main transport routes - as a way to improve traffic on these waterways. Fuel shortages inland are frequent and keep millions of farmers in abject poverty, because they cannot bring their products to market, trade and develop. By building decentralised biofuel production units alongside the rivers, which provide local economic opportunities and employment, this situation could be improved upon in a dramatic way.



References:


Reuters: Bright future for biofuels in Congo, UN says - January 7, 2008.

FAO Terrastat: database on land resources.

FAO Land and Water Development Division: Land Suitability Maps for Rainfed Cropping, database and maps.

FAO/IIASA: Global Agro-Ecological Zones, showing the potential for a range of crops.

Wildlife Direct: Congo gorilla protection blog (showing how lack of access to modern bioenergy drives rainforest destructive charcoal production).

Biopact: A look at Africa's biofuels potential - July 30, 2006

Biopact: Biomass 'reserve' to reduce risk of uranium shortage - perspectives from Belgium - August 15, 2007