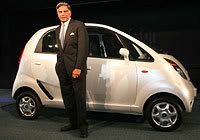 Tata Motors today
unveiled
its long-awaited Nano, the world's cheapest car. The
"People's Car"
could be for the developing world what the Volkswagen Beetle or the Fiat 500 were for Europe. The vehicle will cost 1 lakh rupees or €1700/US$2500, making it available to millions of people who are entering the rapidly growing lower middle class in emerging economies. Environmentalists from the West call the prospect a disaster in the making. Modernists in the developing world rejoice and see this as a historic day.
The Nano is described as "a comfortable, safe, all-weather car, high on fuel efficiency & low on emissions". The car was designed with a family in mind and has a passenger compartment that can seat four persons.
The small vehicle has a rear-wheel drive, all-aluminium, two-cylinder, 623 cc, 33 PS, multi point fuel injection petrol engine. This is the first time that a two-cylinder gasoline engine is being used in a car with single balancer shaft. The lean design strategy has helped minimise weight, which helps maximise performance per unit of energy consumed and delivers high fuel efficiency - an average of about 50 miles per gallon, or five litres per hundred kilometres. Performance is controlled by a specially designed electronic engine management system.
The tailpipe emission performance of the vehicle meets local regulatory requirements. In terms of overall pollutants, it has a lower pollution level than two-wheelers being manufactured in India today. The high fuel efficiency also ensures that the car has low carbon dioxide emissions, thereby providing the twin benefits of an affordable transportation solution with a low carbon footprint.
Tata
calls
those who criticise the small car "elitist" and their arguments "discriminatory". The company reacts especially to a recent column in the New York Times titled
"No, No, No, Don't Follow Us"
written by popular columnist Thomas Friedman, in which he warned that the Nano is a highly retrograde initiative from a country capable of incredible innovation. The energy and environmental implications of millions more people driving personal cars could be enormous, for India and the world, he warns:
energy :: sustainability :: biomass :: bioenergy :: biofuels :: mobility :: developing world :: middle class :: consumerism :: India ::

Friedman is right in calling for a country like India to 'leapfrog' our own development model, and to invest in, for example, modern mass transit. However, we feel that our modern consumerist ideology has penetrated most of the developing world so thoroughly, that warning for its dangers has become futile. The ideology has become a deep 'habitus', a pattern of feeling, imagining, desiring and thinking that structures all aspects of life, from the way space and time are organised to the manner in which we value and organise our social relations. The emerging middle classes of the developing world have become the staunchest proponents of this modernism.

The idea of 'leapfrogging' is likely to remain a fantasy dreamt up by people from wealthy societies that have already entered a post-industrial logic, after having gone through the long phase of modernity. Only when the system of consumerism in these emerging economies crumbles under its inherent limits - peak oil, catastrophic climate change or simply congestion in cities - will it rethink itself.

The best we can do, perhaps, is to encourage and support the creation of an eco-conscious avant-garde in these developing countries - people who urge their fellow citizens to develop an alternative, more sustainable development pathway.



References:


Tata "People's Car" dedicated website.

Tata: Why critics of the Tata small car are barking up the wrong tree — January 10, 2008

Tata: Tata Motors unveils the People's Car - January 10, 2008

New York Times: No, No, No, Don't Follow Us - November 4, 2007.