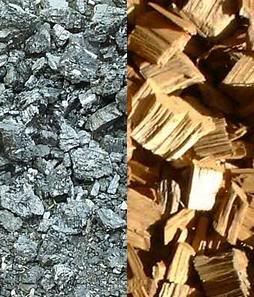 European energy giant
Suez Energy International
and
Antofagasta Minerals S.A.
, a Chilean industrial group, have
signed
an agreement for the supply of up to 150 MW and related energy for the new Esperanza mine starting in 2011. For this demand, Suez will build a second power unit at the Central Termoeléctrica Andina (CTA) in Mejillones. The power station will use circulating fluidised bed technology and will be able to burn renewable biomass and other fuels.
Circulating fluidized bed (CFB) combustion is a relatively new and evolving technology that has become a very efficient method of generating low-cost electricity while generating electricity with very low emissions and environmental impacts. In the CFB combustion process, crushed fuel is mixed with limestone and fired in a process resembling a boiling fluid. The limestone removes the sulfur and converts it into an environmentally-benign powder that is removed with the ash. Fluidized bed boilers are capable of burning a wide range of fuels cleanly, including biomass fuels.
Suez' second unit will be identical to a first one it already built at the CTA, for which construction started in the 4th quarter of 2007. It will equally be connected to the Sistema Interconectado del Norte Grande ('Northern Grid'). The plant will be built in Mejillones, some 1,400 kilometers north of the Chilean capital Santiago.
Chile is racing to build electrical generating capacity to feed its booming mining sector, which produces about a third of the world's copper. The new plant will be coal-fired and possibly co-fire biomass. It is part of Chile's solution to shortages of natural gas, which has been supplied by Argentina to run northern generating facilities.
Central Termoeléctrica Andina's environmental impact study has already been approved. For the construction, an Engineering, Procurement and Construction contract was signed with the Spanish company Cobra for both units of the CTA project:
energy :: sustainability :: biomass :: bioenergy :: co-firing :: renewable :: circulating fluidized bed :: mining :: Chile ::

Notice to Proceed for the second Suez unit has been given to Cobra and the construction will begin in the forthcoming weeks. The estimated construction time is around 3 years. An average of 700 persons will be employed during the construction phase.

Taking into account the energy context of Chile, we think it is crucial to invest in different energy solutions. Apart from the coal stations we are constructing now, we will start in the coming months the construction of our LNG project in Northern Chile, which will secure a reliable source of natural gas for the existing gas-fired plants.

- Dirk Beeuwsaert, CEO of SUEZ Energy International
The Esperanza mine will be one of Chile's first major greenfield copper projects - ones built from scratch - in years. Esperanza, located in Chile's Atacama Desert near Antofagasta's active El Tesoro Mine, is expected to be ready for operation in the fourth quarter of 2010 and will add an annual production of some 195,000 tonnes of copper, 229,000 ounces of gold and 1.556 million ounces of silver to Chile's mining roster.

In Chile, SUEZ Energy International also has a stake in the electricity companies Electroandina and Edelnor as well as in the company Gasoducto NorAndino.

Antofagasta has three business divisions: Mining, Transport and Water, with the first of those being the most important. Antofagasta plc is one of the largest international copper producing companies in the industry. Today its activities are mainly concentrated in Chile where it owns and operates three copper mines, Los Pelambres, El Tesoro and Michilla, with a total production of 466 thousand tonnes in 2006, at an average cash cost of 40.2 c/lb. The Group's mining division, Antofagasta Minerals, is also actively involved in exploration particularly in Chile, Ecuador, Colombia and Pakistan.



References:


Suez: SUEZ Energy International continues its expansion in Chile [*.pdf] - January 28, 2008.

Power Engineering International: Suez to build second coal/biomass unit at Chile mine - January 29, 2008.