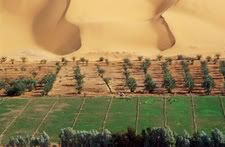 If managed well, biomass based energy systems can have many environmental benefits besides providing green, low-carbon and renewable energy, scientists
write
in the latest issue of
Biofuels, Bioproducts & Biorefining
, a recently launched scientific journal that studies challenges of the emerging bioeconomy. The growing plants needed to supply such bioenergy systems are being used to help solve other environmental problems such as erosion and desertification, the prevention of pollution from nitrogen runoff from agriculture, and waste water treatment.
In a review
article
of such established 'multifuntional biomass systems', Göran Berndes from the Department of Energy and Environment at Chalmers University of Technology in Götenborg, Sweden highlights several key examples.
One set of systems currently running in Sweden grows willow trees and irrigates them with sewage effluent. This helps purify the sewage outflow at the same time as providing fuel.
Other systems plant willow buffers between arable land and water ways. The willow trees use nitrogen that is being leached off the land, making good use of it instead of letting it simply pollute the rivers and seas.
A third system that Berndes highlights is the option of growing biomass on areas of wasteland in India. Along with providing fuel, this also stops the land becoming degraded by erosion.
Biopact readers are aware of other examples: from the eradication of biodiversity threatening invasive species (e.g.
bush in Namibia
,
water hyacinth the tropics
), to
soil and biodiversity restoration
through polycultures of native grasses; from
phytoremediation
of polluted brownfields and mining sites with energy crops, or
restoring soil health with terra preta and biochar
to fighting desertification in the Sahel and the Sahara (the
Green Wall
), in
Northern-Western China
or in
Inner Mongolia
; from the
restoration of entire ecosystems damaged by atmospheric nitrogen
through biomass stripping for energy, to
preventing deforestation
by investing in efficient bioenergy - to name but a few.
Journal editor Bruce E. Dale, Ph. D., Distinguished Professor of Chemical Engineering, Michigan State University thinks "We can do biofuels right or we can do them wrong. If we develop them correctly, we can achieve great environmental, economic and social benefits. It is our responsibility to look forward and shape the emerging biofuels industry so that it actually provides these benefits. With
Biofuels, Bioproducts and Biorefining
we intend to shed light on the pathways by which biofuels and bioproducts can realise their enormous potential for good."
This edition of the new journal also contains papers that review:
energy :: sustainability :: biomass :: bioenergy :: biofuels :: bioproducts :: biorefinery :: erosion :: desertification :: nitrogen runoff :: water treatment :: phytoremediation :: conservation :: biodiversity :: ecosystem restoration ::
Ways of pretreating cellulose containing materials so that they are more capable of releasing the energy they store.
The different chemicals found in biomass. Cellulose, hemicellulose and lignin molecules contained in biomass will greatly improve the way that these resources can be exploited in commercial scale operations.
The use of biomass for creating many different chemicals. At the moment oil is the source of chemicals that go into substances from paints to pharmaceuticals. Biomass could provide these, either by deliberately creating them, or by harvesting by-products of fermentation processes such as biofuel production. But to be ready for a biomass driven future we need start planning appropriate biorefineries today.
In a Comment article, US Department of Agriculture employee Wally Wilhelm explains the USDA's view point on biomass use, and argues that US policy will need to facilitate collaboration between different disciplines in order to stimulate this next generation of technology.

These reviews are all featured in Issue 1 of the 2nd Volume of Biofuels, Bioproducts and Biorefining and all content will be freely available online via Wiley Interscience. The free access web portal www.biofpr.com which supplements the journal, has recently been updated and contains new content including the latest product news and features, patent intelligence, and community pages.

References:
Eurekalert: Biomass production - careful planning can bring many benefits - January 16, 2008.

Biopact: Tallgrass Prairie Center to study polyculture prairie hay for bio-electricity: combining conservation and restoration with bioenergy - December 03, 2007

Biopact: European project finds nitrogen damages biodiversity - biomass stripping coupled to bioenergy could offer conservation strategy - October 13, 2007

Biopact: EU and Africa to build a 'Green Wall' across the Sahara - December 09, 2007

Biopact: BioReGen project expands: greening brownfield sites with energy crops and biofuels - December 10, 2007

Biopact: China to boost forest-based bioenergy, helps win battle against desertification - July 17, 2007

Biopact: Greening the desert with biofuels: Inner Mongolia peasants show it's possible - August 14, 2007

Biopact: Biodiesel in Haïti supporting sustainable agriculture - March 27, 2007

Biopact: Researchers: invasive bush biomass in Namibia has high energy production potential - January 14, 2008

Biopact: Turning pest into profit: bioenergy from water hyacinth - June 18, 2006