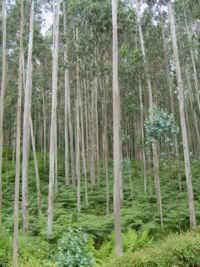 Commercial tree planting is not a conventional type of business in Uganda but the New Forest Company (NFC), a UK-based firm, is signalling the growing attractiveness of the sector by announcing an investment that could reach $80 million over the coming years. The reforestation projects will supply woody biomass for power generation as well as timber for the construction industry. The concept shows that, contrary to the opinion of some bioenergy adversaries, biomass production is most often not based on deforestation, but rather on the opposite: reforestation and afforestation.
Deforestation is a growing problem in Uganda, with poor households relying on highly inefficient energy technologies for heating and cooking - burning wood fuels on open fires, leading to a loss of 90% of the energy contained in the fuel. A transition to modern energy would greatly reduce deforestation rates. A Ugandan government forest policy says because of this reliance on woodfuel and inefficient technologies, the country needs to recover 20 per cent of its lost forest cover, which equates to about 250,000 hectares of new trees to be planted by 2015. This opportunity, combined with rising commercial energy costs, the efficiency of modern biomass power production, and the growing related market for timber, prompted NFC to launch a massive investment campaign since 2005, expecting to raise 4.3 million trees, mainly Pine and Eucalyptus species.
During a tour of a plantation in Mubende by officials from the International Monetary Fund (IMF) and the Uganda Investment Authority, NFC's CEO Julian Ozanne said that in a first step, the company is to invest $30 million in plantations in Mubende, Bugiri and Kiboga. The target there is to plant 65,000 acres of land, mainly for the timber market. So far 7,250 acres have received trees. This year, an additional $11 million should bring the total to 15,000 acres in the three districts.
In the meantime, NFC is working with British energy company
Aldwych International
which has already received a licence from the energy ministry to put in place a 50MW biomass power plant. NFC's plantations would supply the green electricity plant, pushing up its total investment to between $70 - $80 million over the next 10 years. For this project to succeed, the company needs to obtain a power purchase agreement from the government, so that the plant will be connected to the national grid.
Ozanne urged the government to support the project in order to diversify energy sources and to stop relying on hydro power only, which has become an unreliable source of energy. According to NFC, renewable biomass power offers reliable baseload energy and creates considerably more jobs than hydropower.
According to Meredith Bates, the company's corporate responsibility manager, NFC has so far created 1,600 jobs and forecasts another 2,500 in the next five years, operates in three districts of Mubende, Bugiri and Kiboga. According to Bates, the workforce is highly motivated and productive, for many of the rural workers and contractors this is their first real job so there is considerable training required to help make the transition to full time employment.
Bates added that the NFC's reforestation projects are underwritten by carbon credits, which require sound environmental land use management in compliance with the Clean Development Mechanism:
energy :: sustainability :: bioenergy :: biofuels :: forestry :: plantation :: timber :: biomass :: efficiency :: carbon credits :: reforestation :: afforestation :: eucalyptus :: Uganda ::
Our business mixes commercial plantation forestry with protection and regeneration of indigenous tree species and the promotion of bio-diversity and environmentally sustainable land use management.

- Meredith Bates, NFC corporate responsibility manager
Besides carbon credits, timber plantations offer attractive rates of return in the order of 15-18 percent (more with well grown Eucalypts), says Bates. Besides the bioenergy market, Uganda's rapidly growing construction industry is pushing up demand for timber and other timber products providing a huge market for tree dealers and timber vendors. The regional market in Southern Sudan and Rwanda will also come in hardy to provide wider and new markets.

Planting is the first step being undertaken to create volume. In the next phase, NFC will build a processing plant that will include a modern saw mill and a pole-treatment factory. The development of supply chains for biomass as a fuel will be developed later when the government approves the power project.

During the tour in Mubende, IMF's senior resident representative, Abebe Aemro Selassie, said the company had mobilised private equity for a sustainable forestry project. "This is a positive development that has created jobs", he said.

Picture: reforestation and afforestation through eucalyptus plantations; the trees grow fast and yield high amounts of biomass that could become crucial for developing countries making a transition to more efficient energy systems.

References:
New Vision (Kampala - via AllAfrica): Forest Company to Invest $30m - January 28, 2008.

The Monitor (Kampala - via AllAfrica): Tree Planting Promises Hefty Fruits for UK Firm - January 28, 2008.