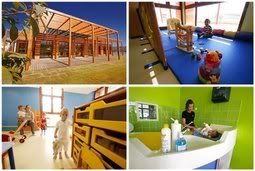 The French historic city of Narbonne has launched a sustainable housing project that integrates renewables into 1000 social homes and public buildings. The socalled 'HLM' buildings (Habitation à Loyer Modéré - Home with a low rent) will be heated by a district heating system based on biomass used in a cogeneration plant, as an alternative to polluting and ever more costly heating oil. The project is a public-private venture, led by the city council, European renewable energy major Dalkia, HLM construction companies, national electricity company EDF and ADEME, France's environment and energy agency. It is part of the ambition to build a zero-emissions 'eco-quartier'.
The biomass district heating system will be build in the quarter of St-Jean St-Pierre in Narbonne, Southern France, to sevice 1000 homes thus meeting the requirements of several thousand people. Schools, colleges, day care centers (picture,
click to enlarge
) and other public buildings will be connected as well. The biomass cogeneration plant (two times 1.5MW) will utilize biomass harvested sustainably in the region, and deliver green electricity while pumping excess heat as hot water through a network of pipelines and 16 substations. This will provide around 60% of the new quarter's heating needs, the rest coming from natural gas and 1600 square meters of solar water heating panels.
The project, which saw an investment of €3 million, is the initial step towards structuring the emerging biomass sector in the Languedoc-Roussillion region. It will develop a distribution and logistical infrastructure for the biofuel and demonstrate the workings of the entire supply chain. To lessen both the audiovisual pollution of trucks continuously carrying biomass to the site and to guarantee supply security, a biomass stocking facility will be built that limits trucking activity to only four days a week (not in weekends) and that builds up enough fuel to meet supply at all times.
The city council of Narbonne chose a mix of renewables not only as an eco-friendly solution, but out of sheer economic reasons: biomass for heating has become more attractive than heating with either heating oil, natural gas or electricity. Solar water heating integrates well with the hot water pipelines of the district heating system.
One of Europe's largest energy engineering firms, Dalkia, is responsible for implementing the technical aspects of the project. But it too stresses the crucial role of local communities and 'politics on the ground' to realise renewable energy projects: local government can create a policy framework, but communities can initiate calls for sustainability, build enthusiasm, vision and disseminate projects' pros and cons:
energy :: sustainability :: biomass :: bioenergy :: biofuels :: cogeneration :: district heating :: solar water heating :: biogas :: passive energy buildings :: Narbonne :: France ::

Because of this interest 'from below' Narbonne's local politicians have been very active in trying to create a greener city.

Another integrated project tries to make a historic quarter (Quartier du Théâtre) entirely green, with zero pollution and emissions. Seven objectives drive this green urbanism project:

1. no CO2 emissions
2. a quartier without cars, and instead with a clean public transport system and an efficient, controlled mobility
3. passive solar buildings that cut energy consumption by half
4. meeting the remaining energy needs by integrated renewables (biomass, solar, wind, geothermal)
5. intelligent water use, rainwater harvesting, utilizing efficient sanitary installations - all with the aim of cutting drinking water consumption by half
6. selective waste management and silent collection of waste
7. public services and incentives aimed at encouraging citizens to propose green initiatives and to provide incentives to allow them to implement their own eco-gestures (whether it is building with natural materials or heating with renewables)

As part of this project, it build the first zero-fossil-energy day care center, a demonstration to show passive energy buildings can be heated and cooled by natural building materials (wood, earth), by the way in which they're sited and by renewables (in this case by the biomass district heating system). The center is spacious, light and contains clean, eco-friendly, child-centered materials such as natural rubber floors.

The city also operates a 1MW biogas power plant that utilizes both household waste as well as dedicated energy crops, on a site landscaped as a carbon sink, with thousands of trees. The plant services around 2500 households.

Another initiative consists of a public bicycle system which offers city bikes for rent to transit towards healthy, efficient and sustainable urban mobility.

Incentives are in place for citizens who want to build in a green way or who want to utilize renewables in their homes - solar panels, small wind turbines, or biomass heating systems.

All this is part of the Narbonne21 agenda, an ambitious program aimed at turning this cozy Mediterranean city into a clean, pleasant and green living space.



References:


City of Narbonne: Tour 21, sustainable development [*.pdf] (leaflet).

City of Narbonne: Quartier du Théâtre [*.pdf] (presentation of the green urbanism project).

City of Narbonne: zero-energy day care center.

La Dépêche: Un millier de logements chauffés par la biomasse - January 10, 2007.

Dalkia: Energie solaire pour préserver l'environnement en milieu résidentiel.