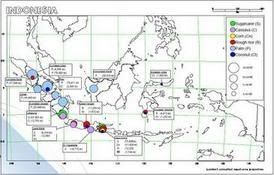 Indonesia plans to substitute around 10 percent of its fossil fuel transport consumption with biofuel products by 2010, a senior government official told the
Reuters Global Agriculture and Biofuels Summit
. The resource-rich tropical nation has been pushing the use of biofuels made from various resources such as palm oil, sugar cane and cassava to cut the use of costly petroleum products.
The move is meant, amongst other aims, to ease burden of hefty subsidies on petroleum products without raising the price of subsidized fuel sold on domestic market. Fuel riots are common in Indonesia and without intervention increasing oil prices leading to higher fuel prices at the pump are likely to lead to social unrest.
"We can't increase prices of subsidized fuel as it will hurt consumers. But we may be able to cut consumption and replace it with biofuel," said Evita Legowo, secretary at the National Biofuel Development Team.
Biofuels are also seen by Indonesia as a way to alleviate rural poverty and to generate employment, as some 2.5 million jobs are expected to develop in the sector (
earlier post
).
By 2010, biofuel products are expected to account for 3.8 billion liters of total petroleum consumption for transportation at estimated 34.75 billion. The country plans to inject a total of US$ 12.4 billion over the coming 3 years (
earlier post
).
Indonesia is Asia Pacific's only OPEC member but it is one of the smallest producers in terms of production and relies on fuel imports as it has failed to tap new oilfields fast enough.
The country has to spend billions of dollars on oil subsidies and importing oil products.
For that, the government plans to increase bioethanol blend in gasoline to 5 percent by 2010 from 3 percent, using cassava and cane molasses - a thick syrup residue produced from sugar cane during the sugar extraction process - as feedstock.
Production capacity for bioethanol using both cassava and cane molasses is expected to reach 3.77 billion per year, from 135 million per year by the end of December 2007, data from the biofuel team showed:
energy :: sustainability :: ethanol :: biodiesel :: biomass :: bioenergy :: biofuels :: energy security :: fuel subsidies :: Indonesia ::

As for biodiesel, Legowo said the government may keep the biodiesel blend in diesel oil at 2.5 percent due to soaring palm oil prices while trying to boost output of jatropha, a non-edible oil that grows in arid land and needs little care.

"Biodiesel blend will stay at 2.5 percent ... maybe less because we are still waiting for jatropha that we planted last year," Legowo said.

Indonesian state-owned oil firm Pertamina which retails biodiesel at home, has cut the biodiesel blend in diesel fuel to 2.5 percent as rising palm oil prices and lack of incentives cut margins.

Malaysian crude palm oil futures hit a record on Monday with the benchmark March contract KPOH8 ending at 3,414 ringgit a tonne after hitting 3,420 ringgit, surpassing a high of 3,280 ringgit reached on Friday.

Palm oil prices, up nearly 12 percent since the start of the year, were also supported by prospects of Malaysia introducing palm oil-blended diesel at home this year and Indonesia's plans to double biodiesel production.

There are also plans for 12 special biofuel zones by 2010 where investors could develop an integrated biofuel industry, if approved by the government, said Legowo.

Indonesia is developing other raw materials to ensure feedstock supplies for biodiesel and biofuel production. It plans to plant 5.25 million hectares of unused land with palm oil, jatropha, sugar cane and cassava by 2010 (map: likely distribution and potential of first generation biofuel resources in Indonesia by 2030, kt = kilotonnes;

click to enlarge

).

By that time, biofuel products will account for 2 percent of the country's total energy mix of 5.29 billion.

With its 245 million inhabitants Indonesia is the world's fourth most populous country. It wants to revitalise its agricultural sector and increase its energy security by investing massively in bioenergy.

The Indonesian government has so far invested US$1.42 billion in the sector, with more than 67 projects for the production of liquid biofuels signed so far, and with 114 biomass power plants under construction across the archipelago (earlier post).

References:
Tomoyasu Hirano, "Biofuel Resources in Asia" [*.pdf], presentation for the International Biofuel Conference 2007, New Energy & Industrial Technology Development Organisation (NEDO, Japan), February 2, 2007

Reuters: Indonesia to switch 10 pct petroleum to biofuel - January 14, 2008.

Biopact: Indonesian state power company to run 114 power plants on biofuels -
December 02, 2006

Biopact: Indonesia's $12.4bn biofuels plan inaugurated today; CNOOC to invest $5.5bn - January 09, 2007

Biopact: Indonesia's biofuel program to bring 2.5 million jobs in three years time - September 09, 2006